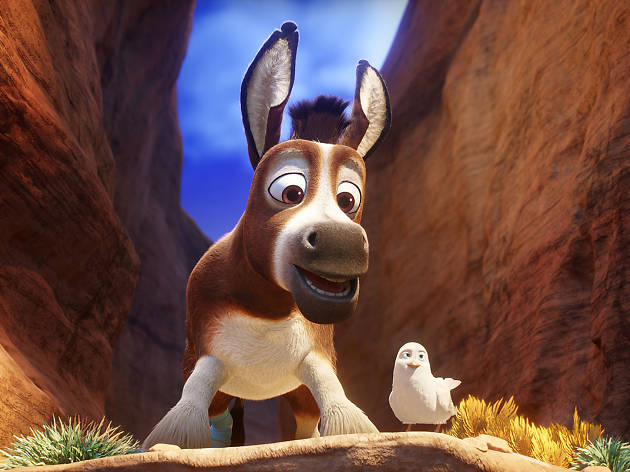 Time Out says
The nativity gets animated in this unmiraculous bible tale.
This is the animated nativity retold via that lamest primary school carol favourite, Little Donkey. A miniature ass called Bo (Steven Yeun), locked into a mill, dreams of joining the royal procession that tours the land (though we only ever see Christopher Plummer's King Herod firmly ensconced in his palace). Instead, Bo finds himself in the care of Mary (Gina Rodriguez), pregnant via immaculate conception and newly wed to Joseph (Zachary Levi). When the miraculous mother is threatened by Herod's executioner and his hounds (voiced by Ving Rhames and Gabriel Iglesias), it's up to Bo and friends to save them.
It's a weird film. Bo prays when the going gets tough, and in an exceedingly weird third-act redemption abandons his big dreams to start acting strangely Christlike. There's no need for his boring, overly familiar learning-what-really-counts narrative arc, when the business of the film is really about getting to the darn stable via a host of celebrity voices (Oprah! Mariah!). The whole film pinballs between reverence and poop jokes in a way that feels far more blasphemous than anything Monty Python ever did, while a cloying R&B soundtrack further cheapens the tone. Unless you have tiny, religious children, it's probably best to avoid it.
Details
Release details
Rated:
U
Release date:
Friday November 24 2017
Duration:
86 mins
Cast and crew
Director:
Timothy Reckart
Screenwriter:
Carlos Kotkin