The Taking of Pelham 1 2 3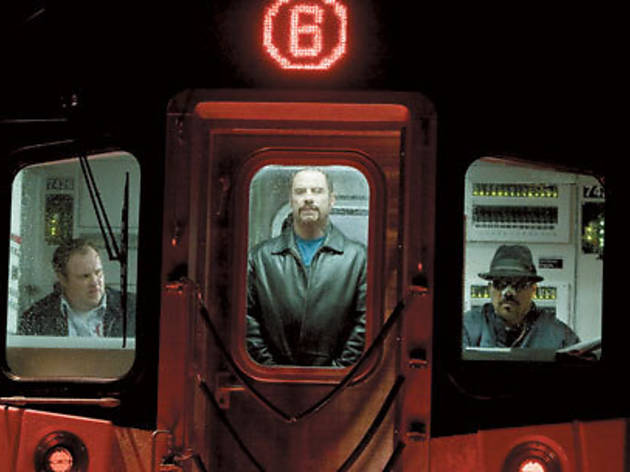 Time Out says
Film must truly be a director's medium. How else can such a deep pool of talent—cool-as-a-cucumber Denzel Washington, James Gandolfini as a shifty NYC mayor, screenwriter Brian Helgeland (L.A. Confidential)—produce such a pounding headache of a remake? It's a migraine that can bear only one name: Tony Scott. He's the generous soul who, after mounting the ugly Dakota Fanning kidnapping movie, Man on Fire, delivered both Domino and Dj vu, films that can turn you on to going to bed early.
To say that The Taking of Pelham 1 2 3 is marginally better than those crimes is only to admit that Scott's Ritalin-deprived aesthetic (even beams of sunlight make little whooshes) suits an already ridiculous premise. A downtown 6 train is hijacked by a team of tattooed crazies; Washington, as the aboveground dispatcher, is suddenly thrust into the hot seat, and has to talk them out of murder while a $10 million ransom payment slams its way via police escort across two boroughs, through several car crashes and untold casualties.
What you miss most is the grubby authenticity of the 1974 original—no masterpiece, but at least a movie starring Walter Matthau and Jerry Stiller. Conversely, John Travolta, playing this version's unhinged criminal mastermind, seems teleported down from another planet (his vein-popping villainy worked better in the Los Angeles--set Face/Off), while hostages obey like docile suburbanites. Trains and cars move way too fast here; Taking needs to operate in a broken-down Beame-era Gotham to function properly. And where's the guy asking for change? Allow us to chip in: refund, please.—Joshua Rothkopf
Opens Fri.
Details
Release details
Cast and crew