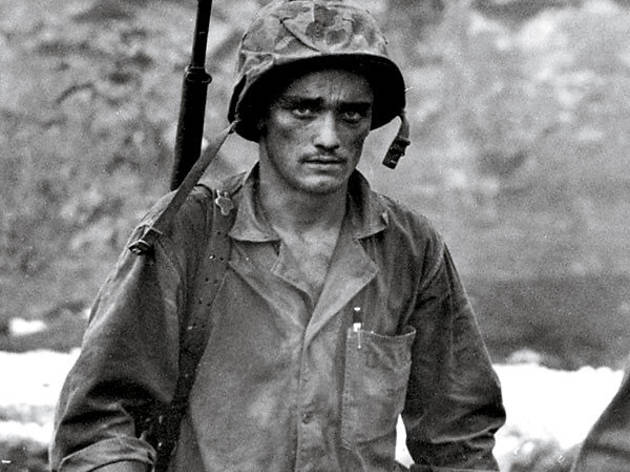 Time Out says
In his megadocumentaries Jazz, The Civil War and Baseball, Ken Burns displayed a rare gift for putting a human face on history and making complicated subjects easy to understand. Those skills are put to good use in his new 15-hours-and-change epic, which tells the story of the United States' involvement in World War II from the vantage point of soldiers and civilians from four cities in different regions of the U.S. Here, however, Burns is dealing with a topic that's received much more extensive previous coverage by other filmmakers, and his contribution to the WWII cottage industry breaks little new ground.
Per Burns's usual technique, The War consists mostly of still photos accompanied by narration, using talking-head interviews as transitions and to buttress points he's particularly keen on. Gravel-voiced character actor Keith David returns as our omniscient guide, and as before, well-known actors voice eyewitnesses whose accounts serve as unifying threads (Tom Hanks plays a small-town Minnesota newspaper editor, for example, and Bobby Cannavale reads letters written by an Italian-American GI from New England).
The four towns Burns chooses—Sacramento; Mobile, Alabama; Laverne, Minnesota; and Waterbury, Connecticut—allow for perspectives covering a broad swath of the race and class spectrum. But while the testimonials of Japanese-American veterans are compelling (as is the tale of an Alabama soldier who lied about his age to sign up at 16 before the attack on Pearl Harbor, then survived the Bataan Death March and spent years in a POW camp while his family assumed he was dead), the personal stories often err on the side of platitudes about sacrifice and national unity. The columns read by Hanks occasionally offer an interesting period perspective on events but, more often than not, merely add huge chunks of hokey Americana.
Somewhat surprisingly, Burns is far more successful at illustrating the politics and strategy of the war. The early chapters offer clear explanations of the challenges and goals of campaigns with which younger viewers may be unfamiliar (the U.S.-British offensive against the Nazis and Italians in North Africa and the Allied invasion of Italy), while the later, more in-depth episodes (more than eight hours are devoted to the last 14 months of the war) offer harrowing accounts of the Battle of the Bulge and the final push against the Japanese. In both cases, Burns's straightforward tally of the price of victory, in both dollars and American lives, is legitimately awe-inducing.
At the beginning of each chapter, a title card declares that the war was fought in "too many places for any one accounting." Essentially, this is a disclaimer saying that even 15 hours isn't enough time to cover every aspect of the conflict, hence the four-towns conceit. But since Burns's previous docs, for better or worse, have come to be seen as near definitive, a number of Latino groups loudly protested the director's shortchanging of Hispanic contributions to the war effort. In response, epilogues containing the testimonials of Latino and Native American veterans were added to three episodes. Their stories yield some of the most fascinating material in the entire film (such as Joe Medicine Crow's account of how he unintentionally fulfilled his tribe's requirements for becoming a war chief), but these segments also tend to be a poor fit with the material that precedes them. Latino and Native American involvement in WWII would have been better served by a separate documentary, and taking Burns to task for omitting any particular group from the film only makes him seem disproportionately important.
The slower pace of the final chapters allows for a moving account of the impact that Franklin Roosevelt's death had on America, and the descriptions of FDR's role as a national father figure make it hard to avoid comparisons with our nation's present leadership. Burns never mentions our present conflicts (or much of anything that happened after 1945), but it would be a mistake to interpret the depiction of a country united by a single purpose as a slam on contemporary America. Certainly, like hundreds of other films about the era, The War reminds us that millions of Americans made enormous sacrifices during WWII without a second thought—but it was always clear that they did so for all humanity, and not just to advance an agenda.
Details
Release details
Cast and crew