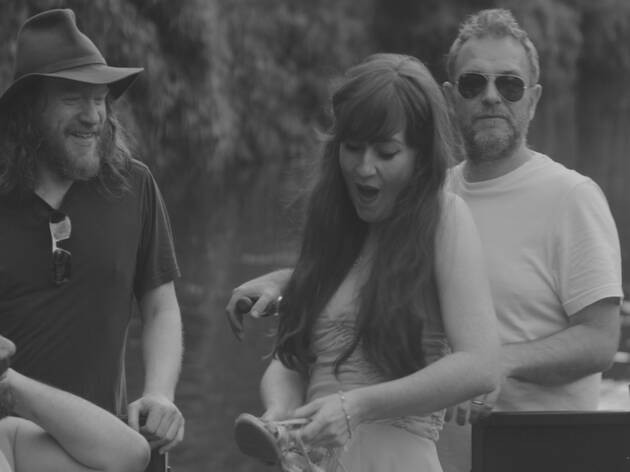 Time Out says
This serene drift down the canal in the company of four thespian pals could do with a jolt of drama.
Four friends – sort-of friends – go on a canal holiday in Southern England. There's John, dealing with some undisclosed emotional crisis; Zooby, with his watercolours and acoustic guitar; neurotic Red, touchy about her boozing; and Simon, who is in a nameless 'Game of Thrones'-type show, and worried he might be facing the chop. Oh, they're all actors, incidentally. They get drunk and stoned, bicker, make up and say 'I love you, mate' a lot.

All the performers get a writing credit, so presumably a lot of this low-key, black-and-white film is improvised. It's certainly very believable. It's also a bit boring. Progress is as sluggish as the canal boat and the emotional scope as narrow. Though it's ostensibly John's story, the characters get on top of each other in the literally and figuratively confined space, and prevent any real empathy. The arty black-and-white photography is nice when it's all dappled light and cosy shadows, but someone should have had a word about two staggeringly dull supermarket scenes. I spent the first half of the film hoping a corpse would appear and the second accepting it wouldn't. It's hard to see why it's called 'Tides', either. Canals aren't tidal. As a study of early midlife crises 'Tides' is well performed and convincing, finding the loneliness in what passes for friendship. All four characters are hemmed in by their own self-absorption; trouble is, that also cuts them off from the audience. Cottage in Wales next year?
Details
Release details
Rated:
15
Release date:
Friday December 7 2018
Duration:
99 mins
Cast and crew
Director:
Tupaq Felber
Screenwriter:
Tupaq Felber
Cast:
Simon Meacock
Jon Foster
Jamie Zubairi
Robyn Isaac