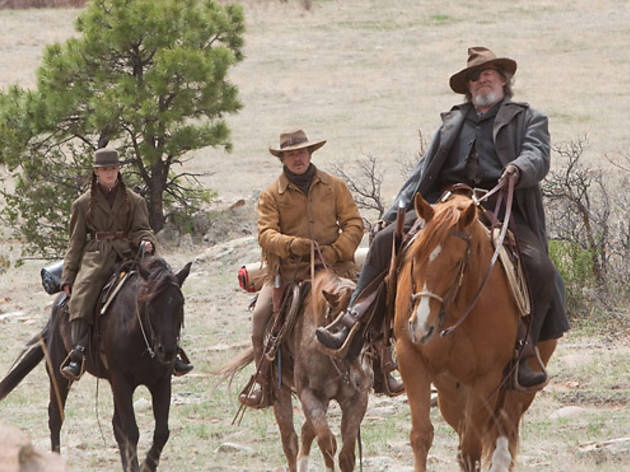 Time Out says
Watch the 1969 adaptation of Charles Portis's novel and you'll see a puny coup of counterprogramming slipped in among the '60s hippie-revisionist Westerns. (A colleague pointed out that this last-gasp anachronism opened one week before The Wild Bunch. Hello, cultural disparity!) Never mind the presence of New Hollywood stalwarts Dennis Hopper and Robert Duvall; this was your father's horse opera, jury-rigged to net genre godhead John Wayne a sentimental-favorite Oscar.
So claiming that Joel and Ethan Coen's update is superior to the Duke's starchy star vehicle isn't high praise; that they've restored Portis's poetically arch turns of phrase to the dialogue gives it the edge by default. The triumph is that the duo has hewed close to the source material while still making an unmistakable Coen brothers movie. The tongue-twisting banter between teen heroine Mattie Ross (Steinfeld) and a Texas ranger (Damon) would make both Edwina McDunnough and Tom Reagan proud; you expect kid-kicking, one-eyed sumbitch lawman Rooster Cogburn (Bridges, who now owns the role) to ask "What's the rumpus?" The directors' propensity for verbiage and ironic violence fits the story like a fringed suede glove. Welcome to the first stoic screwball Western.
There are dim, brutal men on the plains and a demented dentist straight out of Blood Meridian, but unlike the Coens' similar pulp-lit flick No Country for Old Men, the gravitas needed to give True Grit an aura of foreboding frontier justice is largely AWOL. Even Carter Burwell's elegiac score and a biblical starkness settling over the proceedings can't shake the sense that it's a bit of a mannered, if endlessly entertaining, lark. To make a Western now is in itself a subversive act. Improving, embellishing and reclaiming an old-fashioned oater from the vintage studio-cheese bin with such humor and vigor seems truly, truly ballsy.
Watch the trailer
Details
Release details
Rated:
15
Release date:
Friday February 11 2011
Duration:
110 mins
Cast and crew