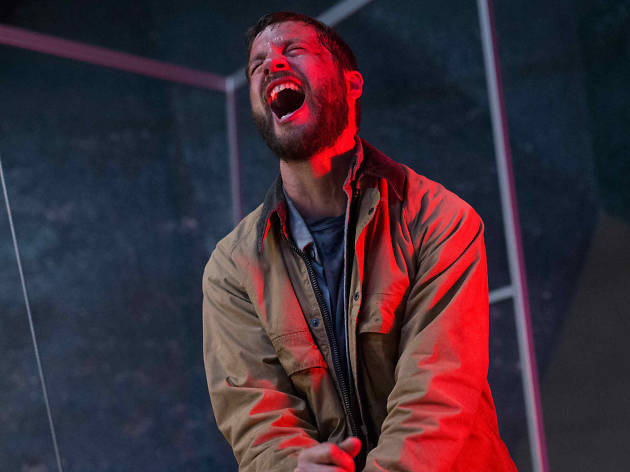 Time Out says
This wildly inventive sci-fi thriller has intelligence that's anything but artificial.
A cyberpunk schlockfest in the grand tradition of 'Robocop', 'Upgrade' is modest in budget, big on ideas and a total blast. The new film written and directed by 'Saw' and 'Insidious' co-creator Leigh Whannell unfolds in the digital world of the very near future: cars are self-driving, homes are run by Alexa-like AI, and surveillance drones patrol the skies (Whannell's hometown Melbourne stands in for a North American metropolis). After old-school motor mechanic Gray Trace (Logan Marshall-Green) is left paralysed in a savage attack that leaves his wife dead, he accepts an offer from a reclusive young genius, Eron Keen (Harrison Gilbertson), to be implanted with a revolutionary chip called STEM that can restore his ability to move and has the incidental side effect of making him a total badass at hand-to-hand combat. The augmented Trace begins tracking down his wife's killers and taking them out in giddy scenes that juxtapose extreme violence with comedy – he can't quite believe what he's seeing himself do, and can't help commenting on the mayhem.
'Upgrade's quadriplegic hero neatly personifies what we all fear technology will one day do to us: render us passive, machine-reliant and redundant. And when STEM begins speaking to Trace in a placid voice that channels HAL 9000 (Simon Maiden), we're clued into the fact that his new superhuman status could be a poisoned chalice. Whannell shoots the action with dizzying inventiveness and there are brilliant conceits, such as shotguns built into human arms and a nanobot-laced sneeze that kills. Everything you could hope for, in short, in 100 minutes of pulpy fun. Should they even bother with the forthcoming 'Six Million Dollar Man' remake?
Details
Release details
Rated:
15
Release date:
Friday August 31 2018
Duration:
100 mins
Cast and crew
Director:
Leigh Whannell
Screenwriter:
Leigh Whannell
Cast:
Logan Marshall-Green