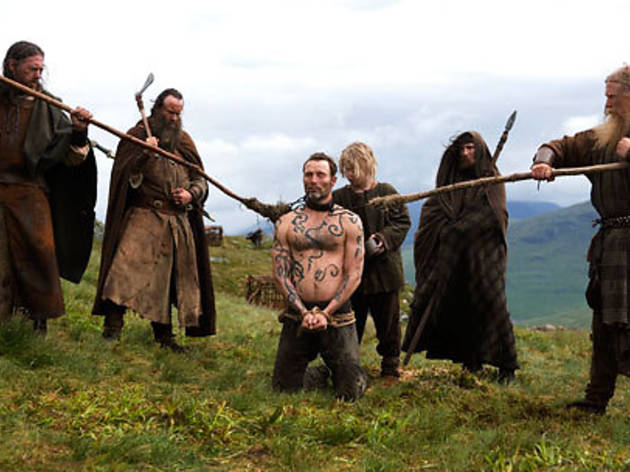 Time Out says
Icy as Daniel Craig was in Casino Royale, you still had to give it up for the dude playing Le Chiffre, coolly wiping away tears of blood as he doubled down at the poker table. That actor's name is Mads Mikkelsen; in his native Denmark, he's already an icon. And with this week's hilariously somber Valhalla Rising—a hypnotic acid trip of a Viking misadventure—Mikkelsen's stateside fans will finally get a sense of his full physical brio.
For one thing, the star is mute for the entire movie, and those silences are made to count. (Clint Eastwood's "Man with No Name" is a gasbag by comparison.) Caked with grime and blood, his face is punctuated by a heavy-lidded ruined left eye. Kept in a cage like an animal, the character eventually steals his freedom with a shocking bit of violence. A tow-headed waif (Stevenson) christens him One-Eye—"You need a name, and you've only got one eye," he reasons—and they head out with a small band of idiotic Crusaders toward certain damnation.
Such meager plots used to be perfectly sufficient in the bygone era of manly, medieval epics. (Ingmar Bergman would have found much to like here.) Valhalla Rising is way too arty and impassioned to confuse for a mere action flick; subdivided into six portentously titled chapters ("Part V: Hell"), it feels like a Black Sabbath song come to visual life.
Director Nicolas Winding Refn, the prankster of last year's Bronson, has never reduced his craft to such a sledgehammer of minimalism. Electric guitars drone on the soundtrack, bones crunch, and a mystical religiosity gathers around One-Eye; there's a midnight cult here for those who yearn for one.—Joshua Rothkopf
Watch the trailer
Details
Release details
Cast and crew