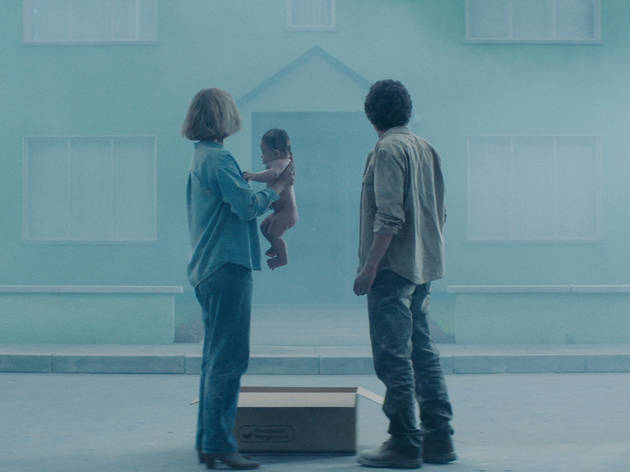 Time Out says
If you like your mirrors black and your zones twilit, this satisfyingly nightmarish sci-fi is for you.
Opening with distressing but perfectly natural footage of a cuckoo hatchling shoving the rightful occupants out of their nest, 'Vivarium' is hardly subtle in its central conceit. The plight of Gemma (Imogen Poots), an infant-school teacher, and Tom (Jesse Eisenberg), a gardener, isn't directly analogous, mind you. It is not their need to breed that is exploited, but their millennial desperation to get on the property ladder. After being taken to a sprawling, soulless, suburban development by an uncanny estate agent (Jonathan Aris), they soon discover the place is a kind of extradimensional prison from which escape is apparently impossible (a bit like Bexley). Its purpose? To entrap them into parenthood, bringing up a baby which isn't as human as it looks.
There are shades here of Jonathan Glazer's 'Under The Skin' and Vincenzo Natali's 'Cube', too, though first-time director Lorcan Finnegan has more satirical concerns, underpinning his nightmare with Charlie Brooker-ish black (mirror) comedy. Yet, despite an intriguing, promising setup and Poots and Eisenberg's easy chemistry (previously seen in last year's 'The Art of Self-Defense') this particular puzzle box doesn't click together as well as you'd hope. As Gemma and Tom spiral downward into an increasingly surreal domestic hell, you're not so much impressed by its eventual revelations as left wondering why, despite a rather predictable coda, so many questions are left unanswered.
Details
Release details
Rated:
15
Release date:
Friday March 27 2020
Duration:
97 mins
Cast and crew
Director:
Lorcan Finnegan
Screenwriter:
Garret Shanley
Cast:
Imogen Poots
Jesse Eisenberg