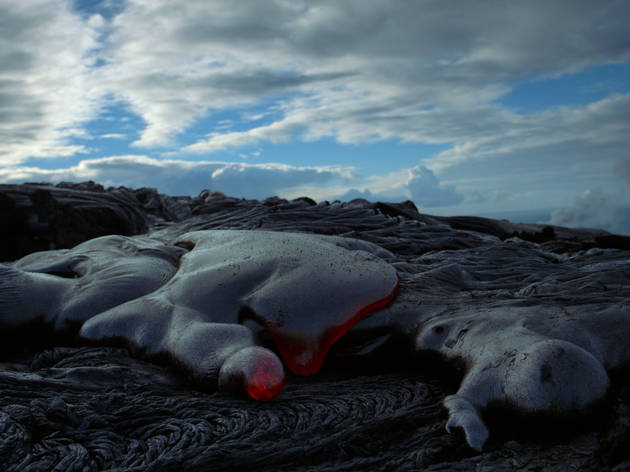 Time Out says
Terrence Malick goes IMAX, infusing every frame with natural awe.
"Dear child," begins the narration of this unusually hushed and beautiful short film—more a prayer than a science documentary—and even though you'll recognize the speaker as Brad Pitt, don't expect even a hint of the star's goofiness. Voyage of Time, a 40-year obsession of director Terrence Malick, exists in two versions. While you get twice as much material in the 90-minute cut (along with the cooing tones of Cate Blanchett), it's this briefer, 40-minute Brad edit in IMAX, loaded with scientific conjecture and cosmic gorgeousness, that stands a chance of becoming a modern-day classic—and not just for stoners who relate to the phrase "every particle blazing."
Swaying trees, glinting stars and wildlife have been present in Malick's films as early as his 1973 debut, Badlands. He consistently finds room for nature even when his subjects range from human warfare (The Thin Red Line) to autobiographical Texas domesticity (The Tree of Life) and Hollywood emptiness (Knight of Cups). But with Voyage of Time, Malick cuts us people out altogether, making the universe and its eons of evolution his main character. Specifically, that means bubbling pools of cooling lava, hypnotic supernovas and images of unspoiled green horizons that come from either the most heavenly location shoots or an especially poetic computer. It's hard to tell.
Along with Malick's glorious imagery comes an unobtrusive commentary intended to set viewers (perhaps young ones particularly) on the path to curiosity. "Why was there something rather than nothing?" asks Pitt, one of several calm questions that never tip into religiosity. The film isn't heavy on earth science, yet these orange-tinted tide pools and shuddering protomammals indicate a strain of serious research. The world is a miracle and a gift in the movie's eyes; it would be no small thing if audiences left with the same sense of wonderment.
Follow Joshua Rothkopf on Twitter: @joshrothkopf
Details
Release details
Cast and crew
Director:
Terrence Malick