Wall Street: Money Never Sleeps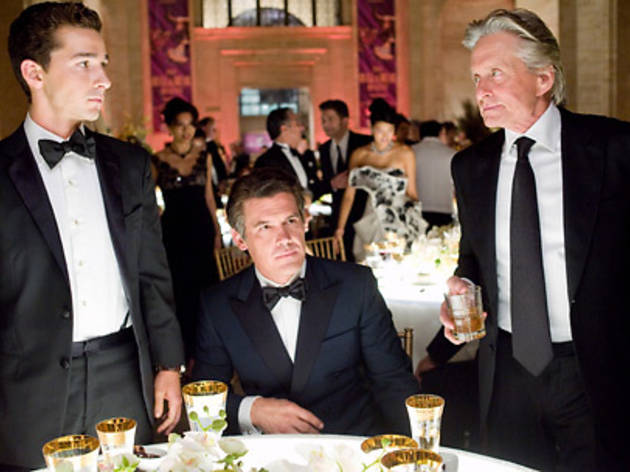 Time Out says
The first Wall Street was something extraordinary: a large lump of Hollywood's money thrown behind an indictment fresh off the front page. Its director, Oliver Stone, was at the peak of his clout in 1987; Platoon was still in theaters. And the idea of America's self-appointed guilt-bearer taking on the nouveau riche was a big deal. Mere weeks after Black Monday, you could watch the Sheens (Charlie and Martin) agonizing over the size of their respective wallets.
Wall Street: Money Never Sleeps, a completely unnecessary sequel, plays a lot like The Godfather, Part III---lush, self-parodic and cut adrift from urgency. It will surprise no one to learn that in the late summer of 2008, a financial crisis was brewing. Mighty Frank Langella, walking his poodle in the park and kvetching, strains to bring gravitas to one of those too-big-to-fail investment bankers, but like him, the movie feels a hundred years old. Young protg Jacob (LaBeouf, doing his earnest thing) hopes to carry on a sense of the old man's ethics, even as his fiance, Winnie (Mulligan), posts on her lefty blog and wrinkles her button nose.
Who might Winnie's estranged dad be? Michael Douglas's reptilian Gordon Gekko is---if you can believe it---a hero now: a quasichastened ex-con who represents the brilliance lost in our foolish pursuit of credit-default swaps. Douglas is having a ball in his signature role, and Stone gets many of the details right (Gekko takes his daughter to '80s-icon Shun Lee Palace). Yet the movie, lazy to begin with, slackens once all the daddy issues come into play. The snap that used to be Stone's signature is now a pop of bubbles: Kids actually blow them onscreen, just in case you didn't get the message.
Watch the trailer
Details
Release details
Cast and crew