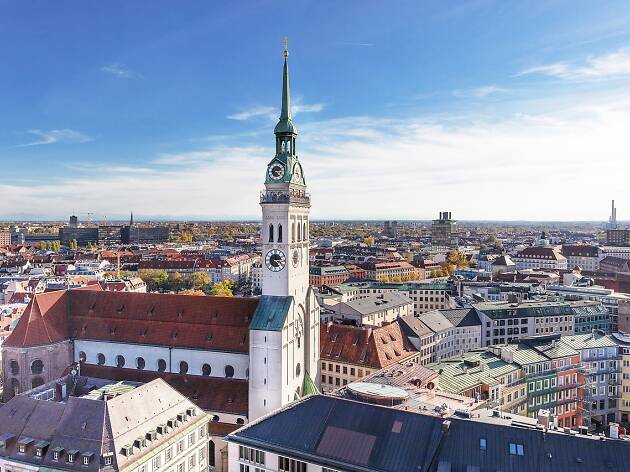 The most beautiful buildings in Munich
Take in the city sights up close, including surviving pre-war structures, Art Nouveau venues and modern marvels
Munich was essentially rebuilt after World War II, as large swathes of the city were destroyed during the wartime bombings. While rebuilding, the city decided to restore many of its buildings to their traditional pre-war format, unlike a city such as Berlin, which chose to embrace modernity and skyscrapers. As a result, Munich's architecture gives a sense of traditional Bavaria with a cozy, small-town flavor. Munich also has some surviving 19th and 20th century buildings, including some lovely Art Nouveau and Jugendstil apartments, shops and homes, as well as some ultra-contemporary architectural designs that showcase the city's more modern tastes. Munich's architecture is an intriguing blend of the highly traditional and the recent trends in building of the past several decades, and the following buildings are the city's ten most beautiful, in our humble opinion.
Most beautiful buildings in Munich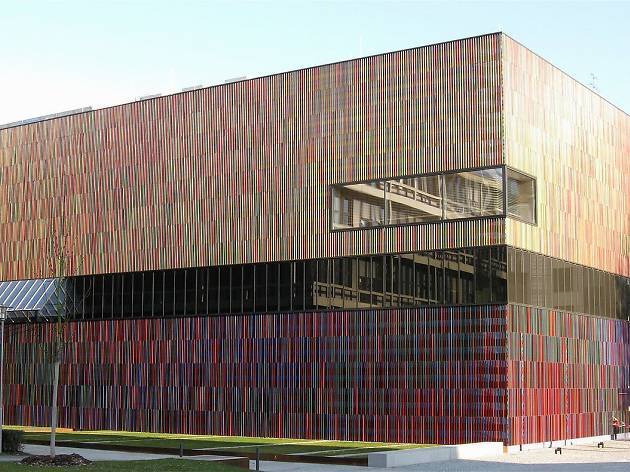 This contemporary art museum has a wonderfully playful and innovative exterior to match the equally avant-garde artists represented within, such as Cy Twombly and Jean-Michel Basquiat. Built in 2009, its long and angular structure sports numerous multicolored ceramic tiles with 23 varied colors of glaze, and many of the museum's rooms were built in unusual geometric shapes, such as an irregular octagon-shaped gallery that houses one of Twombly's series of pieces. The Brandhorst is full of natural light, utilizes eco-efficient energy and compliments the architecture of the three nearby Pinakothek art museums, ranging from traditional to modern design.
Probably the most iconic building in the city skyline, Munich's Frauenkirche (Church of Our Lady) sports two onion-shaped towers of identical height. In fact, no building in central Munich may exceed the church in size, giving Munich a rather small-town vibe with its lack of skyscrapers downtown. The building has gone through various incarnations throughout the decades—originally destined as a late Gothic church, it had a Baroque interior for a while, which was later removed. Destroyed in the war and then rebuilt, it's a can't-miss in Munich; be sure to investigate the Devil's Footprint inside the church!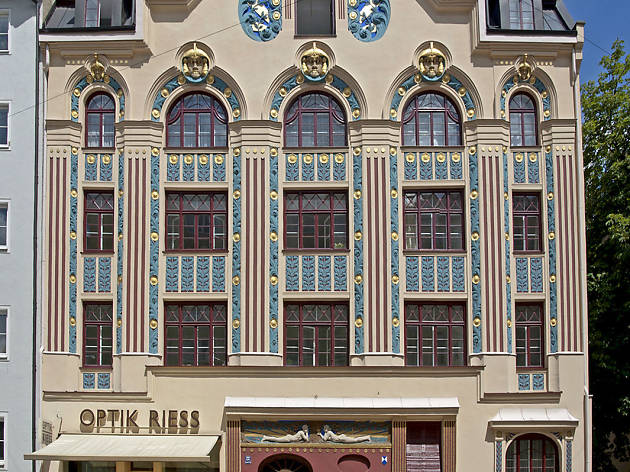 Photograph: Courtesy CC/Wikimedia Commons/Digital cat
The Jugendstil art movement in Germany during the late 1800s and early 1900s, paralleling the Art Nouveau movement, led to the construction of several gorgeous mansions and public buildings in Munich in a style characterized by flowing curves and an integration of fine art techniques with decorative elements. Built in 1898, this stunning Jugendstil house in the Schwabing district survived the war and features several interesting motifs such as ancient Egyptian and Greek design elements, highly stylized windows and a vibrant color palette with gold accents. Other excellent examples can be found nearby, but this house is particularly eye-catching.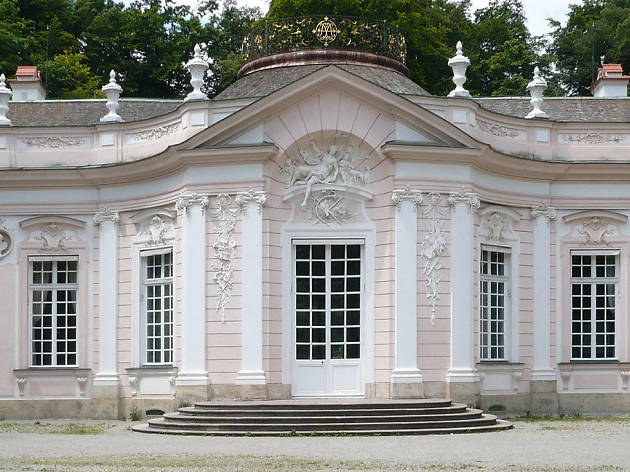 Photograph: Courtesy CC/Wikimedia Commons/Usien
Munich and its suburbs are home to several palaces and residences of the former Bavarian royal family, and the famed Nymphenburg palace has on its grounds one of Munich's most beautiful structures: the uber-Rococo Amalienburg, a former hunting lodge built for the daughter of Emperor Joseph I, Maria Amalia. The famed French Rococo architect Cuvillies designed the interior decor and general architecture, and the building boasts elaborate woodcarvings, a wide array of paintings and stucco, and all sorts of fun surprises for visitors to discover, like a kitchen decorated with Chinese scenery and Dutch tiles and a Pheasant Room with painted waxed-linen wallpaper adorning the walls.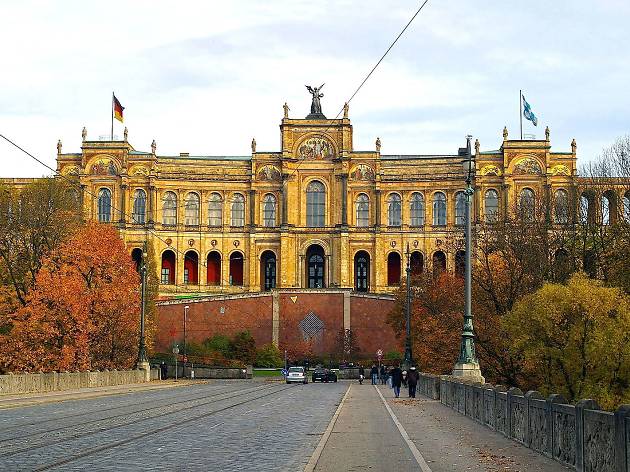 Photograph: Courtesy CC/Wikimedia Commons/Michael Vogt
Bavarians are true patriots, and the Maximilianeum—home to the Bavarian Parliament—showcases this love in the charming Haidhausen neighborhood in Munich. Constructed in a Neo-Gothic style with elegant Greek-inspired columns, arches and a panorama facade made from glass and terracotta, the building looks particularly impressive situated atop a small hill, and is flanked by a fountain on the Maximilianstrasse below, and topped off by a statue of an angel. It's all a bit over the top, but is especially stunning during the evening while illuminated as it contrasts beautifully with the night sky.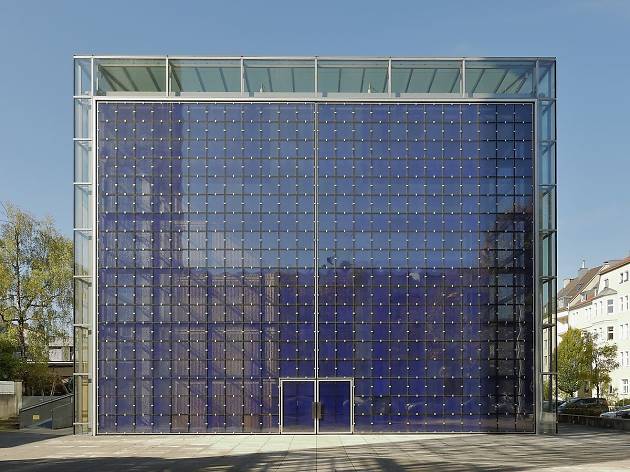 Photograph: Courtesy CC/Wikimedia Commons/Martin Falbisoner
A unique and highly modern example of a central European church, the Herz-Jesu-Kirche in the western Neuhausen neighborhood truly stands out in a city more known for its more "traditional" buildings. This Catholic church's congregation chose to embrace a half-transparent blue glass building with a subtle design of nails (as from Jesus' cross) interwoven in the exterior. The church has a light-filled, wood interior with a very contemporary, sleek design—including black and white photographs for the Stations of the Cross and a brand-new organ—while still maintaining the basic tenets of Catholic architecture.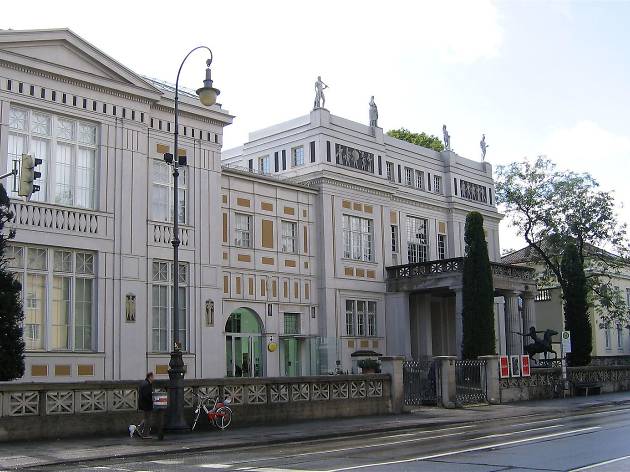 Photograph: Courtesy CC/Wikimedia Commons/Rufus46
One of the finest and most intriguing examples of the German Jugenstil movement is the sculptor Franz von Stucks's self-designed house, now serving as an art museum but also a display of the building's incredible interior and furnishings. The exterior is a toned-down but decorative Art Nouveau neoclassical style, and all the inner rooms are meticulously and thoughtfully laid out in dark, rich colors, with many accents of gold and carefully arranged paintings and pieces of sculpture. You can take a guided tour of the building or simply explore it for yourself, and the inner cafe and courtyard provide a light and airy contrast to the rich, warm interior.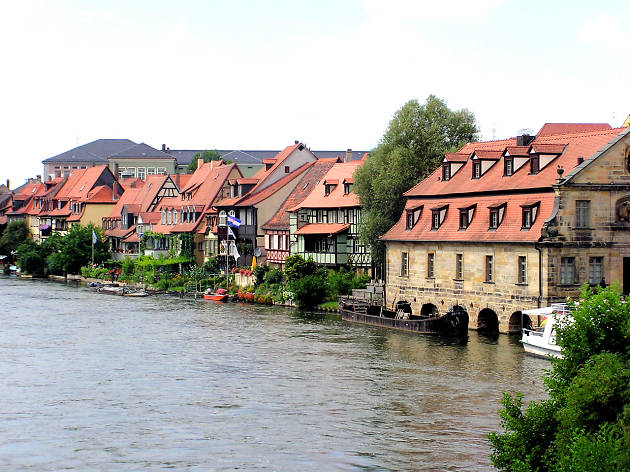 Photograph: Courtesy CC/Wikimedia Commons/Schubbay
The very village-esque neighborhood of Untergiesing was once primarily dominated by farmhouses, and only became urbanized during the 1800s; as such, it still contains many picturesque small houses and former farmhouses. Mondstrasse 14 is a particularly striking address, as it overlooks a small bridge and canal running underneath, leading locals to dub it "klein Venedig"—Little Venice. A former apothecary, the building is owned by local artists with a gorgeous atelier that is sometimes open to the public during open-air street art festivals.
Munich's synagogues, along with most of its Jewish community, tragically perished in the Holocaust; but the community has experienced a revival in the past several decades thanks largely to immigrants from former Soviet countries. This main synagogue was rebuilt in 2005. Located in downtown Munich, it features stone imported from Jerusalem, lending a touch of ancient tradition, while topped with an ultra-modern glass cube that represents the tents that the Jewish people used in the desert as recounted in the Old Testament. Most of the synagogue's interior is located underground for security purposes.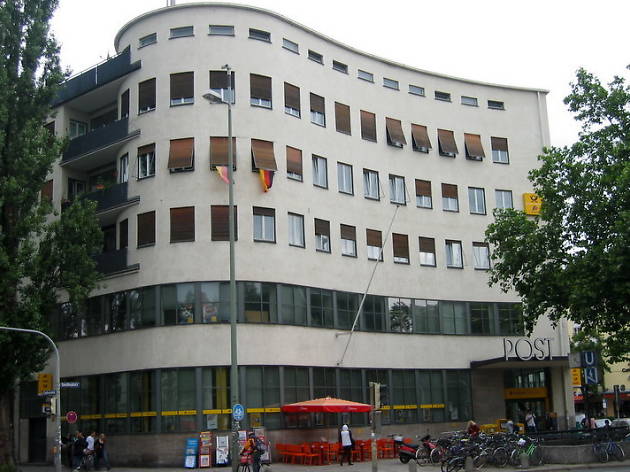 Photograph: Courtesy CC/Wikimedia Commons/Furukama
10. Post office at Goetheplatz
Built in 1932 in the New Objectivity style (with some similarities to the Bauhaus movement), this contemporary post office is deceptively simple, elegant and sleek. Seemingly resembling a white wave with windows of various sizes, this post office reflects an era of exciting new functional-yet-refined architecture before the ravages of World War II—although when it was initially built, many people were upset by its "nontraditional" appearance. The building's architect constructed two other post offices in Munich in a similar style that are also worth seeking out. The Goetheplatz post office's interior space is airy and light, a nice change of pace from post government buildings.
Best selling Time Out Offers