Weird things happen in Bungalow 3 at legendary LA hotel Chateau Marmont. The suite is where comedian John Belushi was found dead in 1982 and urban legend says it's been haunted ever since. While staying there once, Florence Welch reckons she might have been the subject of an otherworldly prank.
'A glass table smashed of its own accord,' the 28-year-old tells me, excitedly. 'Maybe that was a ghost; I don't know. I was wearing a ballgown and I cut my foot and got blood all over it. It ended up looking like some kind of ritual sacrifice.' She laughs. 'I think it was probably through drinking though.'
The Londoner has always been fascinated by the supernatural: her school years were spent reading Victorian horror stories and hanging out in her own coven. At home in London, she is sometimes visited by a 'psychic cat'. She reckons writing a song is close to casting a spell. In many ways creating Florence + The Machine album 'How Big, How Blue, How Beautiful' and its visual counterpart 'Odyssey' has been a way for Welch to exorcise the bad break-up and some full-on partying that inspired them. 'When life gives you something challenging, it really makes a fire in you,' she says. 'It's a powerful creative force and you have to make something from it or it's going to destroy you completely.'
Now that period of exorcism is culminating in a huge homecoming gig in Hyde Park for British Summer Time. 'It's the last thing we'll do for this record so we wanted to bring together everything that's gone into it,' says Welch, explaining that there will be elements of the film, dance and visuals involved. 'The songs have evolved as we've played them and lived our lives, so it feels good to bring all those things together. It's a one-off.'
Apart from that night at Chateau Marmont, what's the best party you've ever been to?
'The best was a party I had in my house after my last tour. It lasted for a day. Okay, maybe two days, if I'm being honest. It was also the worst because at some point we decided to leave the house and go to the pub. I jumped on stage with the house band and performed a really bad cover of "Get Lucky" then crowd-surfed off the stage on to no one. I thought I'd got away with it until three days later when my manager phoned me and asked if I'd done any covers recently.'
Did you base your song 'Ship to Wreck' on that?
'Yes! As a musician coming up through the scene, I thought partying was what I was supposed to be doing. But given the space to take it as far as I wanted, I realised it wasn't taking me anywhere good. It was totally fun, but it got out of hand a bit.'
Florence Welch by Laura Coulson
'I was just so drunk all the time that I didn't know what I was doing'
What was your experience of the music scene in London when you started out?
'That was such an amazing period. I grew up in Camberwell and when I was 16 or 17 there were so many Camberwell Art College bands: The Ludes, Jamie T, Larrikin Love. And everyone was putting on club nights. It's funny talking to Time Out because that's how I would find gigs and clubs. I didn't have a phone so I would look in the listings and we'd go to burlesque nights or Madame Jojo's, Death Disco and Corsica Studios. There was this big art collective called !WOWOW! who were all living in squats down my road so we used to go to these big parties there and see bands.'
How did you get your first gig?
'I pretended I had a band! I met Mairead Nash, who's now my manager, in the toilet at a club night and said I had one but it was totally imaginary. I had to get Matt from The Ludes to play guitar for me. Then Dev Hynes from Blood Orange played with me for a while at places like The Old Blue Last, then Kid Harpoon.'
Do you think you have to be quite cheeky to get a break?
'I don't know if it's cheeky. I think I was just so drunk all the time that I didn't know what I was doing. There was a Kooks gig where Jamie T played the afterparty and then after the afterparty there was an open-mic. I was really drunk – among other things – and I got on stage after and improvised. That's kind of what I would do: just stand up and sing anything that came into my head. I think that's where "Kiss with a Fist" came from. I didn't think about professionalism or how to make it, I was just excited by the scene and wanted to make stuff too.'
Is it nice to be able to share the experience of fame now with friends from that scene like Dev Hynes?
'Yes, because we saw everything together and now he's playing Hyde Park too! We were texting about it like: "We're both still making music!" He's one of my best friends.'
You went to the same school as Jessie Ware. Your school musicals must have been amazing!
'I really, really wanted to be in musicals but my voice was always a bit too sad. Jessie was two years above me and was smashing it in all of them. I was in the chorus with Jack Peñate, who also went to my school. We were the troublemakers at the back.'
What did you get up to?
'He was always trying to distract me by whispering swearwords in my ear while we were singing. Actually, I did have one good part: I was a member of the Salvation Army in "Guys and Dolls". I had to deliver a tray in one of the scenes and managed to ham it up a lot. It was my one moment.'
Florence Welch by Laura Coulson
'I wrote a letter to J-17 saying: "My mum won't let me light candles for my shrine, what do I do?"'
Is it true you had a witches' coven at school?
'Yes! I had a coven and we had spell books. It was all about trying to get these boys to fall in love with us: pricking our fingers and putting blood in a jar. I started making a shrine. My mum got very angry with me because I kept lighting candles and she thought I was going to set the house on fire.'
Did you explain that the candles were an important part of your spells?
'I wrote a letter to J-17 saying: "My mum won't let me light candles for my shrine, what do I do?" They didn't print the letter in the magazine.'
You should have hexed them.
'Yes, although I don't think our spells worked. I don't think Joe ever did fall in love with me. Or maybe the spell worked so well that he still is in love with me.'
How did your coven come to an end?
'In the way that girls who are 11 years old fall out with each other.
Bit like 'The Craft', then?
'Basically, yes! It's hard being a girl at school. I didn't really have arguments, though, because I was quite sensitive and weird. I'd spend my lunch hours walking to and from the music school or hiding in the library reading Victorian horror stories.'
Are there any crazy stories you've heard about yourself which aren't true?
'The best one was that I was going to be in "Star Wars". My sister sent me a text asking about it, and I was like: "What? No! I wish!" I'm so sad it didn't come true.'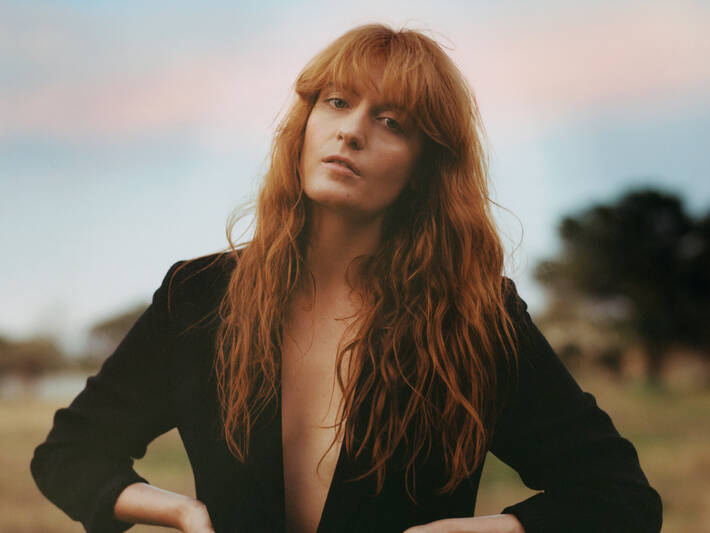 Florence Welch by Tom Beard
'I totally fangirled Beyoncé at the Met Ball'
What's the weirdest place you've ever heard your music playing?
'I always get so freaked out whenever I hear my own voice in a random place. It'll be in an airport giftshop or something and I'll feel like all of a sudden everyone sees me naked. But now everyone has seen me naked in the "Odyssey" film, so I don't know what I'm worried about.'
Did you find appearing naked in 'Odyssey' liberating?
'Yes, it really was. As a young woman, growing up and suddenly becoming famous, you do feel uncomfortable in yourself. You have concerns about your body. And with this is album it was just like: "Fuck it, it doesn't matter."'
What's the first thing you'll do when you arrive back in London?

'I'm looking forward to riding my bike and seeing how the garden is. I'm quite allergic to cats, but there's a psychic cat that comes to visit. When I was really sad, he used to show up. He came all the way up the stairs and got into bed with me, but I never knew where he came from.'
Last year you became one of only five female acts ever to headline Glastonbury, and now you're doing British Summer Time. What do you think about the lack of representation of women on festival line-ups?
'You just have to hope that it gets better. Especially now it's more visible that there is a lack. Adele is going to do it this year and you just hope that things keep changing. There are so many powerful, beautiful, strong female performers.'
Other than Adele, which women would you have loved to see headline Glastonbury this year?
'PJ Harvey. Her recent song "The Wheel" completely blew me away. You know when someone releases something and you get super-obsessive? I love Björk as well. And I love the rawness of Fiona Apple and the organic nature of the instruments. But also I just want to see Beyoncé. I really want to go to her show.'
There seems to be trend for artists making films around records this year, with both 'Odyssey' and Beyoncé's 'Lemonade' out over the past couple of months. Do you think fans want more from artists these days?
'People's attention spans are getting shorter. I think because of the way you receive music now, you don't really need to listen to it as a whole album because you can just listen to one song. For me, it meant I could create a world: something you can really get lost in.'
It's interesting that both 'Lemonade' and 'Odyssey' deal with relationships in a very raw way…
'When I made the "What Kind of Man" video, I was still very much in the headspace of what the song was about: that desperation of 'Why can't this work?'. And Beyoncé's sentiment "When life hands you lemons, you make lemonade" is beautiful. Life gave you something that you found challenging and you're left with this energy. It's a very powerful creative force and a way of almost saving yourself.'
What did you think of 'Lemonade'?
'I loved it. I actually wanted to write Beyoncé a fan letter but I got to speak to her in person at the Met Ball. She came over and put her hand on my shoulder and I was so excited to see her. She was like: "It's all right, you don't need to stand up", and I was like: "Yes, I do!" I totally fan-girled her, but she was so polite and sweet.'
What would you have said to her if you had written your fan letter?
'Just how much the record moved me, and how much I loved it. We've been listening to "Lemonade" before every show. It's the record I dance around to before I go on stage, especially "Don't Hurt Yourself". I love how much she swears in it as well: it's so good. She's such a woman. That's what's been getting me motivated for the shows: swearing and jumping around.'