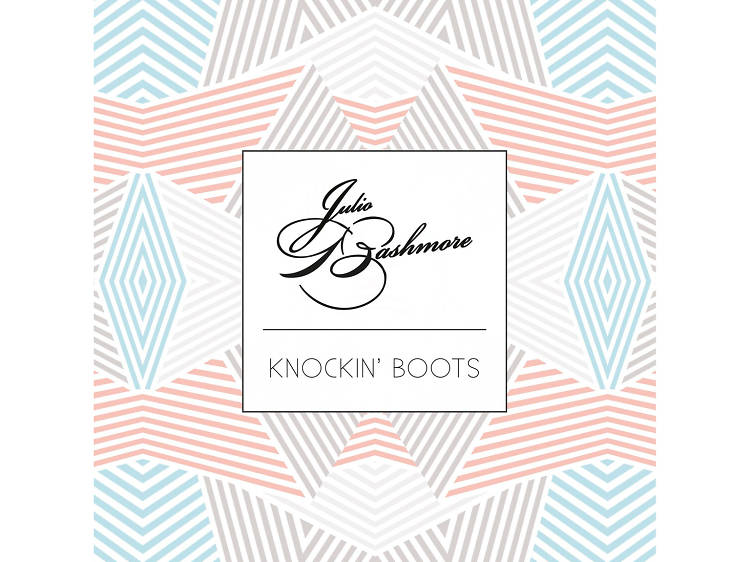 Julio Bashmore – 'Knockin' Boots'
As well as New Labour, Jayne Middlemiss and Lynx Africa, the '90s also introduced us to the concept of the Great British Dance Album. These were big, ballsy records that took rave music beyond the underground and gave the nation a soundtrack for a weekend of primo hedonism – from the giddy thrill of punching out of work on Friday to returning, spiritually altered and on an all-consuming comedown, on Monday.

Records by The Prodigy, The Chemical Brothers and Underworld still hold their own in that regard – which is lucky, as recent UK dance albums from Jamie XX, Clean Bandit and others have shown a serious lack of purpose. These are dark days for the GBDA.
But make way for Julio Bashmore. This 12-track debut album from the Bristolian house producer is a much-needed sonic reminder that the weekend never dies. It's one of those nighttime-evoking, start-to-finish classics on a par with Daft Punk's 'Discovery' or the Beastie Boys' 'Paul's Boutique'.
What makes it so good? Well, for starters, there's not a smidgen of David Guetta-style pomp. Press play and you only have to wait 11 seconds for the beats to pile in. Bosh. Having made his bones on the fringes of the dubstep scene, Bashmore knows his sonic tricks. (Google 'Julio Bashmore bass' and you'll see a fleet of articles discussing his exquisite low end… so to speak.)
But this isn't music for dance nerds, this is house music as Frankie Knuckles meant it to be: dicey disco samples, hissing hi-hats, thumping kicks and soulful, poppy lyrics. Among the treats are 'Let Me Be Your Weakness', which finds upcoming singer Bixby plead 'treat me like a credit card', and 'Kong' – an unashamed tribute to Roy Davis Jr's 1996 proto-garage tune 'Gabriel', but a heart-melting banger all the same.
What gives 'Knockin' Boots' GBDA status, though, is its range. There's a hard-house rinse-out one ('She Ain't'), a bleary-eyed, comedown-tickling one ('Simple Love'), a rappy one ('Unubu'), and – just for good measure – a K-hole one ('What's Mine Is Mine'). At a time when featherweights like Route 94 or David Zowie can forge a career with one basic house hit, you have to admire Bashmore hugely for the sheer scope of this album, and wonder whether his biggest rivals Disclosure have the ability to match it when their new album drops in September.
'Knockin' Boots' by Julio Bashmore is out now.