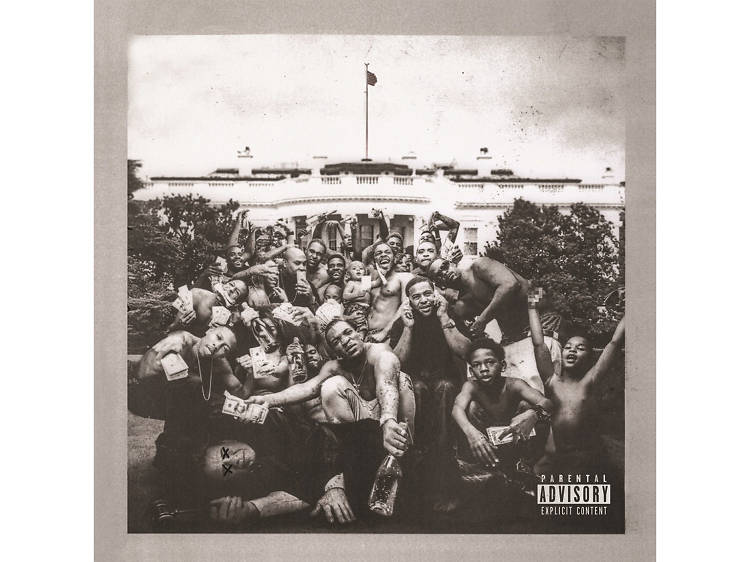 Kendrick Lamar – 'To Pimp a Butterfly'
How to come to grips with Kendrick Lamar's 'To Pimp a Butterfly', an album so densely layered that no one (with the possible exception of Kendrick himself) has heard the whole thing? Where cosmic funk wallows in Stygian gloom, and even Pharrell isn't happy but merely 'Alright'?
The largely percussionless 'U' – playing heads to the bushy tails of Grammy-winning self-esteem-a-thon single 'I' – is a good place to start. Saxophones whimper, Kendrick growls, and when the beat finally breaks so does he: 'I know you're irresponsible, selfish, in denial, can't help it / Your trials and tribulations a burden, everyone felt it'. It's among the 27-year-old's most affecting moments, less rapped than bawled, and one that for all its substantive weight owes just as much to pure style.
On 'U', we delight in the skill and versatility of rap's arch vocalist, a man with more range than Mariah's five octaves, even while we shudder at the power of his message. And we do the same throughout '…Butterfly' as it rages through race, politics, fame and consumerism.
Musically, the follow-up to 2012's 'Good Kid, MAAD City' doesn't draw on influences so much as hand them a cheque. George Clinton, Ronald Isley and Snoop Dogg all make appearances as '…Butterfly' flutters from P-Funk to jazz, G-funk to soul, spoken word to straight-up hip hop. Highlights, and there are many, include the Pharrell-produced (lawsuit pending) 'Alright' – pushed uphill by a plaintive jazz choir – and the haunting 'How Much a Dollar Cost', heavily indebted to Radiohead's 'Pyramid Song'.
'To Pimp a Butterfly' makes no attempt at the charts, or even hip hop radio. Instead, it's aimed squarely at the musical canon that inspires it. 'I got the world's attention so I'ma say something's that's vital,' raps Kendrick. In that, and in so much else, he succeeds.
Buy 'To Pimp a Butterfly' on iTunes | Buy 'To Pimp a Butterfly' on Amazon