Róisín Murphy's career has been a gloriously unpredictable beast. After starting off in the '90s as one half of Moloko, she's mixed eccentric trip hop and electronica with huge club hits like 'The Time is Now' and 'Sing it Back'. The latter is still so ubiquitous that her six-year-old daughter recently came home from school and asked, cutely getting the song's title ever so slightly wrong, 'Mama, did you do "Bring it Back"?'
Since going solo in 2004, Murphy has released the brilliant mainstream pop album 'Overpowered', an EP of classic Italian songs called 'Mi Senti' and last year's electro-prog-disco opus 'Hairless Toys', which was nominated for the Mercury Prize.
Now comes the equally fearless companion piece, 'Take Her Up to Monto', and a historic concert at Shakespeare's Globe. The venue should bring out the theatrical best in Murphy, a performer who never steps on stage without an avant-garde arsenal of masks, props and completely unique costumes to hand. After 12 years in the capital, County Wicklow-born Murphy says she's happy to be called a London artist, so we feel justified in claiming her as our own as we pick her supremely creative brain at The Globe.
Is it nerve-racking to be giving what's billed as 'the first ever contemporary live music performance' at Shakespeare's Globe?
'It's very exciting. I was actually a little sceptical before I came to see the venue, but the minute I walked in I was convinced. It's very intimate – the audience will almost be falling on top of me. And the resonance of all that wood will be great for the acoustics.'
This concert feels like another milestone in a pretty unique career. What makes you seek out new challenges?
'I think it's because I started out in such a weird way. At a time in my life when I didn't think of myself as a singer at all, I chatted someone up with the line "Do you like my tight sweater?" and ended up in a band [Moloko] with him. I became a singer and a songwriter by learning on the spot, so think I always need to be slightly out of my comfort zone when I do something. I've never stopped being experimental because that's how I started.'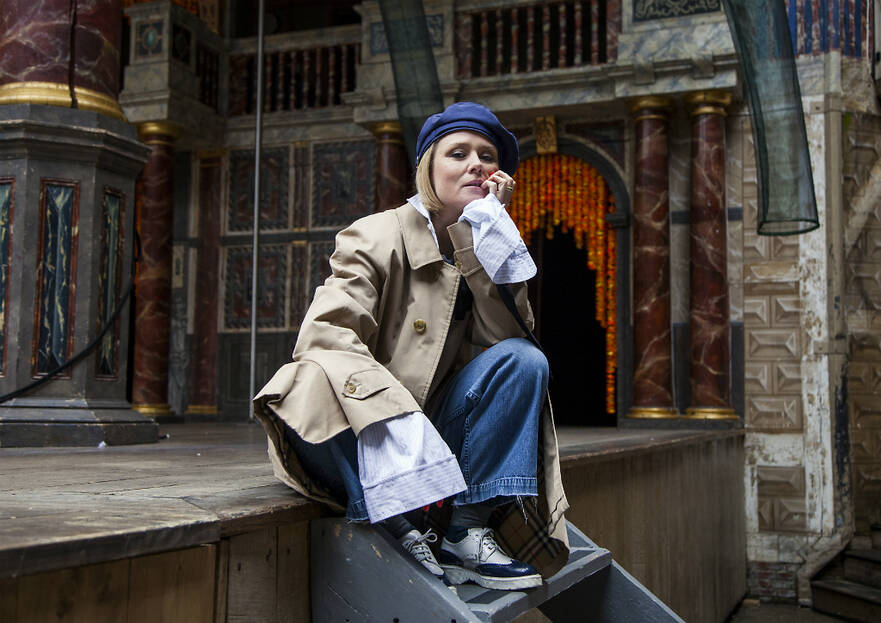 'Take Her Up to Monto' mainly features songs recorded at the same time as last year's 'Hairless Toys'. How did you decide which songs made which album?
'The songs on "Take Her Up to Monto" are more extreme: more dynamic or more complex or more pop. I think subconsciously we were slightly afraid of them at first. If they were siblings, "Hairless Toys" would be the nice child and "Take Her Up to Monto" is more of a problem child.'
The single 'Mastermind' is a fabulous, shape-shifting disco epic. What it's about?
'It's just me being sarcastic about my boyfriend, really. He'd like to think of himself as the mastermind of our family life. The whole bloody record's about him and he loves it even when it's negative. He'll say to me, "That's great, because it's about me!"'
You're known for your incredible stage outfits. How important has fashion been to your career?
'My house is full of clothes and the children think it's normal, which is a little worrying, I suppose! But dressing up is a big part of what I'm known for and I play on that. It's gotten to maximum madness now: I can change five times in a song if I want to. Years ago a friend told me I was a drag queen and it confused me. But over the years I've realised that I actually am a drag queen. I like taking different elements – clothes, shoes, lighting – and creating a total transformation. But it's never about hiding: it's about drawing something out from deep inside of me that's really true. I'm always trying really hard to tell you the truth. That's what this is all about for me.'
What are you most proud of in your career?
'I'm proud that I've even had a career, but proud isn't the first word I'd use. I feel lucky that I moved to Manchester when I was 12 because I don't think I could have done this in Ireland. And I feel lucky that the government took care of me from the age of 16 to when I signed my first record deal at 19. I had no idea what I was going to do with my life, but I was very curious and experimental, and because of social security I was never broke. And then I landed where I landed. I've since more than paid back my debt to society but I feel like what I did isn't an option for kids nowadays. And now I'm lucky to be making music in an era where I can direct my own videos and really take control of the whole thing.'
'Take Her Up to Monto' is out on Friday July 8.
Photography by Andy Parsons