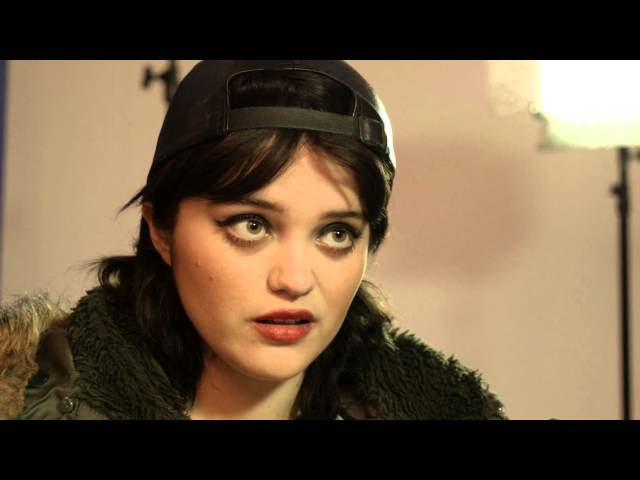 Sky Ferreira knows a thing or two about being in the spotlight. The 21-year-old, who grew up in Los Angeles and now calls NYC home, has modeled for Yves Saint Laurent, sparked controversy by being topless on the cover of her debut album, and made news for getting busted for drugs with boyfriend Zachary Cole Smith of DIIV. But all that noise can't drown out the fact that
Night Time, My Time
is one of last year's standout LPs, a swirl of electropop swathed in unexpected griminess and heightened by
heartbreaking
lyrics. In person, the singer—who's mastered the whole stylishly disheveled look—is surprisingly blunt and unguarded, whether she's spouting off on
shitty apartments
or complaining about dumb Twitter followers.
What was moving to NYC like?
I showed up in New York when I was 17 with, like, six bags, and found a nasty, bad apartment on Craigslist. There were termites, the bathroom was molding, the floors were disintegrating. Finally, when there were cockroaches everywhere, I drew the line and was like, I need to find a new place. So I walked around in the snow looking for a new apartment.
Gross. It took more than five years after you signed to Capitol for Night Time to come out. How do you feel now that it's out there?
It still hasn't processed, because it was pretty much my whole teenage life. It's not necessarily what people expected; they wanted 12 "Everything Is Embarrassing"s, and I couldn't do that. But I'm 100 percent behind it—I didn't have any second guesses.
Why do you think the label finally let you release it on your own terms?
We were down to the point where people didn't really have much faith in me anymore. I had to turn something in, and they wanted me to turn something in I wasn't happy with, so I wrote new songs and mixed them within three weeks. In order for that to happen, I think I had [to discard] 400 songs.
How close to the truth do your songs hew?
Anything I've ever done that was good always came from an honest place. I'm not great at actually communicating with words in real life—that's what I do through my songs.
What acts have you been listening to?
I really like the new Angel Olsen album that just came out and last year's Cass McCombs record.
Do you have a favorite song about New York?
"Human Nature" by Michael Jackson. I've always loved that song; it's one of my favorite Michael Jackson songs. For some reason, it never hit me until I was really listening to the song, once when I was driving back to New York, that it's about New York City. It was a year after I moved to the city, so it's a big New York song for me.
As a somewhat controversial female artist, are you following Pussy Riot?
Yeah, it's so cool how much support they have. That's a good example of social media. People talk about cyberbullying, but there are also really great things on the Internet.
Speaking of cyberbullying, how do you deal with it on Twitter?
When it's too insulting I'll actually say something, when it's disgusting and vile. Sometimes it's funny, but sometimes it's like, that's not how you should talk to anyone, ever. But I try not to take anything too seriously on Twitter. Half the time I don't even know what
I'm
talking about.
Sky Ferreira plays alongside Miley Cyrus and Icona Pop at Izod Center Apr 3, Barclays Center Apr 5 and Nassau Coliseum Apr 24.
Photograph: Aaron Feaver