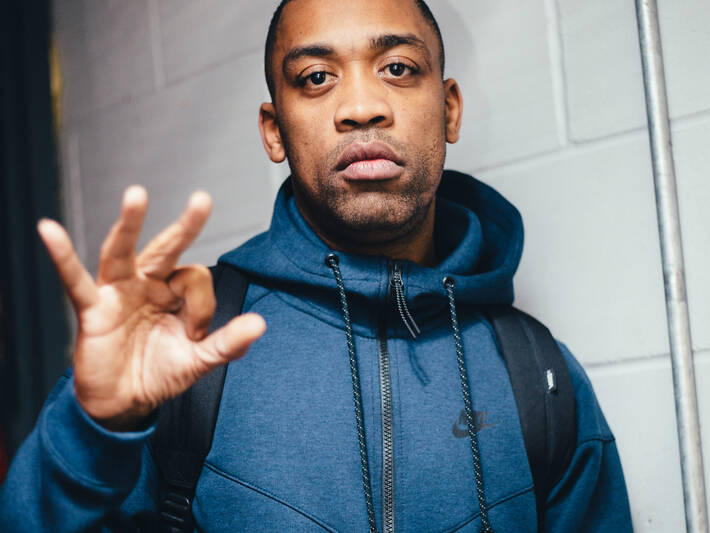 Wiley by Ashley Verse
Wiley invented grime. End of. Nowadays artists like Stormzy might be taking the sound into the charts, but it was Richard Kylea Cowie who made its first beats, in Bow E3. He popularised the sound, went on to discover Dizzee Rascal and form a partnership that was the grime's Lennon and McCartney. But in 2002, Wiley and Dizzee fell out over a stabbing incident that saw a rival crew hospitalise Dizzee in Ayia Napa – something that's never been fully explained, possibly until now. While Dizzee moved into pop-dance, Wiley became the scene's undisputed figurehead for the best part of a decade. He's championed grime from its initial success to the late-noughties when its MCs could only get airplay by making pop (which he also contributed to with the likes of 'Wearing My Rolex'). And he's done it all despite a Grace Jones-esque habit of failing to appear at crucial gigs and video shoots. As Wiley himself says, 'I'm like the 38 bus cos I never turn up.'
With grime in the resurgence – thanks to a reinvigorated Skepta – Wiley's about to try to lead his genre to victory as part of the Red Bull Culture Clash: a soundclash in which his Eskimo Dance crew will be competing against US rappers Wiz Khalifa with Taylor Gang, a team of UK garage superstars and reggae/dancehall artists Mixpak. Over two hours, we caught up with Wiley – in a reflective mood – ahead of the event. 'It's really good talking to you, by the way,' he told us. 'I've said so much stuff I wouldn't normally tell no one.'
Are you pleased to see the new wave of grime artists coming through?
'It's a great thing. It's good to see something that you've started grow.'
You tweeted Stormzy saying that your upcoming album 'Godfather' couldn't have happened without him. Are you inspired by young MCs who were once inspired by you?
'Yeah, and if I wasn't, I wouldn't be relevant. I like that Stormzy has put in work to bring the sound back. No matter what I did in the past, God wasn't going to let me bring the sound back. He's looking at me going: "You know what? You've had every chance in the world. You've had every deal, every penny. Now let someone else come through." And Stormzy is the kind of good-hearted kid who can do that.'
Do you regret the years you spent doing pop hits like 'Wearing My Rolex' and 'Heatwave'?
'No. Firstly, because any major deal I get, I put the money back into grime, into other artists. But also, I want to make history and I want to make money and I want to mean something in this country. The only way to do that is to sell music. Anyone who tells me that I'm a sell-out isn't in this industry.'
Big US artists like Drake and Kanye seem to be supporting grime at the moment. Do they need its popularity to broaden their appeal over here?
'I'll be honest with you – I don't think Americans like grime. Azealia Banks said what she really thought the other day. I'm not talking about the racist stuff, I mean her saying that "grime is garbage": that's how they all think. They like grime as a form of entertainment, like boxing or the Olympics. But when they hear an English accent MCing, they can't accept it on the same level they can accept hip hop.'
What about Drake? Given all his support for Skepta, he can't think like that?
'Maybe not him. He seems to understand. But every other North American, they appreciate it, but they can't put our accent before their own. It's sad and it's brutal and no one wants to hear me say it, but after all the years I've been doing it I've finally realised it.'
Photo by Courtney Francis
Is it true that you're making a film about the early days of grime?
'Definitely. It's going to show the early days of grime, through to all the stuff that happened in Ayia Napa.'
You're finally going to tell people what happened in Ayia Napa? There have been rumours for years.
'You know what the sad truth of all that business with Dizzee getting stabbed is? I hate saying this, but I always say it: if he hadn't got stabbed, grime wouldn't have been in The Sun. He got stabbed and then bro, the WHOLE of England was talking about it. It took that to get our sound into the nation's ears. That's the sad side of things.'
Do you think there's a chance that you and Dizzee will ever talk to each other again?
'I would work with him any day of my life if I could. I love him like a brother. There's no reason why we don't talk. We haven't got beef – remember, I was with him when he got rushed in Ayia Napa. The reason we haven't spoken for so many years? Ah, no one wants to tell the truth. Actually, you want to know the truth? I'm gonna tell you the truth.'
We'd love to know the truth.
'Okay, basically, me and Dizzee went out one night [in Ayia Napa] and there was some fighting with another crew – I won't say who, but basically everyone knows. Then the next day, I decided to carry it on – I didn't pull out a knife. I was just fighting. Me and another guy went looking for them again. Dizzee just rode off, because in his head, he's probably thinking: "What the fuck are you doing? That was last night! It's just gonna carry on!" Well, after we started it up again, those guys came looking for us. But the person they found was Dizzee. The thing we done the next morning led them to go looking for us, but see him and stab him.'
So the reason you don't speak is because you're partly responsible for him getting stabbed?
'Yeah, that's the real reason. Now I'm older, I can see: Dizzee in his head will always be thinking: "I know we got into a beef. I know something started. But you lot carried it on the next day. If you had left it I wouldn't have got stabbed." That is the reason me and Dizzee haven't spoken all these years. Listen, out of all the interviews I've done or the interviews he's done and out of all the people in the middle chatting shit, that is the realest thing ever about it.'
How do you feel about that?
'If we didn't move to them the next day, then they might not have come back with knives looking for us and seen Dizzee. If he wants to blame me, if he wants me to take some responsibility for the situation, then I'll say: Yes.'
How much violence was there in the early days of grime?
'People ask me: "Wiley, man, why do you miss so many shows?" You know why: it's because when I started to come through, I had these gangsters – proper, heavy old-school English gangsters – going: "Send a couple of grand through or we'll be at your show!" Now, I'm not a grass so I couldn't go to the police. But how do you deal with a London underworld who can see your name on the flyers, know everything you're doing and know that they want a piece of it? I tried to face it down, but they were there, waiting to kidnap me, do shit to me. Not long after Ayia Napa I went to the Palace Pavilion [in Hackney] and I got stabbed. I developed the mindset of not going to shows because I felt my life was in danger. I'd had so many threats to my life and so much fear put into my soul.'
'Dizzee will always be thinking:
"If you had left it, I wouldn't have got stabbed"'
You don't live in London any more. Is that the reason?
'That's why I left at first, around 2008. I moved to Manchester for a bit. Liverpool as well. I had to say: "You know what? I've got a Bentley and an Aston Martin. I can't be here any more because one person wants to know why I've got them, the other wants to take them and the other wants to know if I'm gonna bring £50,000 to him. I had to take my Bentley, take everything, move to Manchester. It was great. I could drive my Bentley to Deansgate and go for a walk. They didn't care cos they'd see Wayne Rooney do it all the time.'
You took part in Red Bull Culture Clash last year as part of the Boy Better Know. How do you rate your chances this year?
'I'm confident, but humble. We're up against the UK garage sector and I can imagine all the preparation they're doing. They've probably gone into it like: "It's a war against Wiley", so there's probably gonna be a squillion dubplates aimed against me. So I need to be prepared. I have a lot of respect for the UK garage scene.'
You're writing an autobiography. Will it turn up?
'Yeah, of course! Bro, writing a book is no different to going to school and writing a diary for a year. There's a structure and an industry behind books, and obviously they don't want anyone to come in and just write one. So they put up barriers. But it's very easy to write, because it's just me being very honest. I won't make anything up. I won't throw anyone under the bus. Dizzee doesn't have to worry. I'm supporting him soon, anyway'
Wait, what? You're supporting Dizzee?
'Four days ago, my booking agent sent me a message – which said "Dizzee Rascal" and then it was a picture of my face. I was like: "WHAT?" and I looked and underneath it says "Wiley supporting Dizzee Rascal, Bedford Park, August 5". I just stopped and thought about all the reactions and I knew I'd get people going: "Why are you supporting him? Does he support you?" Then I thought: Fuck what people say! I just knew how happy I am to be supporting him. To even be on the same stage as him after all these years!
That must be like a dream come true for you.
'Yeah, when that agent sent me that email, I said: "You know what? It's over." My struggles, my fight, EVERYTHING is over now. I've made it. I don't want nothing more. I'm not gonna push it. I'm not gonna go into his dressing room or anything. But just knowing that we might see each other in the food area and there might be no animosity between us and we might be able to go: "Fucking hell, man! I ain't seen you in years, bro!" That would make me so happy. I love him like a brother and the chance to see him again and for things to be okay with us: nothing else compares to that feeling.'
A beef history of grime – Wiley and Dizzee Rascal's relationship chronicled
2002
Emerging grime star Dizzee is taken under Wiley's wing and joins his Roll Deep crew. They end up sharing a manager and getting an album deal with the same label: XL.
July 2003
Dizzee and Wiley go to Ayia Napa to perform with Roll Deep. After Dizzee is stabbed and hospitalised, the two stop talking.
June 2007
On his second album, 'Playtime Is Over', Wiley records a track entitled 'Letter 2 Dizzee' in which he chattily updates Dizzee on the last couple of years of his life whilst appealing: 'We ain't in beef, so pick up the phone and ring me.' And then slightly needling him with the claim that 'Ain't nothing changed except I'm the best now.'
July 2007
On his third album, 'Maths & English', Dizzee includes 'Pussyole', which sounds very much like a diss track aimed at Wiley. Particularly: 'There was this one particular MC man, he was an older in my ends and I thought he was the dan… He's a pussy 'ole'.
April 2013
Wiley tweets that he'll never work with Dizzee again 'cos he simply don't care'. A month later, Dizzee tells 1Xtra: 'I know that people want [a collaboration], but I've just got to do what I'm doing now, and he just do what he's doing.'
June 2016
Dizzee books Wiley as a support act for his gig in Bedford Park. Could this be the reunion every grime fan's been waiting for?