Heads up! We're working hard to be accurate – but these are unusual times, so please always check before heading out.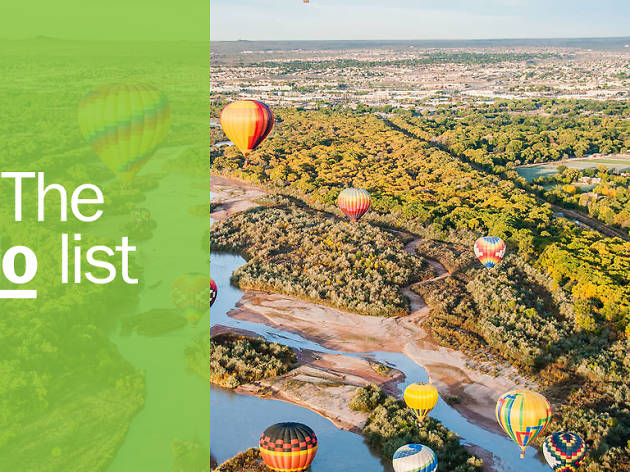 The 11 best things to do in New Mexico
Among some of the things to do in New Mexico, you can find immersive art exhibits and the home of Georgia O'Keeffe
America's Land of Enchantment is nothing if not, well, enchanting. The mountainous state – known for its rocky, rust-red landscapes and cornflower-blue skies, Native American pueblos and for being the location of TV megahit 'Breaking Bad' – is one of the least densely populated in the US. New Mexico's spread-out charms are ideal for a road trip – handy, given that Route 66 runs straight through the middle of it. The Mother Road goes through the heart of downtown Albuquerque, the entry point to New Mexico and an increasingly zippy city with microbreweries and fancified restaurants. And then there's hotbed of creativity Santa Fe, along with some striking sites of natural wonder, from caves to sand dunes. Here are the best places to stop off en route in New Mexico.
Done something on this list and loved it? Share it with the hashtag #TimeOutDoList and tag @TimeOutEverywhere.
Find out more about how Time Out selects the very best things to do all over the world.
Best things to do in New Mexico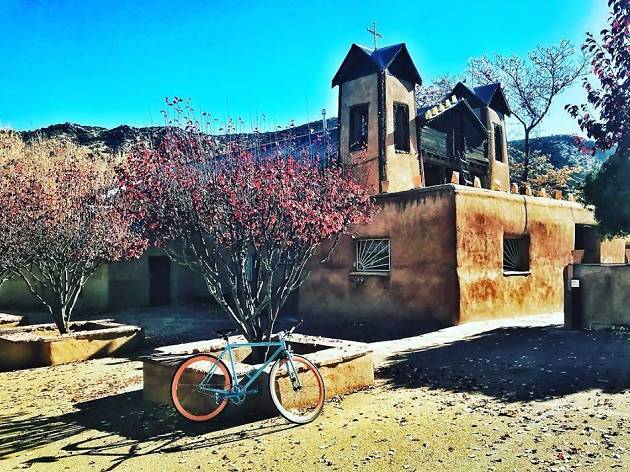 Photograph: Biking Bad Tour
What is it? A bike tour around 20 of the Emmy-winning show's locations in central Albuquerque.
Why go? 'Breaking Bad' thrust Albuquerque into the spotlight, and this three-hour tour takes diehard fans around some of the show's most-recognisable filming locations – including Walter White's very ordinary suburban house and the A1 Car Wash – as well as the more hidden spots.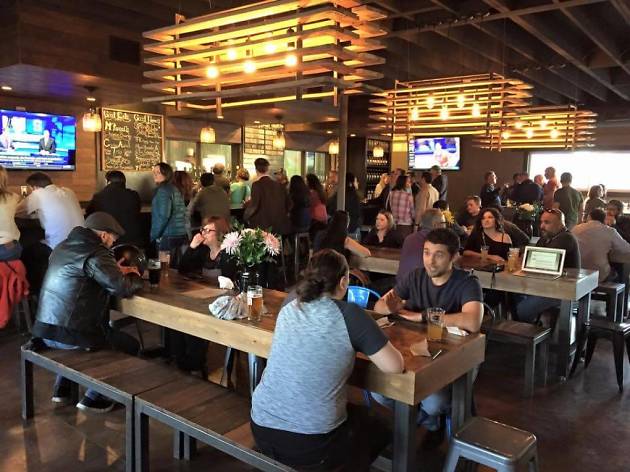 Photograph: Marble Brewery
What is it? The best microbrewery in Albuquerque, Marble Brewery has three outlets around town – although the downtown branch is the original.
Why go? The microbrewery scene has exploded in Albuquerque in recent years (although – where has it not?). A recent refit added an upstairs patio with eye-popping views of the mountains, while downstairs there's live music most nights. Beers range from Wildflower Wheat (with New Mexico wildflower honey) to an 8 percent Double IPA.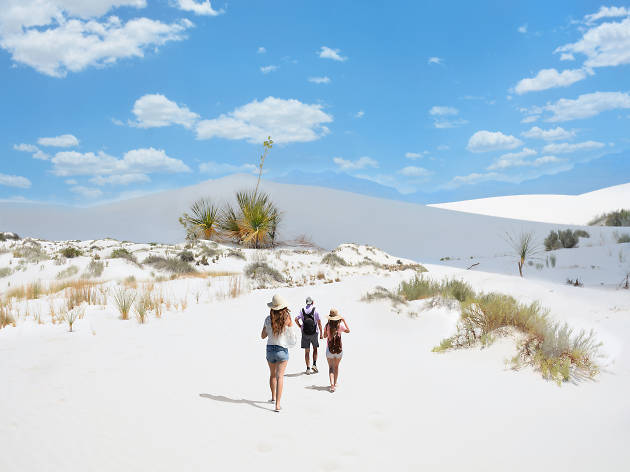 Photograph: White Sands National Monument
3. White Sands National Monument
What is it? A 275-square-mile bleach-white dune field in the Tularosa Basin in southern New Mexico.
Why go? Because where else can you sled down an alabaster sand dune? The White Sands National Monument, the largest of its type in the world, has gypsum crystals to thank for its glistening look. The desert makes for a fun day out: as well as sledding, there's hiking, cycling...and Instagramming.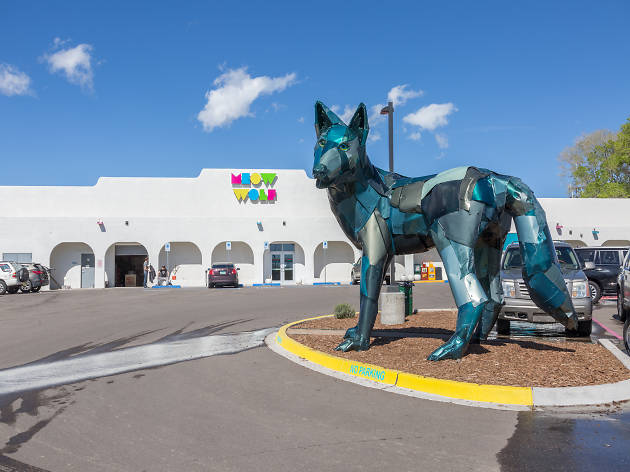 Photograph: Shutterstock
What is it? A 200-strong art collective in Santa Fe that creates immersive installations. The creepy House of Eternal Return, funded by 'Game of Thrones' author George RR Martin, is its first permanent exhibition.
Why go? The 20,000-square-foot House has secret passageways, 'cosmic portals' and psychedelic caves. Visitors must snoop around to find clues about the fictional Victorian-era Selig family, around whom this maximalist interactive storytelling exhibition centres. It's part treasure hunt, part haunted house.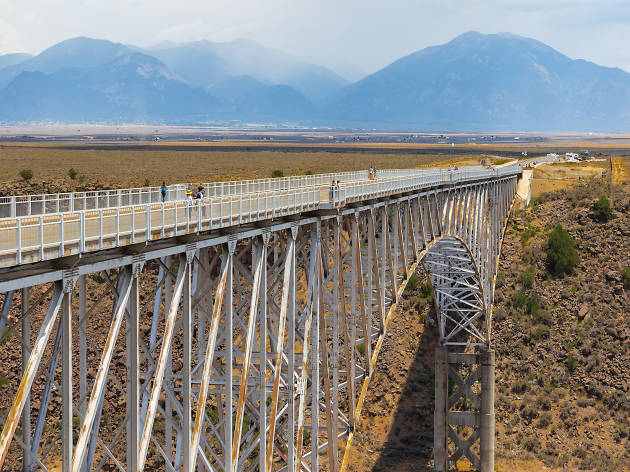 Photograph: Shutterstock
What is it? This 800-foot-deep gorge is New Mexico's version of the Grand Canyon, bisected by the state's landmark river.
Why go? For geologists, the Rio Grande Gorge is a spectacular example of a tectonic chasm. For everyone else, it's a stunning (and much less visited) version of the Arizona landmark one state over. Drive over the Rio Grande Gorge Bridge, a steel arch 564 feet above the chasm in Taos County, for a blockbuster panorama.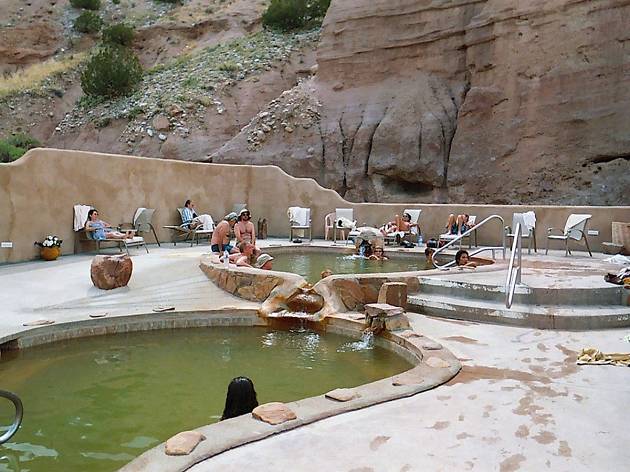 Photograph: Ojo Caliente
What is it? One of the oldest natural health retreats in the US, 1,100-acre Ojo Caliente in Santa Fe is a premium resort with cliffside accommodation, biking trails and hot springs.
Why go? Local lore holds that the pools provide access to the underworld. This might not be the case, but its mineral waters provide the perfect excuse for a relaxing soak – followed by a hot stone massage using stones collected from the nearby Rio Grande River.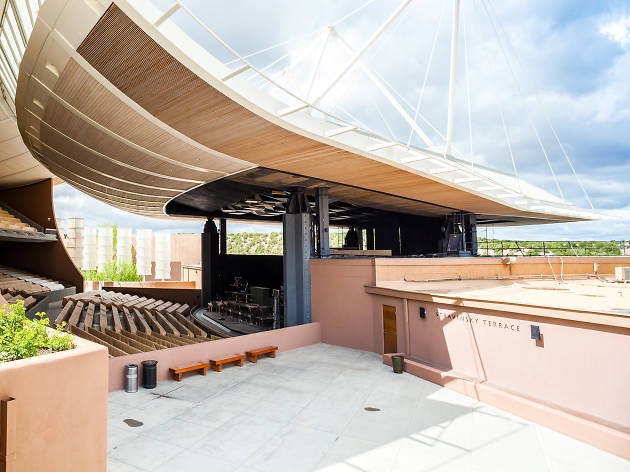 Photograph: Santa Fe Opera
What is it? New Mexico's wide-open starry skies and growing cultural ambitions meet in this opera house, which has been going since 1956 on a ranch north of Santa Fe.
Why go? This has to rank as the most spectacular setting for an opera house anywhere in the world: an open-air performance space with a curved roof, boxed in by the Jemez Mountains and the Sangre de Cristo Mountains. Performances include the classics (such as Puccini's 'Madame Butterfly' and Leonard Bernstein's 'Candide') as well as more niche scores.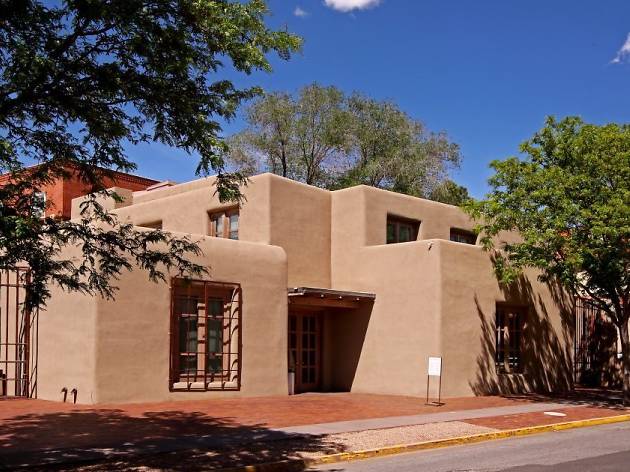 Photograph: Santa Fe Opera
8. Georgia O'Keeffe Museum
What is it? An unassuming gallery in Santa Fe, dedicated to the Mother of American Modernism, artist (and longtime New Mexico resident) Georgia O'Keeffe.
Why go? O'Keeffe was the ultimate documenter of New Mexico's wild landscapes, and this landmark gallery has more than 3,000 of her works – from oil paintings to drawings. The museum also maintains the artist's home in northern New Mexico – tours are available by appointment.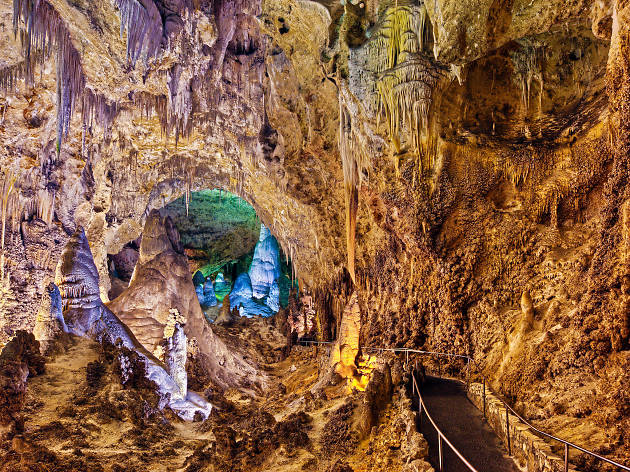 Photograph: Shutterstock
9. Carlsbad Caverns National Park
What is it? Carlsbad Caverns is a series of caves deep underneath the Chihuahuan Desert of southern New Mexico. Designated an American National Park, the caverns date back 250 million years.
Why go? Majestic stalactites, calcite columns and clouds of bats are just some of the otherworldly treasures you'll find inside Carlsbad. Its standout feature is the prosaically named Big Room: a mind-boggling 357,480-square-foot chamber that's the fifth biggest in North America.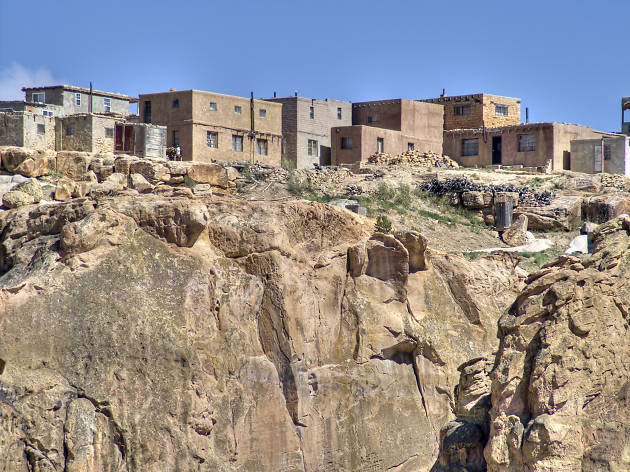 Photograph: Shutterstock
What is it? Also known as Sky City, Acoma Pueblo is a Native American Pueblo set atop a 367-foot-high bluff west of Albuquerque.
Why go? The oldest continuously inhabited settlement in North America, Acoma Pueblo offers a window into the rich cultural history of New Mexico as well as dramatic views across the valley from the top of the mesa.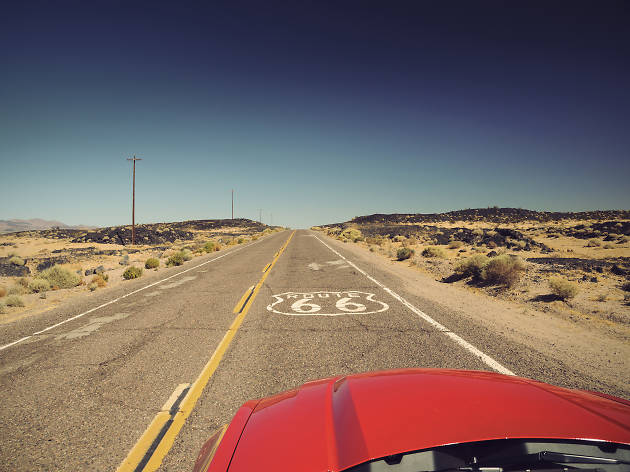 Photograph: Shutterstock
What is it? Route 66, the Mother Road, the Main Street of America – the country's most storied highway runs 465 miles through the heart of New Mexico.
Why go? New Mexico hosts the most atmospheric section of Route 66: all highway diners (try Albuquerque's neon-licked 66 Diner); empty, open roads bracketed by terracotta mountains; and Native American pueblos. All you need now is the classic muscle car to do it in…