Family Portrait: Ron Silver of Bubby's restaurant
The dad and chef of Bubby's tells Time Out Kids how he juggles his new brunch spot and four picky eaters.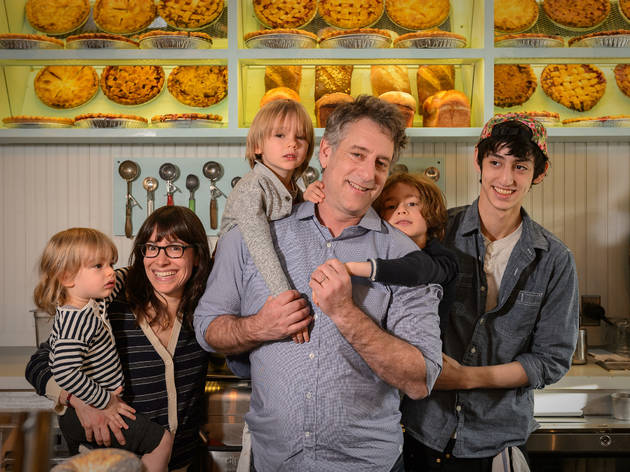 1/9
Photograph: Filip Wolak
Chef Ron Silver, wife Melissa and their sons Abraham, 17, Luc, 6, Julian, 4, and Milo, 2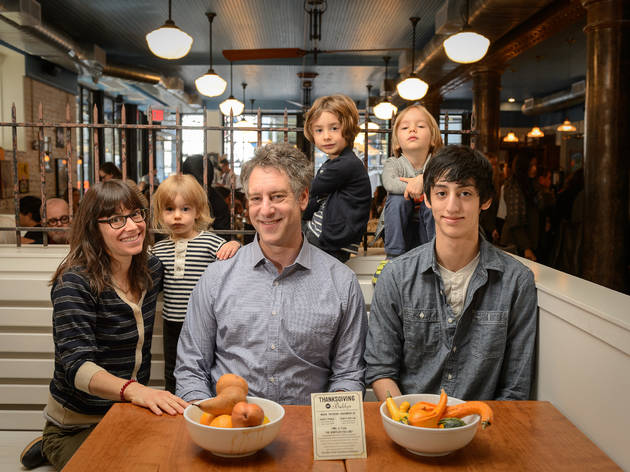 2/9
Photograph: Filip Wolak
Chef Ron Silver, wife Melissa and their sons Abraham, 17, Luc, 6, Julian, 4, and Milo, 2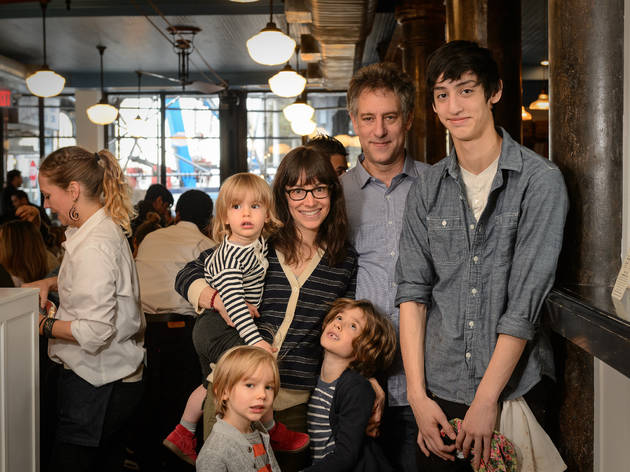 3/9
Photograph: Filip Wolak
Chef Ron Silver, wife Melissa and their sons Abraham, 17, Luc, 6, Julian, 4, and Milo, 2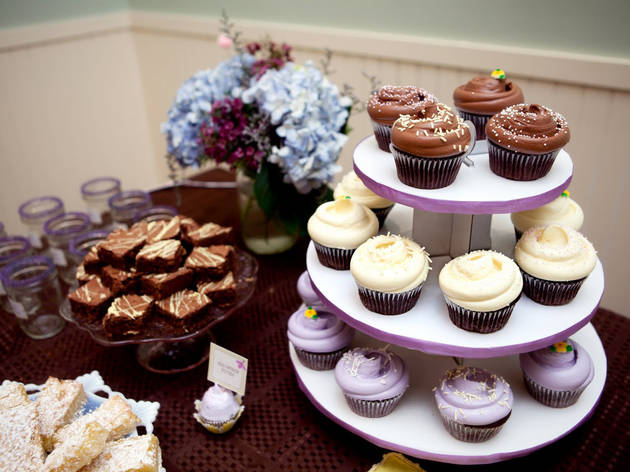 4/9
Photograph: courtesy Magnolia Bakery
FAVORITE PLACE FOR A SWEET TREAT"Oh God…we are spoiled by Bubby's, mostly because we know that everything comes from local farms and is homemade, and we make whatever we want! Aside from Bubby's, we go to Magnolia Bakery(go to magnoliabakery.com for locations) to get banana pudding or any of their cupcakes, or to Duane Park Patisserie(179 Duane St between Greenwich and Hudson Sts; 212-274-8447, duaneparkpatisserie.com) for their delicious butter cookies."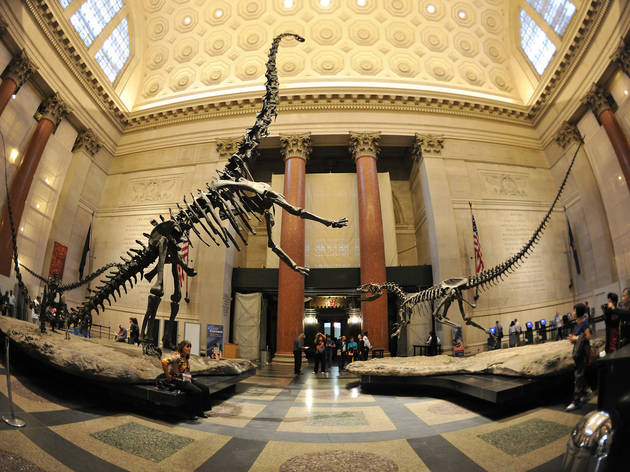 5/9
Photograph: Denis Finnin
FAVORITE MUSEUMS"We go to the American Museum of Natural History (Central Park West at 79th St; 212-769-5100, amnh.org). The boys love the dinosaurs and visiting the grizzly bear in the North American wing. Their ultimate favorite is the Hall of Ocean Life in the basement, featuring the awesome battle between the sperm whale and giant squid. We also love to visit the Metropolitan Museum of Art(1000 Fifth Ave at 82nd St; 212-535-7710, metmuseum.org) to see the Arms and Armor Exhibit. The boys always go straight home, dress up and play Knights."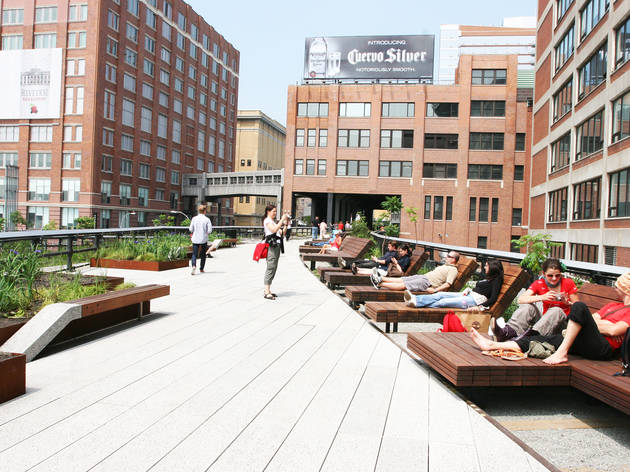 6/9
Photograph: Roxanna Marroquin
FAVORITE REASON TO VISIT THE MEATPACKING DISTRICT"The kids love jumping off benches on the High Line. We also love going to Warby Parker(121 Greene St between Prince and Houston Sts, 646-568-3720, warbyparker.com) for glasses. The kids pick out frames and try them on."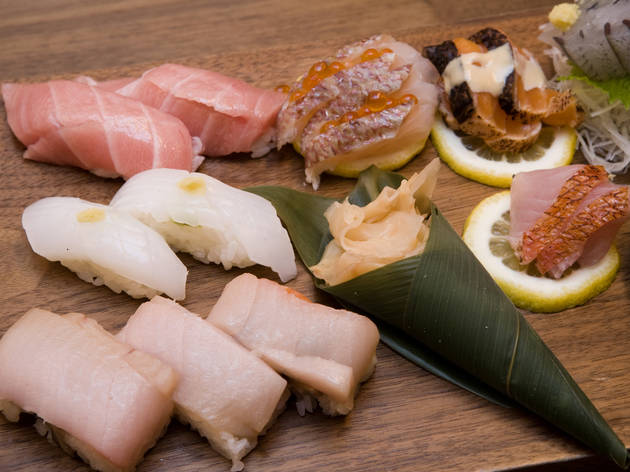 7/9
Photograph: Jeffrey Gurwin
FAVORITE RESTAURANT FOR TAKE-OUT"The kids love the edamame at Blue Ribbon Sushi(119 Sullivan St between Spring and Prince Sts, 212-343-0404, blueribbonrestaurants.com). My wife gets the tuna sashimi roll, and I eat everything!"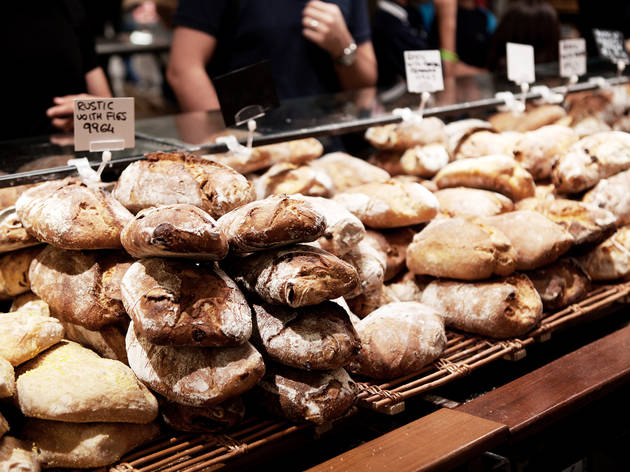 8/9
Photograph: Allison Michael Oren
FAVORITE FOOD MARKET"We often head to the Tribeca Greenmarket (Greenwich St between Chambers and Duane Sts) since it's in our neighborhood, and we have relationships with some of the farmers from Bubby's. Right now we're buying lots of Brussels sprouts, sweet potatoes, colored carrots, beets, apples, pears, and flounder and clams from Blue Moon Fish. We also love Eataly (200 Fifth Ave between 23rd and 24th Sts; 212-229-2560, eataly.com) for the best Parmesan, prosciutto and sausages."
9/9
Photograph: Jeffrey Gurwin
FAVORITE PIZZA"We like Ben's (177 Spring St at Thomspon St, 212-966-4494): it's just good, old-school New York City pizza. We keep it pretty simple and get plain cheese and pepperoni. We also like Motorino (349 E 12th St between First and Second Aves; 212-777-2644, motorinopizza.com)—the kids get the Margherita Pizza."
When Ron Silver began cooking in West Village restaurants in the 1980's, he could never have envisioned the area as home to a cozy brunch spot. Before high-end boutiques and trendy hotels crept into the West Village and the Meatpacking District, Silver worked as the executive chef at a French bistro nestled among the warehouses and nightclubs prevalent at the time. The bistro has since been shuttered and the neighborhood looks completely different today, but Silver returned earlier this year with his family in tow to bring "sweetness, wholesomeness and purity to the district" in the form of his all-American eatery, Bubby's.

RECOMMENDED: Best of 2013 for families

The restaurant, an outpost of the original location in TriBeCa, opened at the end of September just down the way from Ron's old stomping grounds and a stone's throw from the bustling High Line (72 Gansevoort at Washington St; 212-206-6200,bubbys.com). "I'm shocked how much the area has changed," says Ron, but with the future Whitney Museum of American Art across the street and an abundance of young families nearby, he believes the once-gritty nabe is the best place in the city for his family-friendly joint.

His wife Melissa and sons Abraham, 17, Luc, 6, Julian, 4 and Milo, 2 agree. On busy days, Abraham helps his dad with anything from butchering to working the barista counter, while his younger brothers happily indulge in comfort foods like mac & cheese and lemon meringue pie from the Bubby's kitchen. "We have seriously picky children," explains Melissa, "but we get most of our food from the farmer's market and do our best to sneak in a few kale chips among the chicken fingers and tacos."

Armed with family recipes like his mother's meatloaf and grandmother's blintzes, Ron is determined to defend traditional, home-cooked, American meals by celebrating them at Bubby's as well as at home. "It's important to sit down and eat as a family," says Ron. "It's a moment that you all come together every day to stop and talk about what's happening." Although his busy schedule as a chef can be a challenge, fresh ingredients and family dinners will never go out of style in the Silver household.

Scroll through our slide show, above, to see the family's favorite restaurants, museums and more in the city.