Flicking through Instagram this morning, a friend had shared a picture from the season three finale of Succession. It's of Shiv (Sarah Snook), Roman (Kieran Culkin) and Kendall Roy (Jeremy Strong), curved around each other in a Fibonacci spiral of an embrace, with the caption: 'How am I meant to go on after this?' It's a good question: Succession is all-encompassing, and especially after that season finale, it's hard to know how we're supposed to just wait, patiently, for series four.

Season three had Kendall's hellish birthday party and Roman's ill-advised dick-pic fiasco. Logan (Brian Cox), Marcia (Hiam Abbass) and Kerry (Zoë Winters) entered into some strange arrangement and were dubbed 'the skunk, the porcupine and the concubine'. Shiv and Tom (Matthew Macfadyen) took a terrible trip to Sex Vegas. It's been a slowburn of a series, but it's absolutely been worth it.

Before you resign yourself to playing Good Tweet, Bad Tweet with the 'No Context Succession' account, here is everything we know about the next series.

Caution: Succession season three spoilers ahead.

When is Succession season four out?
Succession will return for a fourth season on Now TV and HBO in 2023. It was confirmed in October 2021 that the Roy family would be back on our screens, but the series isn't written yet (in fact, creator Jesse Armstrong said he wouldn't be in the writer's room until January 2022). That means speculation about what is going to happen after the finale is very much speculation at this point.

Fans are also worried that the fourth series might be the last instalment. The people behind the HBO show have said there would be four, or maybe five series – and then that would be it. Which is devastating, but also means that we might soon find out what definitively happens to Waystar Royco.
Is there a trailer for season four?
Yes! Feast your eyes on the below for a look at the drama that's set to unfold in season four of Succession.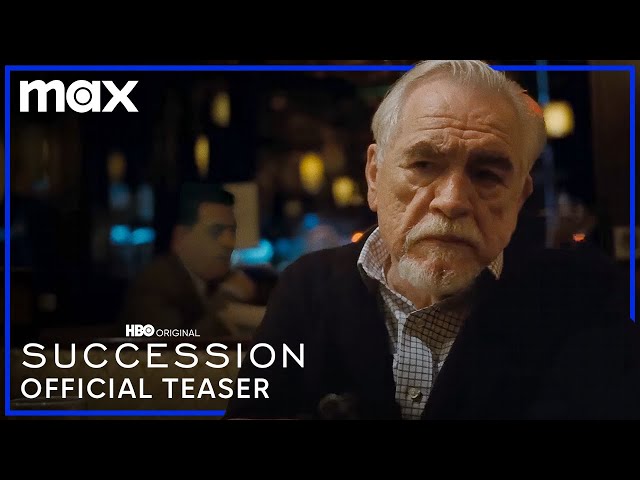 Are the Roy siblings... allies now?
Do you know what? They might be. There was something extremely hopeful about seeing the siblings gather around each other at the end of series three. Foreshadowed by a tense meeting in which the siblings tell Kendall they love him, Shiv and Roman finally seem to grasp that it's their actual brother on the edge as he sits in the Mediterranean dust, by the bins, to sob that he's 'all apart'. That is some Shakespearean phrasing right there.

The most traitorous of the Roy kids has finally admitted to the sibs that he killed a waiter at Shiv's wedding. It was a beautifully teed up moment: we see Kendall glance nervously at staff hanging around the back door of this wedding, and sense the truth is going to come out. Shiv and Roman are surprisingly understanding – half a demonstration of how the lives of little people really don't matter to them, and half a genuine, filial need to mitigate their brother's grief.

While it was touching and expressive and honest in the moment, it feels like a risk that the information is now no longer secret. Could Siobhan or Roman use this against Kendall in series four? It would be really sweet if they didn't, but this show is explicitly all about the game – and the information makes for a killer move.
Is someone going to die in season four?
There were more references to death than a pop-punk revival album in series three. 'Killing dad' became shorthand for any move made by a younger Roy against Logan, and had us checking every scene for hidden weapons that one of them might use, Parasite-style, to actually murder the patriarch.

In the season finale, Connor (Alan Ruck) is seen playing with his butter knife, slicing at the table, exasperated at being sidelined. Talk of poison had us squinting at every wine glass and plate of pasta. Kendall didn't die at the end of the penultimate episode despite drunkenly (and deliberately?) falling off an inflatable in an infinity pool. That makes us think that maybe the spectre of death will hang over the show until its final breaths – without anyone actually leaving this mortal plain.

Is Shiv pregnant?
While we're on suspicious wine glasses, did you notice that Shiv was only drinking water at her mother's wedding? Kendall gave her stomach a sideways glance as she was making a toast. And after that unbelievable final scene, where Tom's betrayal is marked by an arm-pat from Logan, Shiv clutches her stomach and weeps. She's definitely pregnant, right?
There's more to suggest the least romantic couple on TV are expecting a child, too. Remember that scene in Greg's (Nicholas Braun) office in episode four? The one where Tom tells his wide-eyed pal that he would castrate Greg then marry him, in the style of Emperor Nero and his favourite slave, Sporus? Well, in that charming tale from ancient Rome, Nero also kills his wife while she is pregnant. And people say this show is strange.

What is happening with Tom?
Tom might actually have out-manoeuvred them all. It seems like he's betrayed his wife, giving information to Logan about her plans for power. Was he behind those psyche-out doughnuts in episode two? Is that why he said: 'I've never seen Logan get fucked once,' to Kendall in a diner parking lot? It seems like it might be.

He's taking Greg with him, too. In the most intimate (and uneasy) scene of the final episode, Greg agrees to be Tom's 'attack dog', gazing into his eyes and leaning close enough to kiss him. He makes a pact with the devil – 'what am I going to do with a soul anyway?' – and Nero and Sporus are official. So, now what? Maybe Greg is going to become the 'weirdest king in Europe' through marrying the Contessa. But the promise of 'his own Gregs' seems more alluring than that extremely expensive watch.

'The Waystar Two' are more than free, they're securing a place at the top.

Is Logan going to have a baby?
Please, god, no.
Is Logan going to become 'piss-mad' again?
Those maca-root smoothies might stave off another UTI, but we would love to see him lose his mind over needing a wee again.

Is Connor going to be President?
It doesn't look like Connor is going to be President – he's been sent to the 'digital gulag' after all. And all he gets from his 'chump' siblings is 'chump change'. But he is, probably, going to get married, so that means another dramatic wedding scene is on the cards.
So, there might be a while to wait before the fourth season airs. In the meantime, we reckon you should host a 'highly egalitarian' party and check your contacts before sending risky messages.

Looking for more plot theories? Here is what we expect from 'Squid Game' season 2.