Saturday Night Live's 46th season finale is sure to go down in the show's storied history, and not just because it may or may not have featured the last appearance by many of its biggest stars. Musical guest Lil Nas X set the stage on fire — almost literally — with an instantly iconic performance of his hit "Montero (Call Me By Your Name)."
Things could have been even wilder, though, were it not for a pesky wardrobe malfunction. Luckily, new footage reveals the singer's abandoned pole dance.
The performance strongly evoked "Montero's" controversial music video, in which Nas descended to hell on a stripper pole only to murder Satan while giving him a lap dance. On the SNL stage, the topless Nas writhed mightily in leather while being groped, licked and ground upon by a cadre of semi-nude men amid a backdrop of fiery, demonic imagery straight out of The Divine Comedy.
In terms of spectacle, it is sure to go down as one of SNL's most provocative moments. It was as audacious as it was brilliant, with brazen choreography that pushed similar limits to those trampled by Megan Thee Stallion and Cardi B when they dropped jaws performing "WAP" on this year's Grammys.
Unfortunately, all that writhing put an extreme strain on Lil Nas' extremely tight, low-cut leather pants, which split right down the front mid performance and caused him to momentarily turn into a human cartoon.
Nas was able to cover up his not-ready-for-prime-time equipment, but it was at the expense of a climactic pole routine. Luckily, SNL records its dress rehearsals, and
Late Night
's Jimmy Fallon — along with guest host Dave Grohl — unleashed a snippet of Nas' brief-but-mighty twirling during an interview with the "Old Town Road" star.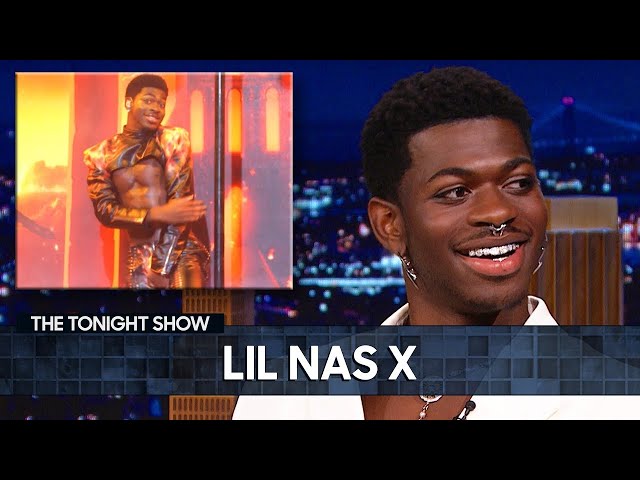 The whole interview is worth a watch, with Nas — in a kilt, wisely —detailing the disastrous leadup to the performance. After two weeks of rehearsal, Nas says one of his dancers caught Covid, forcing the performer to teach the routine to a new group with 24 hours notice. And somehow, they pulled it off.
Lil Nas X has had a tremendous year, courting controversy and fans alike with "Montero's" video and the tie-in release of a pair of Nikes emblazoned with Satanic symbols and containing actual human blood. Nike successfully sued to pull the shoes, but Lil Nas X won the publicity battle.
Call him what you want, but don't call Lil Nas X derivative.
See the full SNL performance below.