The Colombian capital of Bogotá might not seem like an obvious place to be described as a cycling haven. The city has repeatedly been awarded the title of 'most congested city in the world' and in 2020 each resident spent an average of 133 hours sitting in traffic. But alongside the gridlock and horns lies a viable alternative to the car.
Bogotá is also home to a city-wide cycling network that covers more than 600km of streets – making it the most extensive in Latin America and one of the largest in the world. The latest additions to its cycling infrastructure came in response to the Covid-19 pandemic, when mayor Claudia López – a keen cyclist herself – created 84km of temporary lanes using traffic cones to allow residents to get around in a socially-distanced way. The majority of the makeshift cycle paths have been made permanent, as the mayor's office strives to meet its goal of adding 280km of lanes by 2024 (and eventually having 50 percent of trips made on bikes or alternatives such as scooters).
It appears to be working, too. In 2017, more than nine percent of trips in the city were made on two wheels (compared with just three percent for the whole of England in 2020), while it's estimated that the proportion climbed to 13 percent in 2020. For a city with eight million residents, that's a lot more bums on saddles.
The city's love-in with cycling has been a slow burn, though. The launch of the annual Vuelta a Colombia road cycling race in 1951 saw the bicycle become part of the national psyche and a popular recreational activity, but it wasn't until the 1970s that two-wheeled travel started receiving an equal footing on the streets courtesy of Ciclovías.
The brainchild of architects Jaime Ortiz Mariño and Fernando Caro Restrepo, the idea was that select major streets in the city would be blocked off to cars between 7am and 2pm on Sundays and national holidays, giving runners, cyclists and pedestrians space to exercise in a safe space. What started in December 1974 as an unofficial event has become a weekly staple of Bogotan life, inspiring other car-free initiatives across the world.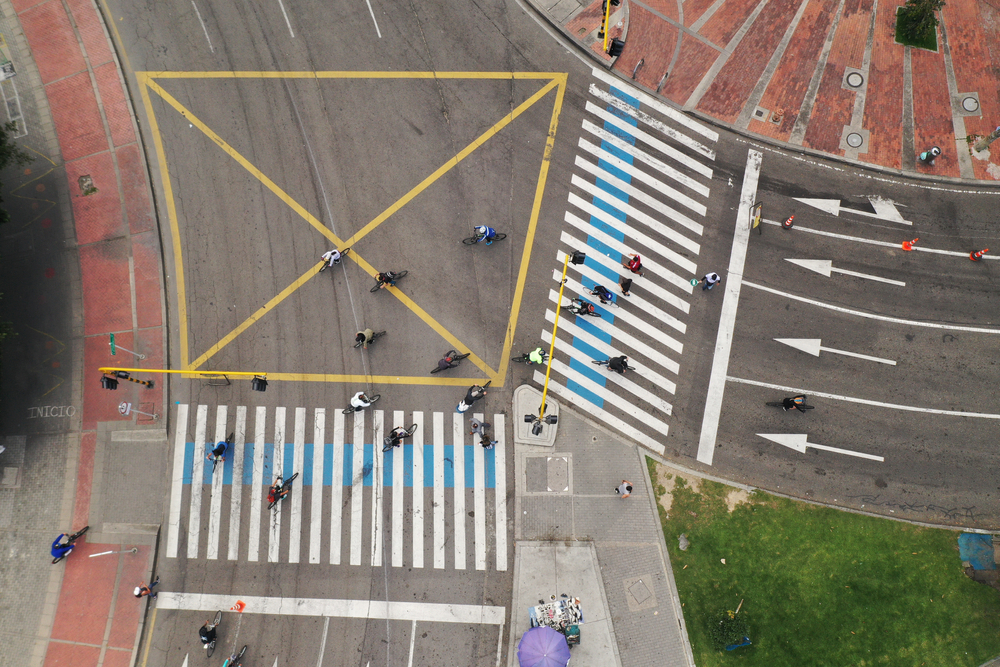 'La Ciclovía de Bogotá has become an important part of the identity of Bogotanos,' says Mariño 47 years later. 'It's a city icon, a world reference and has definitely contributed to the evolution of cycling.'
Although impressive, the Ciclovías only solved the issue of cycling in the city for a seven-hour window each week. Something more permanent was required for the remaining 161. It wasn't until Enrique Peñalosa's first stint as the city's mayor between 1998 and 2000 – more than 20 years after the first Ciclovía – that Bogotá's cycling infrastructure journey began and 300km of paths were created.
'I think infrastructure has been a crucial element of cycling culture and habits,' explains Carlos Pardo, a local cycling advocate and senior adviser at the New Urban Mobility Alliance. 'Bikeways helped create a "new idea" of the bicycle as a transportation mode that was not just for the poor – [it was for] anyone who wanted to move quickly through the city.'
Aside from infrastructure, he believes that the city now needs to 'focus on safety, security, industry, culture and user experience' to truly be considered a 'new version of Copenhagen or Amsterdam'. But, with its recent history of bold cycling-first initiatives, Pardo is confident that, once those aspects have been sorted, 'cycling will go through the roof'.
Three other cycling-first cities

Oslo, Norway
The Norwegian capital came up with a simple way of reducing the number of cars on its roads to meet its target of net-zero CO2 emissions – removing 5,000 municipal on-street parking spaces and replacing them with street furniture, bike lanes and wider pavements. The result has seen an increased percentage of residents getting around by bike, as people take advantage of improved infrastructure and the extra safety that comes with fewer cars.
Heidelberg, Germany
You might not have heard of it, but this small city 100km north of Stuttgart is a global frontrunner in cycle-first thinking. Of its 160,000 strong population, 50 percent say the bicycle is their favourite mode of transport, while 26 percent of all journeys are made using pedal power. Its 260km of bike paths allow residents to get around quickly on two wheels, while its relatively small footprint means that riding is generally as quick as (if not faster than) other means of transport.
Portland, Oregon
The US city might have something of an edgy reputation, but its cycling infrastructure appeals to a much wider audience than moustachioed fixie enthusiasts. It has recently opened a number of car-free bridges across roads and rivers – including the brilliantly named Ned Flanders Crossing – to make getting around by bike that bit easier. It's all part of its planned Green Loop – a six-mile linear park that will provide a traffic-free way of getting around its various neighbourhoods.