Marvel has given fans a second trailer for Black Panther: Wakanda Forever with just weeks to go until the sequel opens in cinemas on November 11.
Back in July, the blockbuster's first trailer gave a glimpse of the MCU's newest addition: sea king Namor (Tenoch Huerta). This time, he's here in all his glory, complete with a throne made of a sea monster's jaws.
Lifted straight from the comics of early Marvel, Namor can also fly – thanks to his nifty winged feet. The character is being positioned as the villain of Black Panther 2, although we imagine there'll be a change of allegiance by the film's climax.
The new trailer also gave a better look at newcomer Ironheart (Dominique Thorn), who so far has only been seen at work in her science lab. A gifted young scientist, Riri Williams arrives in Wakanda and creates a suit much like the one used by Iron Man.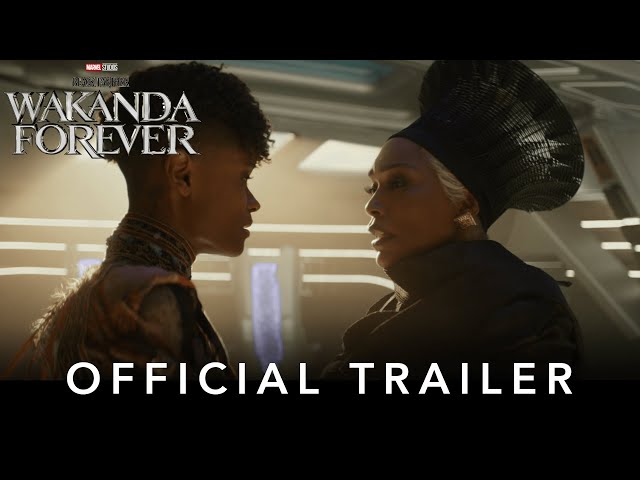 Of course the question on everyone's mind is the identity of the person wearing the Black Panther costume.
Following the real-life passing of actor Chadwick Boseman, Marvel bosses decided not to recast the role of King T'Challa, instead it's understood that one of the characters closest to him will now inherit the mantle and the powers that come with being the Black Panther.
The teaser closes with a shot of the new Black Panther jumping into action and it's almost certainly a female character under the costume. It is preceded by a shot of Shuri in a burning throne room and Shuri is also front and centre in a new poster for the movie, with the same Black Panther costume that is seen in the trailer behind her.
It could be a huge red herring to keep fans guessing until the movie hits cinemas, but there's precedent in the comic books for Shuri inheriting the mantle. Don't bet against it.

Black Panther 2 – five major moments in the new trailer.
It's official: Daniel Kaluuya is not returning for Black Panther 2.