What is a festival city without its festivals? When Covid-19 and the resulting lockdowns forced widespread cancellations and postponements in the creative industries, this was a question many asked in Edinburgh. As the world's leading festival city, it has become synonymous with culture, thanks largely to annual celebrations that immerse the city in art and performance from across the globe. But what would this haven for the arts look like without the events that give it its reputation?
'It was heartbreaking for me both as a local and as somebody in the industry,' Julia Amour of Festivals Edinburgh explains. As the director of the umbrella organisation that connects Edinburgh's major festivals, Julia and her team have had a unique insight into how the city has dealt with the effects of Covid. 'To stay safe, we needed to stay isolated and stay apart, and cities are about gathering places, so it all felt unnaturally quiet. People didn't have those concentrated moments of celebration to look forward to and to look back on. It was a real kind of character change for the city.'
With events on the whole starting to reappear in 2022 at near-normal capacity, it seems fitting that the Edinburgh festivals will see a grand return in what is the Fringe's 75th anniversary year. The cancellation in 2020 and the smaller-scale programmes last year removed that familiar buzz. But as performers ready themselves for their Fringe runs and audiences prepare for the arrival of world-class artists for the International Festival, the Book Festival, the Art Festival and more, that celebratory spirit is starting to simmer once again.
It felt as though the city was given a chance to breathe, and I think it had earned that in spades



'Everybody has been real heroes, keeping live arts going over the last two years, because we all know how difficult it's been,' Julia says. 'The degree of excitement and relief that everyone across all of the festivals has about being able to come back at scale in this 75th anniversary year – it's been such a feeling of coming together again, a bit like the spirit of 1947, when it all started in the wake of World War II. It's a chance for renewal.'
Although energy is building for this summer, for many, a break for all the Edinburgh festivals offered the kind of reset that the industry desperately needed, reminding everyone of the cost, both physical and mental, that such large-scale events can have on a city. 'I really enjoyed the 2020 fallow year,' says Tom Forster, Fringe producer at arts venue Summerhall. 'It felt as though the city was given a chance to breathe, and I think Edinburgh had earned that in spades. But when August 2020 came, I felt super melancholic.'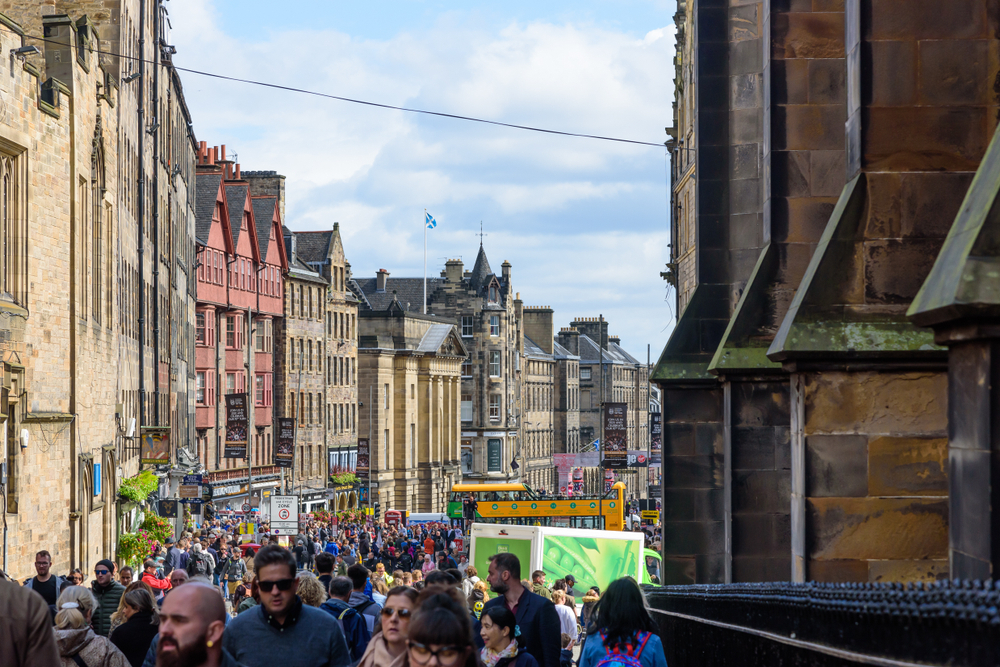 'This kind of super inner-city festival concept has only been around for 30-ish years and I can't think of a place on Earth that has made global festivals work in harmony with local communities,' Tom continues, 'but I believe Edinburgh and its venues are well placed to be the first to figure it out.'
The general energy and underlying excitement in the city indicates that venues and companies are raring to go. But even then, there is a sense of trepidation in the air, with so much at stake after two years away.
'The anxiety for me is hoping we have enough people back in the city to experience the amazing work that's being produced,' says programmer and PR specialist Michelle Mangan. 'There is a genuine need in the industry for people to get their work out there once again. Let's hope the audiences are here to enjoy and support and that also people have taken a step back and learnt some valuable lessons over the last couple of years about not rushing back to business as usual.'
From the perspective of the hospitality industry in the city, August is usually a fruitful period, with the abundance of visitors giving the local economy a real boost. Without this influx of tourists and creatives, many businesses did inevitably take a hit in 2020 and 2021. But, as Matt Belcher of popular Leith sandwich hotspot Alby's explains, it wasn't all negative.
'The last few years have forced a lot of businesses out of relying on a single month of abnormally high trade to get by,' explains Matt. 'It certainly feels like locals are continuing to appreciate the incredible hospitality industry on their doorstep year round, which can only be a good thing.'
As a longtime resident of Edinburgh, Matt, who runs Alby's along with his wife Natasha Ferguson (and their dog Alby), is familiar with the stress and exhaustion that comes with the month of August, especially for those in hospitality. But despite this, he's looking forward to the summer and what it will mean for Alby's. 'We're excited! We are actually popping up shop for the whole month in Dragonfly on the West Port, so we've been gearing up for that and trying to stamp out the inherent anxiety embedded in any seasoned hospitality professional who has worked through an August in Edinburgh before... It's always such a fun time, if sometimes exhausting.'
The return of the Edinburgh festivals has naturally prompted loads of discussions about how we can collectively make the most of our status as a festival city. Like any city in the world, there are issues that require real intervention and action, but sustainability and inclusivity are two that remain pressing for those involved in the events.
'We've had some time for reflection,' Julia says. 'Cities need to reinvent themselves; they are places of experience now, not of consumption, as we move to a more sustainable sort of lifestyle.'
I had an artist quoted £11,000 for the month for a four-bedroom flat
When asked what they'd like to see improved in the city, Michelle, Tom and Matt all mention accommodation. '[It has] become a huge issue in the city with vastly inflated prices which a lot of artists are finding hard to afford,' says Michelle.
'I had an artist quoted £11,000 for the month for a four-bedroom flat in Granton,' Tom adds. 'I'm happy that the government is taking action against festival lets for the sake of Edinburgh residents, but there needs to be a harmony or at the very least enhanced transport links to other parts of the city during August.'
Amidst the excitement and relief, these are legitimate worries that crop up in most conversations. But if anything, this highlights a profound desire to try and make Edinburgh the absolute best it can be, for locals and visitors alike. The willingness to have these discussions and to be vocal about what is needed is partly what makes this city so welcoming and vibrant.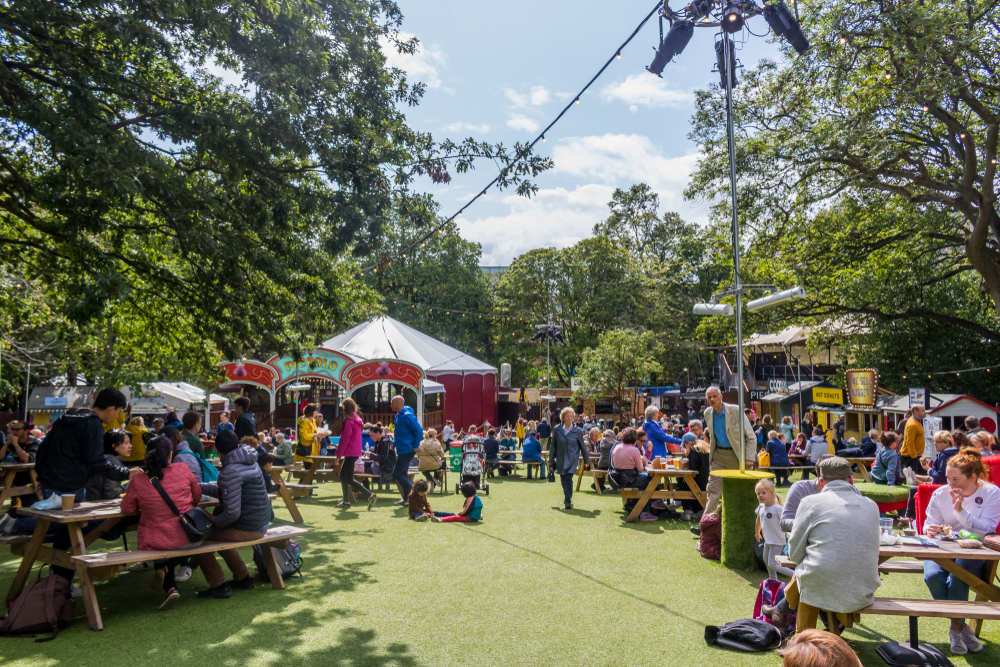 'I do think Edinburgh takes the festivals for granted,' Tom says. 'Eight companies turned up to perform on the fringe for audiences attending the Edinburgh International Festival in 1947. It was a grassroots reaction to elitism and an effort to champion social mobility. My main hope for Edinburgh as a cultural city is to embrace social mobility like it did back then and enhance it: cheaper accommodation, cheaper venue minimum guarantees, more funding from institutions.'
'It's a kind of cornucopia of riches,' Julia adds. 'But the other thing that is really special about Edinburgh is the variety that you can experience year round. You can go from listening to a world leader or a Nobel Prize winner talking about their ideas for the future of humanity to something very, very edgy in an unknown part of town.'
Matt agrees with this sentiment, noting: 'We have a world-class hospitality scene, plenty of opportunities for people to engage in arts, music, incredible venues and interesting spaces around every corner. It would be so valuable to make use of the resources and spaces that we have available the rest of the year. Perhaps a few years of no festivals has helped to cement the potential Edinburgh has for a cultural scene [beyond] August. If that continues then we're onto a winner!'
Discover our full ranking of the 53 best cities in the world for 2022.