A tale of the macabre likely to add an additional chill your bones this winter, Netflix's period whodunnit The Pale Blue Eye is a tale of murder, conspiracy and menace set in 19th century New York. It has a top-notch catch – including Christian Bale, Gillian Anderson, Robert Duvall and The Queen's Gambit's Harry Melling – and a famous character at its heart. Plus, murder. Lots of it.

When is The Pale Blue Eye streaming on Netflix?
It's getting a short theatrical run in the US and UK on December 23, before landing on Netflix worldwide on January 6, 2023. Read our review here.
Is there a trailer?
There is, and you can watch it below. Look out for that famous Edgar Allen Poe raven and a not-so-gentle introduction to the film's wintry, eerie tone and dark-edged subject matter. Corpses ahoy.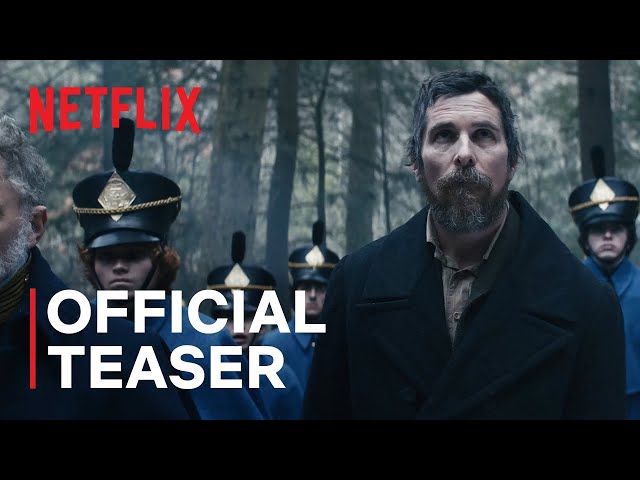 What is The Pale Blue Eye about?
Set in 1830, it follows a young Edgar Allan Poe (Harry Melling) in his days at America's prestigious West Point military academy. Yet to become the gothic literary icon we know him as these days, the brilliant but moody Poe turns sleuth when a fellow cadet, Leroy Fry, is murdered and his heart is removed from his chest. Other killings follow.
Poe falls in with ex-New York detective, Gus Landor (Christian Bale), for help deciphering clues and pursuing the culprit in the face of the military academy's code of silence. Landor has been hired by senior West Point officers to find the culprit and prevent the academy's reputation being dragged through the mud.
The official synopsis runs: 'West Point, 1830. In the early hours of a grey winter morning, a cadet is found dead. But after the body arrives at the morgue, tragedy becomes savagery when it's discovered that the young man's heart has been skilfully removed.'
The dynamic between Landor and Poe is at the heart of the whodunnit. 'Landon dismisses him initially, but comes to find him to be the centrepiece of his life,' Bale tells Vanity Fair, 'which he would be quite embarrassed to admit, with his age and standing and everything. He does find himself maybe learning new things, and is certainly reminded of things that he'd forgotten about life.'
The title is taken from Poe's 1843 short story 'The Tell-Tale Heart' in which the narrator gazes creepily down at the face of his victim ('One of his eyes resembled that of a vulture – a pale blue eye, with a film over it'). Presumably, the film will
Is the movie based on a book?
Yes, it's adapted from American writer Louis Bayard's 2006 novel of the same name. The New York Times called the book 'a shockingly clever and devoutly unsentimental new mystery reads [that] like a lost classic'.
Strangely for an author whose work seems so immediately cinematic, The Pale Blue Eye is the first adaptation of Baynard's work to date, although his riff on Dickens's Tiny Tim, 'Mr Timothy', has also been optioned. That one will imagine the life of a twentysomething Timothy Cratchit, post-'A Christmas Carol'.
Who is directing The Pale Blue Eye?
Actor-turned-director Scott Cooper has adapted the novel and is calling the shots behind the camera too. His CV to date has zipped from a music-filled Jeff Bridges drama Crazy Heart, to a pair of gritty crime thrillers in Out of the Furnace and Black Mass, to the propulsive Christian Bale-starring western Hostiles and last year's horror flick Antlers.
Cooper's stock-in-trade is ambitious stories that say something deep-rooted about American life and its relationship with the darker corners of the human psyche. Oh, and working with Bale. The Pale Blue Eye feels like a strong fit.
'This is my attempt at a large-canvas whodunnit, with a serial killer at its centre,' Cooper 'I want to make films that push me into a different, maybe uncomfortable space, but I am glad to have Christian go there with me.'
Who is starring in The Pale Blue Eye?
Cooper has had a tight bond with Robert Duvall since co-starring with him in Civil War film 'Gods and Generals' – he was even married on Duvall's estate – and he's working with the acting legend in The Pale Blue Eye. Duvall plays Jean-Pépé, an expert in the occult, who, like Landor, lives a semi-hermetic life in the woods of New York state.
The cast also includes Timothy Spall as the braggart West Point colonel who wants the crimes solved quickly and on the QT. His fellow Brit Toby Jones is the surgeon, Dr Marquis, who assists with the victim's autopsy and Gillian Anderson is his high-society wife. Their son, Artemus (Industry's Harry Lawtey), is a fellow cadet of Poe's, and their ailing daughter, Lea, is played by Bohemian Rhapsody's Lucy Boynton.
No word yet of the roles taken by Charlotte Gainsbourg and Moxie's Hadley Robinson, although there's a glimpse in the trailer of their co-star Simon McBurney in uniform, so it's fair to assume he's playing a senior West Point officer.
Where was it filmed?
The movie shot in late 2021 with Pennsylvania standing in for West Point, New York. The Compass Inn in Laughlintown doubled up for a tavern visited by senior West Point-ers, while New Wilmington's Westminster College stood in for West Point itself. Extras were put through a boot camp to learn marches and drills.
Where else can you find Edgar Allan Poe on screen?
Aside from The Simpsons' Treehouse of Horror episode with the Raven, you'll find his work adapted by everyone from Roger Corman ('The Masque of the Red Death', 'Tales of Terror'), to Edgar G Ulmer (The Black Cat), to Czech animator Jan Švankmajer (The Fall of the House of Usher). John Cusack played the man himself in 2012 thriller The Raven, as did Nick Kroll in Apple TV+'s Emily Dickinson drama Dickinson.
The 40 best murder-mystery movies to test your sleuthing skills to the max.

The best thrillers to watch on Netflix now.