The Global South is already bearing the brunt of the climate crisis. And women are disproportionately affected, too. But in the South African city of Durban, officials have found a way both to help the planet and combat gender inequality. Last year alone, it handed out 60,000 Wonderbags: essentially, big cloth bags you can put pots and pans in, so they slow-cook for hours after you've taken them off the boil. Lower carbon emissions, loads of water saved, less indoor air pollution: win-win-win.
The gadget was created by local Sarah Collins in the midst of one of the city's regular power cuts (yet another takes place while we're chatting on the phone). The invention came at a perfect time. In 2011, Durban was reckoning with its own environmental legacy. It had just hosted a disastrous climate conference, dismissed by one activist as 'nothing but a footnote in a narrative of missed opportunities'. Scientists, meanwhile, were warning the coastal city that rising sea levels would eventually overwhelm its infrastructure.
So Collins approached local government with the cooking-bag idea. The city was sold and set up the Enviro Champs scheme to sell the bags at next-to-nothing prices to locals. Then it came time to convince residents that the gadget had a place in their kitchen. Easy. 'I was looking at environmental degradation, and how the people that are most affected are the very people who emit the least,' she says.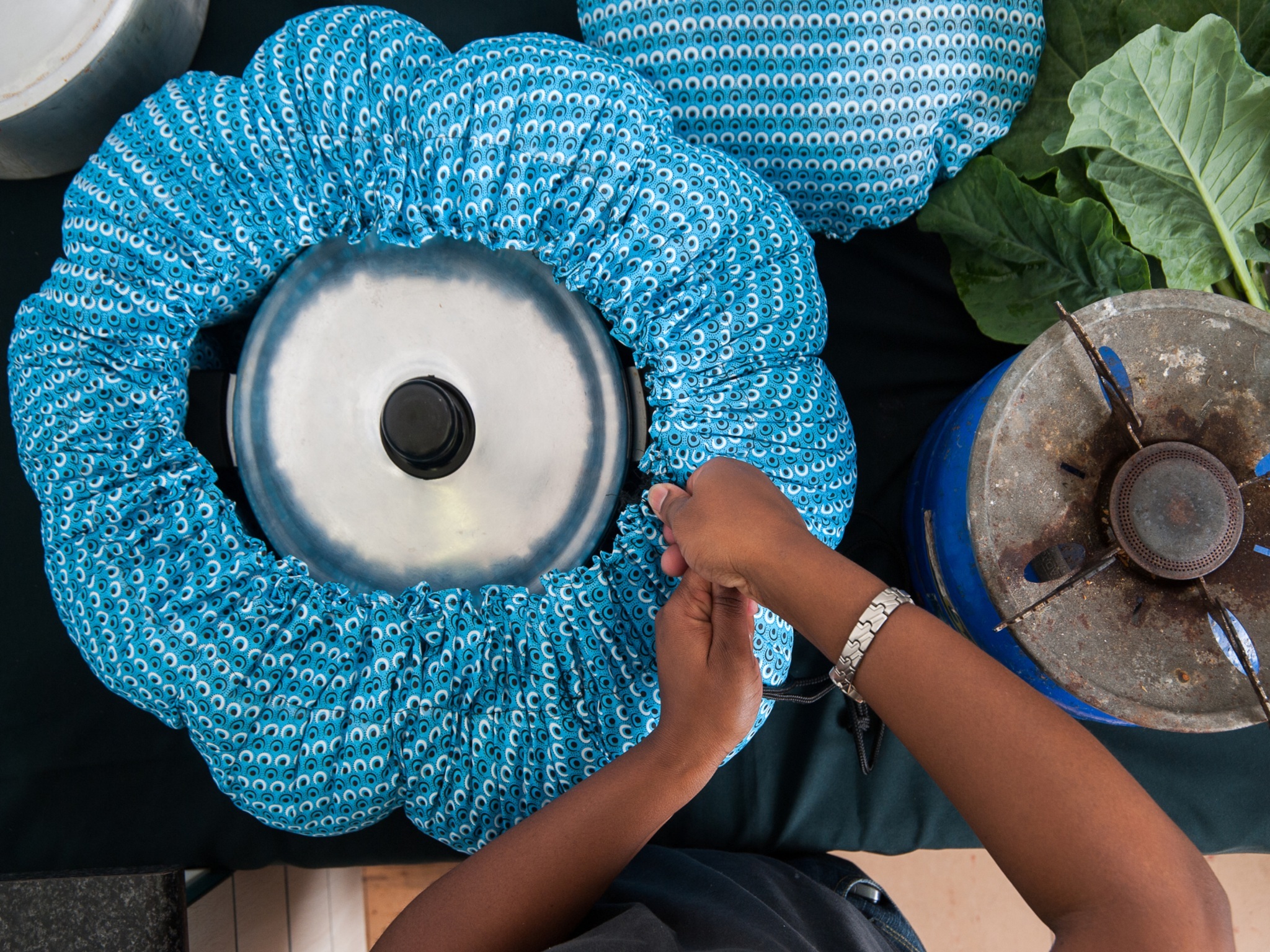 Not only do the bags lower emissions and pollution, they also limit the amount of fuel needed to cook a meal. Reducing the time spent collecting firewood was good for social reasons, too. Women and girls are most at risk from violence when they're making isolated trips for kindling. As Collins puts it: 'Where there's a scarcity of food and cooking fuel, gender-based violence prevails.' Plus, the fumes from cooking on an open stove can be deadly. So for the women of Durban, there were plenty of reasons to introduce the Wonderbag to their cooking routine.
No wonder, also, that it's already being used in 1.5 million homes across the globe. But while buyers all over the world have shown interest in the bags, it's in Durban that they've really taken off, largely thanks to that municipal subsidy scheme. This forms part of the city's wider strategy to become carbon-neutral by 2050. To achieve this, the city is aiming to switch over to mainly renewable energy sources, improve its public transport network and reforest previously wild urban spaces.
Part of the problem for Durban, though, is its role as a global port. Inevitably, this means oil-guzzling cargo ships, high demand for coal-intensive electricity and roads rammed with HGVs. So while this novel home-cooking solution is important for limiting the carbon output of its citizens, the real transformation is going to have to take place at a much broader level. Ambitious goals, like ensuring all new buildings are carbon-neutral by 2030 and cutting waste by 90 percent by 2050, are promising signs that change is on the horizon.
As for the Wonderbags, Collins hopes that they'll become an ubiquitous part of the South African kitchen, transforming the way the country eats. Of the general concept, she adds: 'All you need to do is throw in your food, bring it to the boil, put it aside. When you come home from work, there's not all that hanging around: you've got a delicious meal straight away.' Sounds like a straightforward sell, not just in SA but all over the world.
Now read about the incredible urban farms that are showing us how to make food better.