Newly crowned Golden Globes winner The Banshees of Inisherin is steadily building a rep as a hot Oscars favourite in a multitude of categories: Best Picture, Best Actor (Colin Farrell) and Best Original Screenplay (for Martin McDonagh), with likely nominations for Brendan Gleeson and Kerry Condon in Best Supporting Acting categories and for McDonagh as Best Director. Heck, if there were a Best Animal category, Jenny the miniature donkey would be a shoo-in for that too.

But the film has another, more unsung star in the Irish landscape itself. 'What we wanted to capture in the film was the beauty of Ireland and the cinema of it,' explains McDonagh. 'We just wanted to make one of the most beautiful Irish films we could possibly make.' Mission very much accomplished.

Here's where to go to follow in their footsteps and take in the movie's spectacular, bracing Atlantic coastline.
Inishmore (
Inis Mór
)
Set on the fictional island of Inisherin in the 1920s, a peaceful haven where the gunfire from the Irish Civil War is heard and felt but not seen, Banshees charts the gradual, and agonising, falling out of two lifelong friends and drinking partners: Pádraic (Farrell) and Coln (Gleeson).
Using Galway as a base, Martin McDonagh and his team set off by car to scour Ireland's west coast for suitable locations to create that quietly tumultuous world. They found some of them in the biggest of the three Aran Islands in Galway Bay, Inisherin.
'Inisherin is a fictional island, so I didn't want it to be specifically one place,' McDonagh explains. 'I wanted it to be more mythical. So, we explored each of the Aran Islands [and] Inishmore ticked most of the boxes. I'd been there as a kid. My parents were living in Galway along the coast, and you can see the Aran Islands from where they were.'
As well as being close to the folks, Inishmore's stone walls and enclosures provided a handy visual metaphor for this tale of closed minds and self-isolating characters. 'It's this patchwork quilt of tiny, small plots of land,' notes production designer Mark Tildesley. 'You end up with this extraordinary, ancient pattern of rock walls, which in Martin's script is written almost like a labyrinth – a maze in which these two characters live.'
Dún Aonghasa – Inishmore
The cottage belonging to Pádraic and his sister Siobhán (and to an extent, their miniature donkey) is adjacent to the ancient cliff-top fort of Dún Aonghasa. It's also here that Pádraic and Dominic (Barry Keoghan) chew the fat on the cliffs. The cottage was built for the film but the prehistoric backdrop is very real. 'We came back a few steps from the coastline and found a location on the edge of the cliff to build the house, looking down over one long end of the island towards Dún Aonghasa,' recalls Tildesley.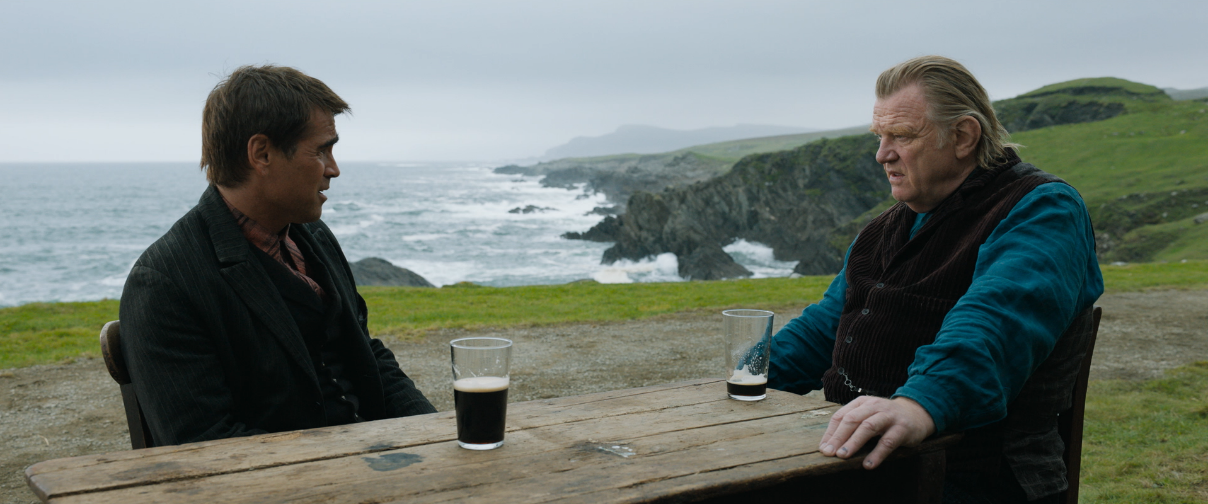 Cloughmore – Achill Island
For anyone who, like Brendan Gleeson's melancholy Colm, feels like they're just staving off the inevitable, there can surely be no better place to do it than the remote island of Achill.
Sitting 120-odd miles north from Inishmore along the Atlantic coast, the County Mayo isle – and specifically, Cloughmore in its south-east corner, is where Pádraic and Colm's local watering hole, JJ Devine's Pub, was built from the ground up.
You won't find the pub – it was dismantled when the film wrapped – or the Virgin Mary statue at the fork in the road a few hundred metres to the west. The statue was a prop and the road doesn't actually fork IRL, but it's still well worth a mosey to see where Colm's cart clattered along carrying a bloodied Pádraic after he's beaten up in the village.
Purteen Harbour – Achill Island
In the movie, the pretty harbour of Purteen (pronounced' 'pur-cheen') buzzes with the scuttlebutt and gossip that propels Banshees' narrative. IRL, it's a quieter spot that's home to fishermen on the hunt for shoals of flounder and dab. You won't find the general store – it was purpose built for the movie.
Keem Bay – Achill Island
There's now two great reasons to visit this stunning white sand bay. Not only was recently picked as one of the 50 best beaches in the world, it's also the location of Colm Doherty's cottage and Banshees' beach scenes – not to mention the movie's final scene. Crystal clear waters and film lore? What more could you want? Apart from possibly a windcheater.
Corrymore Lake (Lough Accorymore) – Achill Island
The cottage belonging to spooky old Mrs McCormick (Sheila Flitton) is perched on Corrymore Lake in the middle of Achill Island. It's here that Dominic's attempt to woo Siobhán fell heartbreakingly flat, too. From the lake, you can take a path up to the breathtaking cliffs of Croaghaun – one of Ireland's highest sea cliffs at 688 metres.

Read our review of The Banshees of Inisherin here.