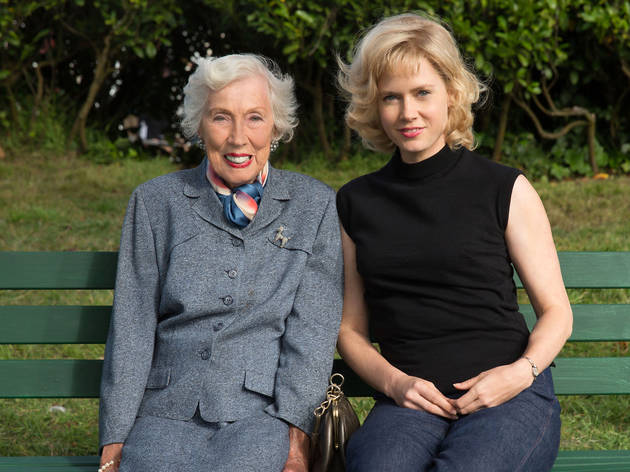 Amy Adams interview: 'I'd really love to play Elphaba from Wicked'
Playing the victim of a historic fraud in Tim Burton's Big Eyes, America's sweetheart has learned how to be true to herself
Graced with the restlessness of the unsatisfied, Amy Adams has become the rare bona-fide movie star who operates beyond the confines of a type. Last year alone, she was equally convincing as a scheming sexpot (American Hustle), an understanding friend in a future where empathy is easier to program than provoke (Her) and an intrepid journalist who falls for an alien with a codpiece (Man of Steel).
Sitting across from me in a shimmering blue dress that can't possibly be as comfortable as she's making it look, the soft-spoken but excitable actor insists she's found a new balance between her personal and professional lives: "I'm not seeking what I need to find out about myself through work anymore," she says. "I'm doing that through people now." Perhaps this epiphany accounts for, or is accountable to, Adams's new film, in which she plays a woman who spent the defining years of her life feeling trapped by her art.
Tim Burton's Big Eyes tells the wild true story of Margaret Keane, a San Francisco housewife living in the early 1960s who was exploited by her scheming husband, Walter (Christoph Waltz), who took credit for her paintings of owl-faced children and revolutionized the art world by selling affordable reproductions of the pieces. Time Out New York caught up with Adams in Manhattan's Park Hyatt to chat about playing the woman behind the man behind the scandal.
Big Eyes begins with a loaded Andy Warhol quote about the Keane paintings, in which he says that the paintings have to be good, because they wouldn't be loved by so many people if they were bad. When a film of yours becomes a hit, does its popularity make you feel better about your performance?
No [Laughs]. I usually make a judgment about my performance while I'm doing it. I have a pretty clear idea of how I'm feeling, but you can't control public perception. So it's not like: "Oh, I guess they like it—I guess it's not as bad as I thought!" I set certain expectations for myself that I either meet or I do not. There are films that I love that weren't wildly successful, and I still feel very proud to have been a part of them.
You've said that you weren't interested in playing Margaret, because you only wanted to portray confident women, and she didn't seem to fit the bill. What changed in your perception of her?
I don't know if she had confidence, but she had a sense of dignity that I really liked. When I first read the script, I was just more interested in exploring a more confident woman. And then re-reading it, having had my daughter, having grown up a little bit, having moved away from people's opinions about my work, I was like: You know what? I really appreciate the complexities of her character. She was bold enough to leave her husband at a time when divorce was frowned upon, and yet she still isn't necessarily a loud voice for herself.
You visited Margaret in San Francisco for a few hours before shooting began. Was that crucial to finding the character?
It was crucial. On the page, it was hard to see her jump to life, because she's written as a very reactive character. Meeting Margaret in real life helped me understand the strength of her character. She is very quiet, but she's very quick to laugh. She's very bright but very focused on what's important to her. She made it clear to me through her actions and way of speaking that the things that matter to her most are Jehovah, her daughter and her paintings, in that order.
I wasn't familiar with Margaret's work prior to seeing the movie, and I think if I had seen her paintings in another context I would sooner have thought they were Tim Burton originals.
Yeah, right? [Laughs] I didn't know about her life at all. I was familiar with her paintings and the aesthetic that followed and the knock-offs and the people who were influenced by Margaret—well, by the Keane paintings, as it were.
Did you walk off set with a reproduction or two? Maybe even an original?
I have some Keanes, yeah. I would say that I'm an official collector at this point.
You've said that you don't trust anyone who doesn't like musicals. If you could play any role in any musical, what would it be?
Well, there's a couple: I'd really love to do Elphaba from Wicked, just because I want to see if I could sing it. I couldn't do eight shows a week, but maybe at like a charity concert? Nobody would ever cast me as Elphaba—they'd totally want to cast me as Glinda, because that's the kind of voice I have. When I was growing up, I really wanted to play Aldonza in The Man of La Mancha, but I think my odds of being cast as a Spanish whore are also quite slight.
Have you found that life in the spotlight has gotten easier as you've grown older?
Oh, absolutely. There have been times when I've felt very…not self-absorbed in an ego way, but in a "my work is the most important thing and it's all about that" kind of way. I probably neglected a lot of relationships, and I don't do that anymore. And I think my work has benefited from that. I don't know if the response to my work has, but the quality of my experience with work is much better now than it was in the past. My relationship with my work is no longer a codependent one. It feels really healthy. Work now feels more like a creative outlet as opposed to some necessity of definition, you know?
Does that confidence make it easier to fully immerse yourself in a character?
Thus far it has. At first, it was a bit tricky, just balancing it all, but I'm really proud of the work I've done since I had my daughter, so I feel really comfortable in the balance that I've achieved thus far. But I know that it's a constant reevaluation; I'm just much more prepared for it now. I'm also much more tired. Today, I looked at myself, and I was like, "Oh, my gosh, I'm so glad that I'm not actually doing a photo shoot," because I was up with my daughter at all hours of the night. But I'm super happy to be up with her; it's just that then you've gotta get up and look like an actress. But I have a lot of support—a really good partner.
You're a self-described perfectionist, but it sounds to me like you've been taking it a little bit easier on yourself as time has gone on.
You know what it is? I just don't sit with it as long. All the same language is there in my head, and then now I just shrug and go: No. Like, if there's a fat roll in a picture, life goes on. I'm trusting that I'm putting my best foot forward now. Before, there was never a best foot forward; it was always, "I can do better, I can do better." But now, I know I am doing the best that I can.
Big Eyes opens December 25.
Read our review of Big Eyes
Watch the trailer for Big Eyes