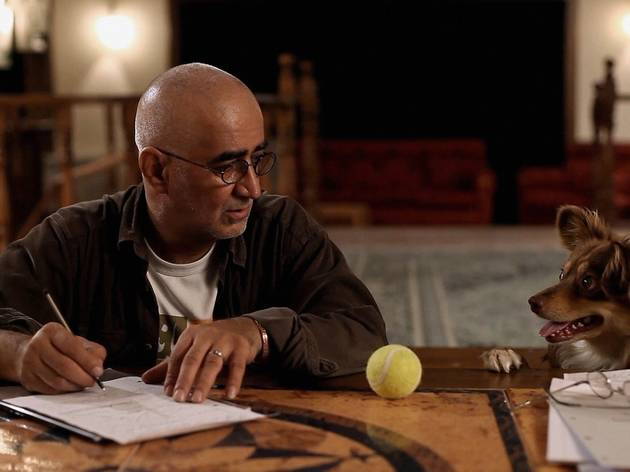 Berlin Film Festival 2013: Closed Curtain, Child's Pose and more
The fest bows out with some politically charged competition winners.
You want to game the system? The Berlinale's got just the stuff. As it winds down for another year, the festival has delivered a clutch of movies about troubled protagonists hustling their way though rules, regulations and authoritative roadblocks.
By far the most politically charged picture in Berlin's competition lineup is Closed Curtain, the latest from persecuted Iranian director Jafar Panahi and co-directed by its star, Kamboziya Partovi. Crippled by a 20-year filmmaking ban, Panahi first defied his government with 2012's This Is Not a Film (famously smuggled out of the country on a USB stick hidden inside a cake). While that uncategorizable artistic feat explored artistic oppression and spiritual freedom in vividly original ways, the surreal drama Closed Curtain actually manages to broaden and enrich those same ideas. The structure is far more oblique and enigmatic, but the payoff is arguably more haunting.

The first half of the film follows a man (Kamboziya Partovi) and his dog hiding out in a remote and somewhat posh villa (Panahi's own beach house). Hanging blackout cloth on all his windows, the fugitive eventually reveals himself to be a screenwriter on the lam from an official religious edict that sentences all dogs to death due to their impurity. A sudden visit from a mysterious couple who themselves are running from the police shakes up the screenwriter's delicate plans and throws him for a loop. But once Panahi himself appears for Pirandello-inspired chats with the characters, all bets are off about truth, fiction and the very nature of storytelling. Curtains are ripped down, sunlight shines into the house (which the camera never leaves), and existential issues take center stage. "He killed you off—you no longer exist," insists one character. "No, he can't," says another. Despair is the unwavering tone, but so is defiance, and the cumulative effect is strangely uplifting. "You can't steal reality," one of them states. And the question really becomes: whose reality is more genuine?
Two Eastern European dramas in competition also address authority, but with much less ambitious structures and much more uneven results. Both are family dramas, but one is set in extreme wealth and the other in extreme poverty. The first, Child's Pose, follows rich Romanian matriarch Cornelia (the steely Luminita Gheorghiu) as she tries to wield control over her son Barbu (Bogdan Dumitrache), who is facing manslaughter charges for running down a child while driving too fast. Cornelia's domineering struts are a pleasure to behold, as she strong-arms, sweet-talks and horse-trades through every encounter with the police, the doctors and the lawyers. But Barbu is impressively resentful, despite the fact that he's facing jail time—a stint behind bars would come as a welcome reprieve for the put-upon manchild. The drama would be unmemorable without Gheorghiu, a dynamo of focus but also of fragility, bringing tragic depth to the material that might not otherwise exist without her.

This Romanian film ended up taking home the fest's grand prize, the Golden Bear; its Eastern Euro compatriot, Denis Tanovic's An Episode in the Life of an Iron Picker, nabbed the jury's prize, the Silver Bear. The Bosnian auteur hasn't fulfilled the promise of his Oscar-winning No Man's Land, but Tanovic is still challenging himself, admirably returning to his documentary roots and a true-life incident for inspiration. His newest work is long-winded in both title and in execution, as it shows a scrap-heap scavenger husband struggle to get his ailing wife the life-saving operation she needs to fix complications from her miscarriage. Dirt-poor and without any medical insurance, the family subsists on the meager income he produces after ripping apart rusted cars and broken office furniture. Will she survive? Will he make enough to save her? Tanovic handles the potentially melodramatic material with a modest hand; and while it never really transcends the fundamentally thin story with the finesse of the Dardennes, the social-realist snapshot does manage to be quietly affecting.
Check out the rest of our Berlin Film Festival 2013 coverage