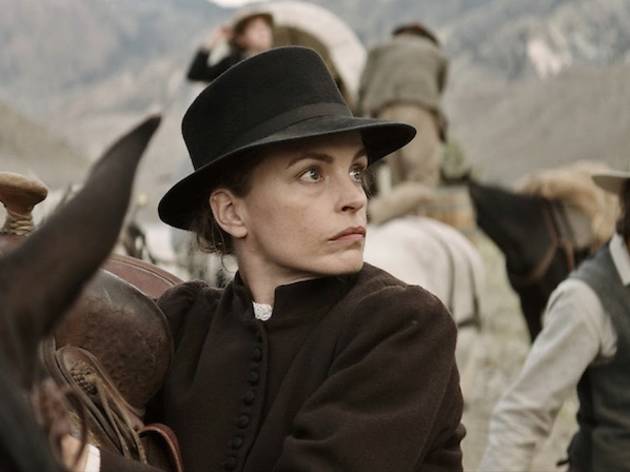 Berlin Film Festival 2013: Gold, A Long and Happy Life and A Single Shot
Money makes the world go round in several fest dramas.
Mo' money, mo' problems : There's a little bit of Biggie Smalls haunting Potsdamer Platz this week, as a trio of dark dramas about wealth have unspooled with mixed results.
The least successful, Thomas Arslan's competition entry Gold, oddly won the warmest reaction, which skeptics credit to its home-turf (and apparently tone-deaf) Teutonic boosters. The mediocre revisionist Western, set during the Klondike Gold Rush, follows a group of Germans who trek through Canada in search of that priceless yellow rock. Anchored by a strong performance from the absorbing Nina Hoss, the film otherwise drifts aimlessly due to a mediocre supporting cast spouting hackneyed dialogue, plus a predictable screenplay and some deeply uninspired direction. Not to mention all that contrived conflict: "What are the chances, in all this open land, that he would walk into a bear trap?" a survivor says about his fellow traveller. Indeed.
Far more compelling but persistently slight is A Long and Happy Life, Boris Khlebnikov's 77-min peek at a Russian farm owner struggling with a grim choice: either cave to bullying bureaucrats who offer a one-time-only payout for a forced land grab or loyally lead his staff of workers who tell him to reject the money and fight to keep his fields. Really more of a cinematic short story than a richly textured tragedy, Khlebnikov still nimbly touches on a wealth of ideas: socialist idealism, capitalistic pragmatism, government corruption, and the ultimate trump cards of human impulse—self-interest, cowardice, pride, and wrath.

Best of the three, although still hobbled by its storytelling, is the sidebar Panorama selection A Single Shot, David M. Rosenthal's searingly evocative morality tale based on the acclaimed novel by Matthew F. Jones (who also wrote the script). Sam Rockwell plays John Moon, a dirt-poor backwoods hunter in a hardscrabble rural town who accidentally shoots dead a young female drifter and discovers that she was hiding a lockbox stuffed with cash. Moon is sickened by the murder but sees the loot as his last best chance to win back his estranged wife and their 2-year-old son. But bad behavior rarely goes unpunished, and villains start closing in from unlikely angles.

Slathered with atmosphere and bathed in a crepuscular light, A Single Shot is an expertly rendered white-trash Noir whose only flaw comes from plot points that seems to get more needlessly byzantine as the story unfolds. Still, Rockwell's performance is impressively flinty, as is the rest of the cast (including William H. Macy and Jeffrey Wright delivering some twitchy character work). And the dialogue sparkles with brilliantly colorful mountain-man slang. The result is never less than absorbing, and impressively dark through to the very end, as the walls slowly close in on this good-hearted but ultimately flawed protagonist.
Check out the rest of our Berlin Film Festival 2013 coverage