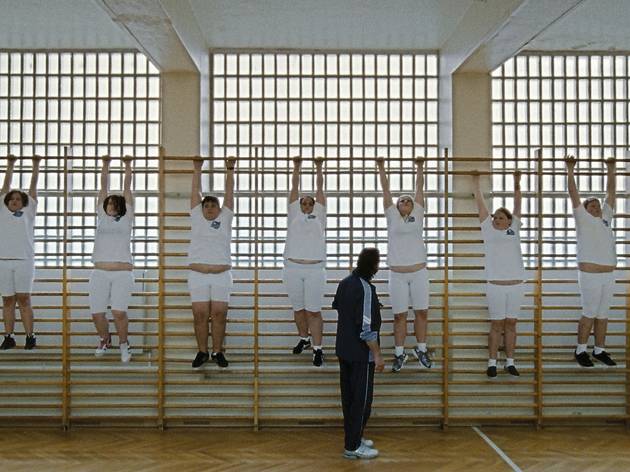 Berlin Film Festival 2013: Paradise: Hope and In the Name Of
Love means always having to say you're sorry in two of Berlin's competition entries.
Love stinks here in Berlin—at least if you believe the competition films. A pair of European titles, Malgoska Szumowska's In the Name Of, and Ulrich Seidl's Paradise: Hope, both take a hard look at characters whose amorous desires are thwarted by circumstance. Want to have your heart crushed? Sit back and enjoy the show.

Of the two films, In the Name Of is the more naturalistic—and potentially the more controversial, as it examines the emotionally masochistic life of a secretly gay priest (Andrzej Chyra, whose piercing blue eyes, lean frame, and dour countenance makes him Warsaw's answer to Daniel Craig). In charge of a home for reformatory teens, the country pastor is a stern but kind-hearted man who firmly keeps his rowdy charges in line without compromising his deep wells of compassion for their lives. One of the boys, though, clearly expresses a romantic attraction to him, which becomes privately reciprocated in the most delicate and chaste ways—until reality, rumors and religion intervene.
Szumowska directs with an expressive eye that uses the bucolic forests and cornfields to cast an innocent beauty on her protagonist's Catholic sins, while also trying to lighten the mood by calling out any Brokeback Mountain tensions ("My wiener's on fire!" one wiseass jokes as he cooks hot dogs over an open flame, while the priest and his love interest just exchange smoldering looks.) A few moments are annoyingly maudlin and too on-the-nose—our hero, driven to drink because of his guilt, accidentally knocks down a framed picture of Pope Benedict XVI and then proceeds to dance around with him—but the missteps are few in what is otherwise an admirably emphathetic portrait of divine pain.
More stylized, though no less moving, is Paradise: Hope, the third in Seidl's Austrian trilogy about three women from the same family—a mother, a daughter and an aunt—who each have heartbreaking experiences in their own unique ways. Paradise: Love, which debuted in Cannes last year, followed the mother's adventure as a sex tourist; Paradise: Faith, which played at last year's Venice Film Festival, depicted the aunt doing missionary work. Hope is about the zaftig 13-year-old daughter, Melanie (Melanie Lenz), whose Reubenesque figure has triggered a stint at "Diatcamp" to lose weight.

"If you're happy and you know it, slap your fat!" they all drone, while their perky nutritionist hops around in a slim pink tracksuit. Repeated shots of unenthusiastic exercise are punctuated by pubescent girl talk, after-hours spin-the-bottle games, and late-night kitchen raids. Then there are the visits to the camp doctor (Joseph Lorenz), who is 40 years older than Melanie but still rewards her coy looks with overt flirtation. Their relationship gradually develops into a more overt attraction, but the film's tension (not to mention the title) arise out of the deliciously awkward courtship they both indulge. Hope springs eternal, Seidl seems to say: brutally so.
Check out the rest of our Berlin Film Festival 2013 coverage