'Film Comment Selects' 2013
The uptown film festival returns with another eclectic edition.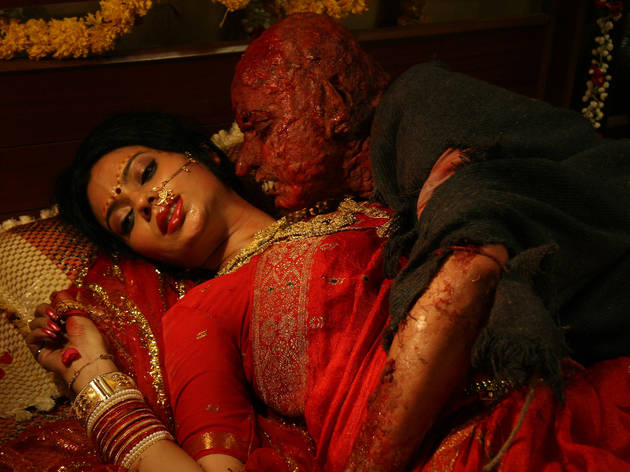 It's lucky number 13 for the annual "Film Comment Selects" series, though don't let numerical superstition, or the bone-chilling weather, keep you from one of NYC's most rewarding cinema soirees. As usual, just looking over the 20-movie program is enough to get obsessive cinephiles' hearts fluttering and leave their heads flustered. Where to begin? Between the opening night selection (Antonio Campos's sociopathic-American-abroad character study, Simon Killer) and the closing night offering (Michel Gondry's semi-improvised chronicle of a long bus ride home, The We and the I), here are four titles you should go out of your way to catch.

The great Portuguese filmmaker Manoel de Oliveira (now a spry 104 years old) returns with another playful, pointed inquiry into human foibles: Gebo and the Shadow (Mon 18, Tue 19), an adaptation of a 1923 play by Raul Brandão, chronicles the struggles of an impoverished family after their prodigal son (Ricardo Trêpa) returns home. Michael Lonsdale is superb as the clan's resigned patriarch, and there are plum supporting roles for iconic performers Claudia Cardinale and Jeanne Moreau. But it's De Oliveira's keen eye for evocative visuals and his mesmeric sense of narrative rhythm that make the deepest impressions; this is a master class in how to film theater for the seventh art.

Cinema is the main subject of Ashim Ahluwalia's strangely compelling Indian feature Miss Lovely (Tue 19, Wed 20)—specifically the gangster-controlled exploitation-film industry of 1980s Bollywood. Brothers Vicki (Anil George) and Sonu (Nawazuddin Siddiqui) are tasked with producing an endless supply of low-rent monster movies and titillating softcore. But after Sonu falls for an up-and-coming performer, the siblings' lives crumble in spectacular fashion. This is documentarian Ahluwalia's fiction debut, and he brings his vérité-trained eye to bear on the fascinatingly seedy milieu. Yet he also has a singular, striking talent for surreal flourishes, like the numerous movie-within-the-movie pastiches, or the film's nearly dialogue-free last third, which revels in blood-soaked dream logic.

From dream to nightmare: Mikael Marcimain's Call Girl (Wed 20, Feb 21) is a lurid, tragedy-tinged epic in the Boogie Nights vein, about a teen girl (Sofia Karemyr) corrupted by the 1970s Swedish sex industry (her madam is played with great relish by Mother Skywalker herself, Pernilla August). But story matters less here than atmosphere: The sumptuous period detail and gritty widescreen cinematography are immersive in ways that recall the recent Tinker Tailor Soldier Spy, on which Marcimain worked as second unit director. Every inch of every frame feels like it's infected with the characters' crookedness and hypocrisy—a thrilling wallow in the societal underbelly.

Likewise, Ben Wheatley's Sightseers (Feb 28) seems informed from scene to scene by its leads' varyingly psychotic moods. The film begins as a kitchen-sink romance, with the introverted Tina (Alice Lowe) finally building up the courage to take a weeklong vacation with her ginger-bearded boyfriend, Chris (Steve Oram). But both have some murderous impulses that come to the fore as they move deeper and deeper into the English countryside. There are plenty of memorably black-comic killings (one brain-bashing sequence is set to Donovan's "Season of the Witch"). But at heart this is an affectingly satirical portrait of two people in deeply tainted love. Movie geeks of all stripes can surely relate.

"Film Comment Selects" runs Mon 18–Feb 28 at Film Society of Lincoln Center.
Follow Keith Uhlich on Twitter: @keithuhlich