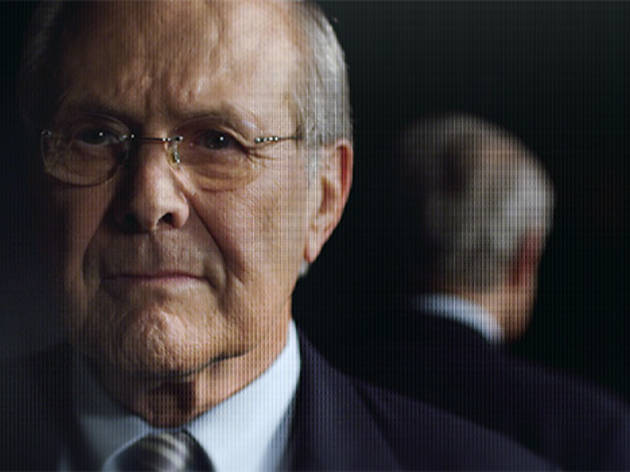 Toronto 2013: The Unknown Known, The Armstrong Lie, Tom at the Farm and more
Some final thoughts as we wrap our festival coverage.
And so, another TIFF ends—technically not until Sunday, but definitely for me. As with every year, I leave with a handful of favorites and a bunch of notables, films that worked on me while not quite hitting all their marks. Many of the latter dealt with the subject of crime: obliquely, comically, subversively. Errol Morris managed to convince slippery Donald Rumsfeld to sit for The Unknown Known, a companion piece to his other defense-secretary postgame interview, The Fog of War. Maybe booking Rummy wasn't so hard: Whereas Fog's Robert McNamara grappled with guilt over the Vietnam war (a quagmire he largely brought into being), Morris's new subject looks relaxed and comfortable lobbing out the same evasions; he probably loves the attention of an Oscar-winning director. Never once does Morris pin down Rumsfeld on the willful obfuscations he offered in office (and continues to offer now)—not on the misinformation about Saddam Hussein, not on slipshod research that predicted a quick wrap-up in Iraq, not on anything.
Instead, Morris turns the film into a comedy about wordplay. He uses onscreen blocks of drifting text, the notorious "unknown knows" quote and shots of fluttering snowflakes (Rumsfeld's own term for the thousands of internal memos he rattled off) to suggest a man hiding behind semantics. That's not exactly a groundbreaking insight. After a while, you wish the profile had been shortened and featured in a collection of other famous evaders, similar in structure to Fast, Cheap & Out of Control. Cornering Morris after my screening, I asked him if he thought that any of Rumsfeld's public service was motivated by love of country. "No, love of self," replied the director, swiftly getting into his limo. He could have been tougher on a subject he clearly considers an egoist.

RECOMMENDED: Full coverage of the Toronto Film Festival

Had Morris made the omnibus project of my dreams, he wouldn't have found a better second guest than Lance Armstrong, interviewed in The Armstrong Lie, another doc in which a disgraced public figure squirms his way to a stalemate. Director Alex Gibney, who narrates the film and sometimes puts his own wounded trust in the foreground, suffers from his usual lapses of logic (e.g., why would a successful 2009 comeback late in the cyclist's career serve to put the doping rumors "to rest"?). I spent this doc wishing for less Oprah footage and more spine from the interrogator.

In the narrative sphere, Elmore Leonard's dialogue sparkled in Life of Crime, a perfectly fine double-cross comedy from director Daniel Schechter, who at least knows to keep things cooking. (Background: Leonard's original 1978 novel, The Switch, is set in the same universe as Jackie Brown.) John Hawkes finds a welcome, much-needed modulation from his onscreen creeps as Louis, the film's crafty operator, and Mos Def, playing an Ordell much younger than Samuel L. Jackson's version, is excellent too. But this one belongs to the women: Isla Fisher does half-smart expertly, while Jennifer Aniston demonstrates her underrated timing as a wealthy kidnapping victim turned confidante.
The formal demands of a thriller seemed to outfox Xavier Dolan, the outrageously advanced 24-year-old director who already has four features to his name. Based on a play that's no doubt electric in a live setting, Tom at the Farm occasionally exploits Dolan's gift for tense conversations—particularly those around a dinner table. Yet the movie's sexual politics (including a closeted psycho) are too easy for Dolan. Meanwhile, The Strange Color of Your Body's Tears has Hélène Cattet and Bruno Forzani, the duo behind 2009's Amer, returning to their retro-giallo comfort zone for a mystery about a missing woman. Their latest, shot digitally with no apparent loss of Argento-grade lushness, is more bloody, with multiple stabbings, but there's no denying a dampening of enthusiasm after the giddy-making Amer. Groovy soundtrack cues by Ennio Morricone and others do the work.
One more? The Celestial Wives of the Meadow Mari doesn't have much to do with crime; rather, it's a Russian comedy-drama set amid the real-life Mari, people of a rural Volga culture that stretches back a thousand years. The film, exuberant and mysterious, is divided into 23 short chapters, each named after a local Mari woman with an "O" name. Mostly, the subject of these fable-like tales is sex. (In one of them, a noisy bird takes root in a poor wife's nether regions, plaguing her horny husband.) The spirit is bawdy, freewheeling and strange. It was a good note to go out on.
At the airport, I noticed the film's Russian director, Aleksey Fedorchenko, lining up for my flight. (He was only recognizable to me because I'd stayed for the Q&A.) Catching his eye, I said "thank you" and "good job" in Russian, wisely deciding to refrain from testing the limits of my ancient language skills. He smiled. Over the next hour, we proceeded to pass each other several times in winding lines for boarding, customs, etc. Each time, our enthusiasm dropped a little until we got tired of putting up the effort. We just wanted to be home. The festival was over.
Follow Joshua Rothkopf on Twitter: @joshrothkopf