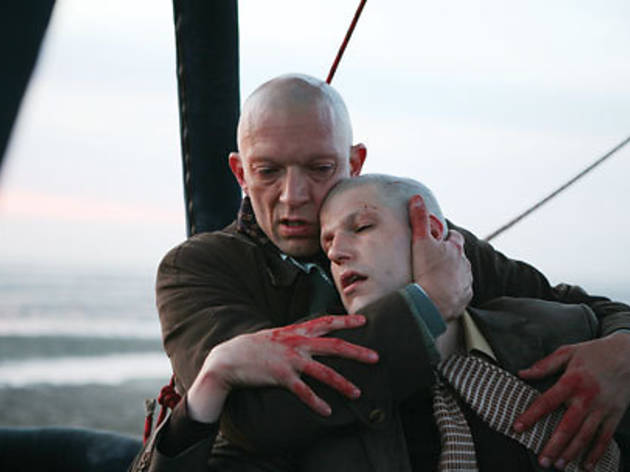 Toronto halftime report
Fest gets arty with plenty of onscreen provocation.
A cooling rain ended near midnight on the first Saturday of parties for the 35th Toronto International Film Festival—and if you looked over the shimmering skyline from the rooftop of the fest's new multimillion-dollar headquarters, the TIFF Bell Lightbox, you could really think a reinvention was at hand. Below us were five floors of sparkling galleries filled with abstract videos, classic movie posters and new-building smell; the Lightbox feels like MoMA with a film fetish. This year, the whole festival seems upgraded, literally transported to another neighborhood, the Entertainment District, where critics stumbled around like tourists in the Meatpacking District.

RECOMMENDED: Full coverage of the Toronto Film Festival

And, in memorable cases, the films themselves seemed spun off from a crazy, new world, one better suited to a Chelsea installation than to a movie theater. French director Romain Gavras, he of M.I.A.'s violent "Born Free" video, presented his feature debut, Our Day Will Come, an unhinged us-versus-society road movie about a pair of persecuted redheads. ("I don't know—they look funny?" Gavras replied coyly in a Q&A, when asked about his apparent obsession with gingers.) Screened only days after the Joaquin Phoenix quasidocumentary, I'm Still Here, terrorized its Toronto audiences (along with false rumors of a Phoenix imposter), Gavras's YouTube-esque nightmare occupies the same nervous, stunty space. Even Michael Winterbottom's relatively tame The Trip, a comic bickerfest between Tristram Shandy's Steve Coogan and Rob Brydon, wanders into unsettling realms of OCD repetition.

There hasn't been a solidly satisfying picture in the first four days—no A Serious Man or The Wrestler. (We still have plenty of time, and Werner Herzog is on deck.) Instead, there have been flashes of near-experimental genius in the Hollywood titles on hand. Ballerina Natalie Portman sprouts wings in the hallucinatory final act of Black Swan, a gorgeously weird image justifying the whole psychodrama beforehand. Danny Boyle swirls his cameras around James Franco's ill-fated hiker in the exhilarating 127 Hours, a survival story with room for psychotic flashes straight out of Natural Born Killers. And the restrained Let Me In, the absorbing American remake of Sweden's vampire drama Let the Right One In, has a knockout shot that draws applause on its own: a rolling car crash filmed entirely from the backseat.

These moments are plenty nourishing (if they are only moments), and you wonder if cinema circa right now is becoming less about the Big Story and more about immediate sensation. Clint Eastwood stumbled mightily with Hereafter, a supernatural melodrama that feels way too old-fashioned. Even the modest pleasures of Rowan Joffe's updated Brighton Rock, starring Control's severe Sam Riley, are a touch out of tune with ballerinas sprouting wings. Still, Joffe finds room for a grand parade of mods on Vespas, antagonizing rockers in their leather jackets; it's 1964 and youth culture in England is exploding. If not red hair, it's always something, right?