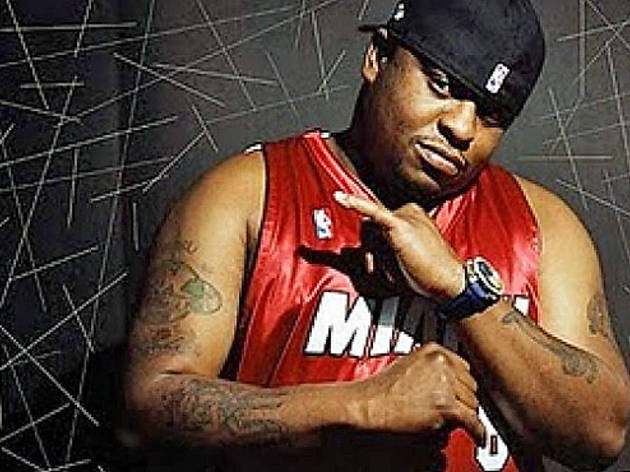 Rap legend Scarface plays Terminal 5 tonight
The Geto Boys founder and Houston hip-hop kingpin makes his long-awaited NYC solo debut
In the 21 years since he released his first album as Scarface in 1991, Brad Jordan has never performed live in New York City as a solo artist. Tonight, the Godfather of Houston hip-hop finally takes the stage here as part of Gentleman Jack's Art Beats + Lyrics tour (also featuring Digital Underground's Shock-G and James Brown's "Funky Drummer," Clyde Stubblefield) at Terminal 5. (Admission is free, but an R.S.V.P. is required via thecouchsessions.com.) TONY spoke with 'Face about his absence from NYC, Houston rap, A$AP Rocky, his recent "retirement" and why his elementary-school English teachers and Pink Floyd are the biggest influences on his life and career.
Why do you think you have never done a show in New York before?
I haven't done a solo show in New York. I remember doing something with the Geto Boys back in the early '90s. I remember coming to New York to do a [solo] show at the same venue but I don't remember that happening. I don't remember what happened but I either ended up not doing the show or did one or two songs.
That's interesting because years before any other rappers from the South were accepted in New York…
There was me, right. The first Southern rap record I remember playing on the radio in New York was "My Mind's Playing Tricks On Me." And I can't even think of another one until OutKast came around quite a few years later. I think everybody in New York understood that there was Geto Boys all over the world, when that record came out. We Geto Boys, too, homey—I feel that's what they felt in New York. When you think of all of the boroughs, they got hoods too. It's the same thing, all around the country. In every hood, we got Geto Boys. And I think we were accepted because they felt like we did.
Did DJs and promoters from New York reach out to you to do events?
No. never. It may have been management that wouldn't take anything, I don't know. Even when I had a booking agent, I don't recall New York reaching out to me to do a show. I know I been onstage in New York with other people like Freddie Foxxx and Lord Finesse and [Kool] G. Rap., Busta Rhymes. But I didn't ever get a chance to get out there and do a Scarface show. I've even been onstage with Nas and Puffy before, if I recall correctly.
What city outside of the South accepted you and the Geto Boys the most?
I would go out on a limb and say Chicago, Cleveland and D.C…our career was launched in the Midwest. That's who accepted us before our own city did.
Your last album was called Emeritus. At the time, we heard it would be your final album. What has changed from then to now?
Well, it was my last album, and I did retire—from Rap-A-Lot. From a situation. Let's rephrase that. I did retire from the situation I was under. I did. It was my last album, and it was my last on the contract.
Were you really thinking you weren't going to rap anymore?
I'm always going to be a musician first, before anything. I was going to retire with honors from that situation. That's what that really meant. If you look at the definition of "emeritus," it means to step down with honors, and still maintain the position. So that's what I did. I walked away from it with honors, and I maintained that position. It will be Scarface Emeritus.
Is hip-hop in 2012 more appealing to you to be involved in than it was in 2008, when we last heard from you?
I think in any business, when the ugly face of the business side, presents itself and it doesn't work in your favor, I believe nobody wants to be a part of that. I want to be a part of something great, man. And that's just the long and short of it. And when it's not great, when the money's not great, when the relationship's not great, then I don't want to be a part of that.
So it was the relationship with Rap-A-Lot Records that led you to walk away at that time?
It was more my situation with the music business, period. I'm still sick and tired of motherfuckers that don't have nothing to do with hip-hop controlling the direction of it. That makes no sense. If this is our culture, what the fuck do you know about our culture? You ain't never been here, how can you dictate what radio is gonna play from us, and dictate what's hot when you're an 85 year old guy that can give a fuck about hip-hop. Or you're a 90 year old black dude that could give a fuck about what hip-hop's doing. That was more of a disappointment to me than my situation with any label I've ever been on.
What do you mean?
The Kool G Raps and the Big Daddy Kanes, nobody know who the fuck they is because the company want to do something else rather than maintain the integrity of the artform. In rock and roll and country, that shit ain't like that. The funny country songs do not overpower the seriousness of it. [Trace Adkins] has got a song "Brown Chicken, Brown Cow" and it's a funny-ass song to certain people. Country has a bunch of joke-ass songs, but they don't have those joke-ass songs overpower the shit that's real, that's the truth in the craft. We don't have R&B groups anymore. Van Halen's still touring, but I don't see the Commodores no more. Rock and roll can sell out football stadiums, but the R&B artists can't sell out a nightclub. It leaves a bitter taste in my mouth.
What are some of the things you've done that you think have kept your career going for so long?
It's the people that listen to me that won't let me die, I promise you that. I try to stay current, but I don't think the fans will let me die. And I'm grateful. I'm not out chasing ambulances,trying to get on the hottest shit. I just make records. People call me to do features and I do 'em.
What does it say to you that there's an artist like A$AP Rocky getting national attention out of New York with a style many say is borrowed from Houston?
People say the same thing about me, how Scarface as an artist has a lot of influence from New York rappers. I think all that is bullshit. If A$AP Rocky is biting, then everybody that raps is biting. If they're from New York, that's where that shit came from. I ain't mad at A$AP. Get your money, mayne. And I think little dude can rap for real. A lot of people rap and they got no lyrical style. A$AP Rocky, he has multiple styles.
Is it a good thing for Houston to have artists from other cities using its style?
Houston's always been lit. A$AP Rocky can't shine no light on us. I put some light on this city that A$AP Rocky could never put on this city. A$AP did his thing but we alredy had light on us. I also want to make a note: DJ Screw was a person. If DJ Screw didn't slow your shit down then it's not "screwed." If DJ so and so slows your shit down, then that's DJ so and so, that's not "screwed." I was one of the first to bump Screw. If you listen to the The Diary and Untouchable, on "Money Makes the World Go Round," I said it "As I roll down Bedford one deep and bang Screw." 1994. That motherfucker been on the map. I did it personally.
In the past, you've put together a few groups with younger artists to give them a platform, like Face Mob and the Product. Who would like to do something like that with now?
All of them. I'd like to work with all of the youngsters. I'd like to produce for all of them.
Do you have any plans in particular?
When the situation presents itself, I'll be there. Here's the thing. I want to put together records for them that will last forever. You said it yourself, I haven't had an album since 2008. But I can still do shows anywhere because my catalog is so extensive. I got a lotta lotta lotta songs. A lot of songs that are still alive. Thank God for that. People still dig me, and understand me. Houston got a lot of talent. I'd love to bring some of that with me.
I understand you were working on an album with Beanie Sigel?
I'm doing a solo album right now, but I'm also doing a Beanie Sigel record too. In time.
What is it about Beanie Sigel that you gravitate towards?
We're the same people. He's an underdog like I am. We've been one hit away our whole career. Hopefully we could get there together.
Your opening verse in "My Mind's Playing Tricks On Me" has some of the most quoted and re-used lines in hip-hop. Is there any homage in particular that you appreciated the most?
They all mean a lot to me. They're all my peoples. I will say this. My third verse on "Mind Playing Tricks On Me," Bushwick raps. You know that was originally a solo song, right? Bill rapped my third verse on "My Mind's Playing Tricks"—the one that starts out "This year Halloween fell on a weekend." The original title for the song was "Mind Games." I think that the third verse was the strongest because that made it so that song will always be played. This year Halloween fell on a weekend… I credit that to my English teachers—all of them. Miss Rob, Miss Beach, Miss Smith, my reading teacher. You know why? They taught me that every story should have a beginning, a body and a climax. Even my second grade teacher, Miss Thomas. So that's how I write. When rappers want to convey the feeling of mental illness, or instability, one of the go-to moves is to quote, "I sit alone in my four cornered room…" I got that from War. They had a song called "Four Cornered Room." Let me play you that. [Plays record and sings along]. That shit is jamming like a motherfucker. That's just what music is: recycling. My life and career is like Pink Floyd, Roger Waters. That's me. And I didn't realize how much it would impact, or what it meant to me, those guys, until I got a chance to see them in concert.
What is it about them that you see in yourself?
I see my whole fuckin' life. Being a musician was like that shit. Just listening to 'em, I got a lot of my timing—when words come there and there—and [knowledge of] music theory, all that. Also Parliament and Roger Troutman. A lot of my timing came from them people. Only a musician would know what I meant when I say timing. But timing, man. People say timing is everything, and I have to agree. It is.
Scarface plays the Couch Sessions at Terminal 5 on Thursday 8.
Follow Jesse Serwer on Twitter: @JesseSerwer