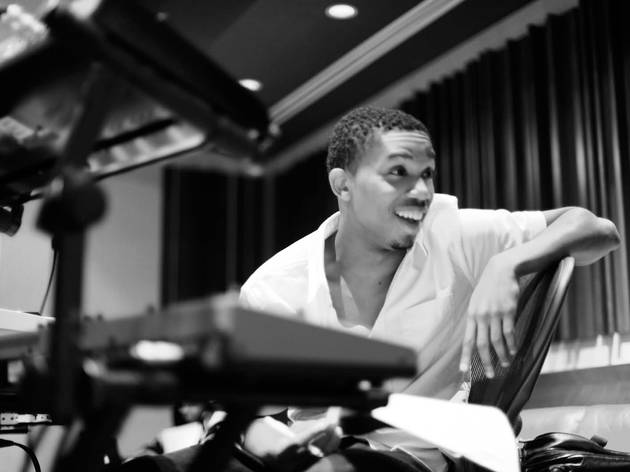 Rapper Charles Hamilton resumes his climb to the top
Harlem's hip-hop maverick aims for world domination on his own terms
We wanted to run this piece three years ago. That is to say, we wanted to run an interview with Charles Hamilton, one that would communicate our excitement about his music and explain how this singular voice in hip-hop had struck a record deal with Interscope—and why every decent party had his "Brooklyn Girls" as its soundtrack. We, along with the circa-2009 blogosphere, were excited.
But then some things happened. Hamilton thanked the late producer J Dilla for "guidance" on his would-be debut album, to which Dilla's family took offense. He got punched by his then-girlfriend on camera in the middle of a battle rap, and the hip-hop "community" reacted with about as much compassion as a gang of hungry sharks. Interscope dropped Hamilton. He went to a psychiatric hospital "for a broken heart." He tussled with a cop in Cleveland and went to jail for nine months.
To say we were surprised and delighted to see Charles Hamilton on a bill for a show at hip-hop haven S.O.B.'s this week, then, would be an understatement. Turns out Hamilton has a new album to plug, Ill Doesn't Meen Classic, with a single coproduced by Eminem, "I Don't Care." Wondering what the hell happened, TONY met Hamilton in a little park in Harlem.
Now 24, Hamilton actually looks younger than he did back in '09, wearing Converse and a fan-made pink T-shirt that says, THANK GOD FOR HARLEM. Within minutes of our meeting, it becomes clear that he's polite, considerate (making sure we find a spot of grass that's poop-free), funny—and operating on a completely different plane.
"I try to be a rare sight," he says, lighting a stogie. "I want to make sure that the sight of me is rare, so the reaction from people is— they're certain of who I am, so much so that they doubt it. It's basically, pardon my French, a mind-fuck: Is it a good thing, is it a bad thing, is he a celebrity, is he a superstar? What is he?"
The question of what Hamilton is is a good one, with an overflow of answers: a rapper who grew up playing organ in church and learning jazz improv on the piano (you can hear his divine keys technique at the end of "I Don't Care"); a kid who loves his mom but left home at 18, spending his nights at friends' houses and on park benches, and his days wandering around the Apple Store or working in his college music studio. "When I came into the game I wanted a Grammy," Hamilton says. "[But] I didn't pay attention to the subconscious use of the word game. Even though it's a business, I wanted the respect of Dr. Dre, Trent Reznor. I just wanted to be an insider, an outsider. I wanted to be a tastemaker, respected by tastemakers. Very much like Dr. Doom."
Who?
"Victor von Doom, from the Marvel comics cartoon Fantastic Four," he elaborates. "Their nemesis was Dr. Doom. He was clad in a metal suit, and his identity was as enigmatic as his intentions. I feel as though, losing as much as I've lost on a personal level, and having it thrown in my face on a professional level, it's only right that I assume the moniker Dr. Doom."
If this sounds far out, it's no less eccentric than Hamilton's well-known identification with Sonic the Hedgehog—or for that matter, the rapper MF Doom's persona, also based on Dr. Doom. Hamilton's new album is certainly darker-sounding than his breakthrough mixtape, The Pink Lava Lamp, or his leaked Interscope debut, This Perfect Life. (The Eminem collab, incidentally, is a result of those Interscope sessions—and no, the two are not friends now.) The samples on Hamilton's new disc may be pure pop (Green Day, Cher), but there's a good deal of rage and sorrow simmering, too. Asked how he is now, he says, "I'm focused. My emotions come out in my music, and lately with the music I'm preparing for 2013 and beyond, the general angry emotion I have is manifesting itself in a new personality. You know, I alluded to Dr. Doom; you can expect some evil genius thoughts and ideas."
Evil or otherwise, Hamilton is in good spirits about the S.O.B.'s shows—his first live performance in some three years (bar playing hymns in church). Billed as the Charles Hamilton Experience, it promises to be something of a multimedia extravaganza, showcasing Hamilton's skills as a producer and pianist as well as an MC. "People are taking pictures of their ticket and posting it online," he says cheerfully. "I'm excited, because I'm not gonna let them down, and they'll get a chance to see exactly what it is I do onstage."
One hopes that in addition to making beats, rapping and playing the piano, Hamilton will sing. He loves singing, he says, and bursts into an old 1930s number: "'I like to sing-a! About the moon-a and the June-a and the spring-a!' Remember that song? [Laughs] it's from a cartoon. But yeah, I love singing. It's a lost element from me."
Asked about such singsongy rappers as Drake, Hamilton says, "I think Drake is lyrical enough to do it, and he's cool enough to not be considered lame, but he's gotten so emotional, people are just like, All right, it's overkill. But when people think Drake's emotion-filled rap or singing is too much, I look at my music like, Damn! I must be Humpty Dumpty or something." Meaning Humpty Dumpty after his great fall? "Yeah," says Hamilton amicably. "Someone like you comes up to Humpty Dumpty with his yolk on the ground like, [In lady voice] 'So, how do you feel?' And he starts singing about how he feels about hitting the floor."
Indeed, since the get-go, Hamilton's Web presence has had a Humpty Dumpty–like quality to it; there are little pieces of the rapper scattered across a multitude of sites, many of which are cataloged on the musician's self-referential '08 "Windows Media Player" single (the chorus has Hamilton listing his various sites, "charleshamilton.blogspot.com... myspace.com/hamiltonsmusic, iamnotcharleshamilton.com" and so on). "Be aware that I have a lot of this planned out," says Hamilton. "Be fully aware that I've thought about everything, my Web presence and demeanor. People who've known me since the third grade are like, 'You did the exact same thing you did [then].' I was just being myself. Which is something I found very hard to do back then, because I used to get picked on. So, there was an ultimate plan." When I ask Hamilton what he was picked on for, he shrugs. "Being small, being smart"—and I can't help but think of the way he was essentially bullied by the hip-hop community back in '09. I'm filled with admiration for the way he's bounced back, albeit a bit battered and bruised. Musicians' eccentricity or even instability in the indie-rock or classical worlds is generally looked upon sympathetically, and even lauded (Keith Jarrett, Fiona Apple, etc.); it seems that Hamilton had a far tougher deal.
Regardless, at the start of that year, Hamilton was featured on the cover of XXL mag as one of its Freshman picks, alongside Kid Cudi, Asher Roth, BoB and Curren$y. While those MCs made their names with online mixtapes, it's fair to say that the notion of Internet success has morphed into a considerably more powerful, hungry beast since then—viral video artists like Kreayshawn being a case in point. "I'm a huge Kreayshawn fan," Hamilton says, as we walk around the block and he relights his cigar. "I love Kreayshawn. I haven't met her yet. I would flirt with her. [Laughs] I think I could get her." Does he think it's harder now for young rappers to really make a name, beyond being a one-hit wonder? "It just depends," he says. "Are you trying to get on radio, or do you have a point you're trying to get across? 'Cause honestly, everyone wants the Platform of Oprah. Which is, they say something, and it's considered important."
Certainly, Hamilton is not one to shy away from a grand proclamation or three; he regards himself as "somewhere between Buddhist and Gothic" and has a similarly fascinating explanation as to how this works; a hopeless/hopeful romantic, he claims that he's lately been crushing on nuns; and he'll occasionally drop in assertions about being the most dangerous musician ever.
But Charles Hamilton—as anyone who couldn't stop playing those first mixtapes can attest—has a sense of humor, fortunately large enough to accommodate his heart. In the end, he accidentally answers his own question—"What is he?"—as an aside. "As much as I've been counted out as far as being small, and as girl-crazy as I am, and my legitimate hunger and love for chili dogs—I just am who I am."
The Charles Hamilton Experience plays S.O.B.'s Tue 14.
Follow Sophie Harris on Twitter: @SophieMeve
Buy "Brooklyn Girls" on iTunes
You might also like
See more in Music