Belfast
Ireland's second-largest city has emerged in the 21st century as one of Europe's most alluring spots, filled with music, culture and year-round festivals.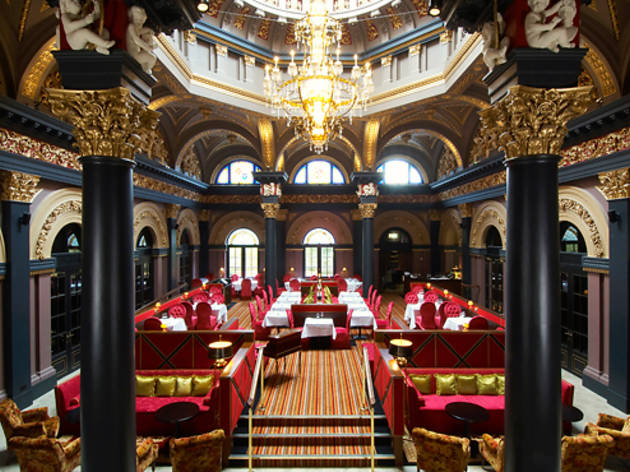 1/5
The Great Room at the Merchant Hotel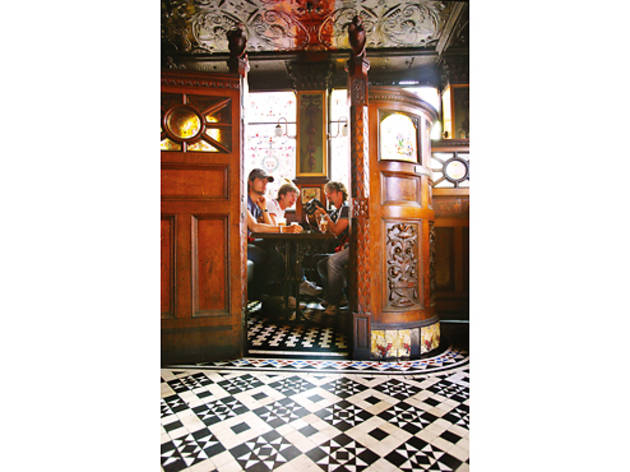 2/5
Photograph: Brian Morrison
The Crown Bar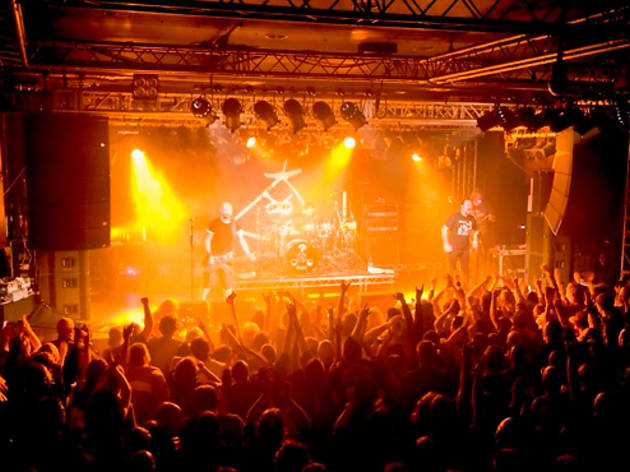 3/5
Photograph: Brian Morrison
Belfast's lively music scene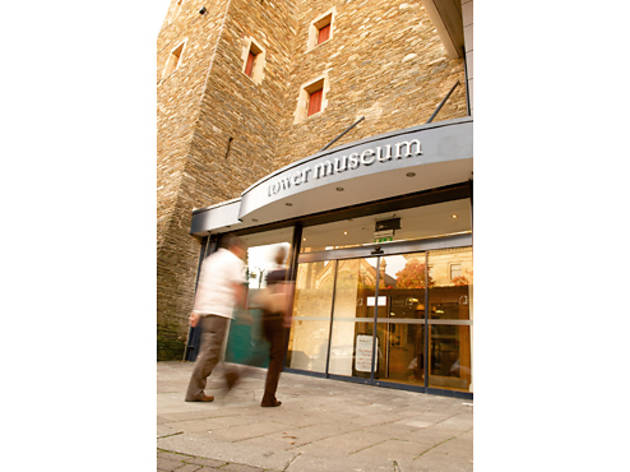 4/5
Derry's Tower Museum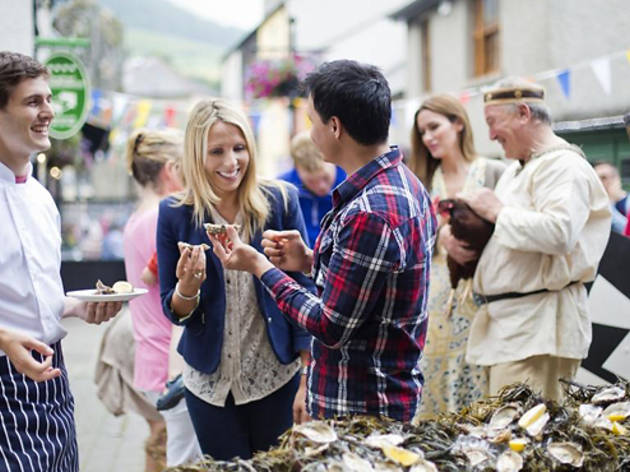 5/5
Seafood and oyster festival
Festival of Fools
in spring,
international art festivals
in May and October, the
Open House Festival
of folk, traditional and bluegrass in June and the
Festival at Queens
in October.
RECOMMENDED: More Ireland tours
Belfast's city center is focused on
Donegall Square
—dominated by the huge, copper-domed City Hall (Snow Patrol played its electric EMA's performance here in 2011)—and its surrounding lawns, which are used for lounging in the summer, and home to the fantastic
Christmas Continental Market
in winter, with gifts and crafts from all over Europe on offer. The market not to miss, however, is
St. George's Market
(12-20 East Bridge Street, 9043-5704, belfastcity.gov.uk)
. There's been a market on this site since 1604 and St. George's is Belfast's last covered Victorian market—a handsome building of red-brick and green ironwork completed in 1896, and covering a whole city block. Friday brings the Variety Market, for which hundreds of stalls sell a vast array of goods, from coffee to fish, antiques and clothes. Saturday is the City Food & Craft Market, with fresh, local produce (fish, meat, vegetables, cheese) alongside foreign specialties and handmade goods. The Sunday market is a combination of the Friday and Saturday offerings, with an emphasis on local arts and crafts. Musicians play frequently, and assorted festivals and events are held here too.
One of four establishments that make up the 
National Museums Northern Ireland, the
Ulster Museum
(Botanic Gardens, 0845-608-0000, nmni.com/um)
reopened in autumn 2009 after a three-year, £17 million redevelopment. The transformation was a big success: the modern building is bright, spacious and open, with four floors containing well-laid-out displays devoted to art, nature and history. Each section has a "discovery zone" where visitors are allowed to touch artifacts, try on costumes
 and get truly hands-on in a way that most museums don't allow. It's a fascinating place that includes Indonesian shadow puppets, 18th-century embroidered bedcovers and Egyptian mummies—plus changing exhibitions that highlight elements of the museum's vast holdings. Allow yourself a good few hours.
The Belfast
Botanic Gardens
(College Park, Botanic Avenue, 9031-4762, belfastcity.gov.uk)
, the city's largest green space, was established by a local horticultural society in 1828 and opened as a public park in 1895. The gardens are a joy to wander: Admire the flowering borders, rose beds and old oak trees; peek into the Tropical Ravine, which houses a range of exotic plants; and visit the Palm House—designed by Charles Lanyon in the 1830s, it's an early (and very fine) example of a curvilinear cast-iron glasshouse. Alternatively, head here during the summer for open-air concerts and events. For a sense of old-school Belfast fun, head north of Donegall Square where you'll find
White's Tavern
(2–4 Winecellar Entry; 9024-3080, whitestavern.co.uk)
. White's is Belfast's oldest tavern, holding a license since 1630; it's oozing with a sense of history and this is a good spot to hear traditional Irish music, played live in the downstairs space on Friday nights. On the opposite end of the spectrum—and of the square—are a handful of eateries from Michelin-starred chef Michael Deane, the king of the Belfast dining scene. Stop by the flagship,
Deane's
(36–40 Howard Street; 9033-1134, michaeldeane.co.uk; closed Sun)
for unfussy, seasonal dishes;
Deane's Seafood Bar
, next door, for more casual fare; or the café/wine bar/bistro,
Deane's Deli
, on nearby Bedford Street.
For a particularly special evening, seek out the
Merchant Hotel
(14 Shipper Street, 9023-4888, themerchanthotel.com)
, Belfast's most extravagant, occupying a handsome Italianate sandstone building from the 1850s and originally the headquarters of Ulster Bank. The ornate main hall, with its central lantern dome, intricate plasterwork, gilt frieze and cherub-topped columns, is now
the Great Room restaurant
—a marvelous setting for superior Modern Irish cuisine and proper afternoon tea. For drinks, step over to the Merchant's
Cloth Ear
, and for drinks and music check out
Bert's
, which is modeled on a 1930s New York jazz bar, with scarlet satin walls and velvet chairs.
Similarly, if there is one bar you visit while in Belfast,
the Crown Bar
(46 Great Victoria Street, 9024-3187, crownbar.com)
should be it. The city's most beautiful bar, without question, is of such historic importance that it's owned by the National Trust. Every square inch is elaborately decorated, from the colorful windows (designed to shield those within the saloon from prying eyes) to the stunningly ornate ceiling, gorgeous mosaic-tiled floors and intricately carved woodwork. Much of it is the work of Italian craftsmen who came to Ireland in the 1880s to build new Catholic churches. The huge casks, polished brass taps and seemingly endless granite-topped bar, with its heated footrest, take second billing to the ten elaborately carved wooden booths, each one unique. Grab one if you can, and be transported to a place of cozy privacy, where you can while away an afternoon imagining the wheeling and dealing that took place in the very same booths more than 100 years ago. As with any city that is home to a major school, much of Belfast's best nightlife can be found near Queens University, a heaving, vibrant part of the city where many 
of Belfast's top sights are located. The
 stretch between City Hall and Queens University, known as the
Golden Mile
, is where you'll find the lion's share of Belfast's bars and clubs, including the
Empire Music Hall
(
thebelfastempire.com
), and it's the spot to hit for prime nightlife hopping. Along such streets as
Botanic Avenue
and
Great Victoria Street
are Georgian buildings, now converted into pubs, cafés, restaurants and bars, where you'll catch local acts performing and where swarms of students and revelers stroll.
Further south is the
Black Box
(
18-22 Hill Street
blackboxbelfast.com
), which hosts everything from live concerts to comedy and DJs. On Donegall Square, there's always a trendy crowd at the
Apartment
(2 Donegall Square West; 9050-9777, apartmentbelfast.com)
, which also has a brasserie-style dining room, and DJs on weekends.
Robinson's
(38–42 Great Victoria Street, 9024-7447, robinsonsbar.co.uk)
is spread over four floors, with a modern bar, an old-fashioned saloon, a traditional Irish bar with traditional music sessions, a bistro, and a nightclub with DJs—something for everyone.
To the east and north, along the River Lagan, the industrial warehouses that once rang to the noise of clanging iron in their shipbuilding days have been replaced with glossy new buildings whence the sound of music now emanates. Adjacent to Oxford Street is the internationally acclaimed
Waterfront
(9033 4455, waterfront.co.uk)
, an arts, music and conference center. Across the river is the
Odyssey
entertainment complex, which contains a 10,000-seat stadium
(odysseyarena.com)
that pulls in big-name bands, as well as cinemas, bars and restaurants.
Just shy of two hours northwest of Belfast sits Derry-Londonderry, named the UK's City of Culture (cityofculture2013.com) this year, and host of a year-long celebration through events. Concerts, exhibits, installations and more, including the prestigious Turner Prize ceremony in October—the first time the event has ever been held outside of England—are among the many festivities under the City of Culture umbrella.

While the City of Culture events will no doubt hold your attention, make time to take in the city itself. Highlights include the walled city—the wall was built in the 17th century for protection from raiding Irish chieftains—and is one of the best-preserved examples of a walled city in Europe. Some 26 feet high and up to 30 feet wide, the circular city wall is a mile long and has seven gateways. Inside you'll find the Tower Museum, the Craft Village (a replica of an 18th century street and 19th century square), Austin's department store (purportedly the world's oldest, standing here for two centuries), the Verbal Arts Centre, which promotes storytelling, poetry and song, and the Nerve Centre, an arthouse cinema and music venue.
FOR MORE TRAVEL IDEAS AROUND BELFAST VISIT IRELAND.COM/GOODTIMES