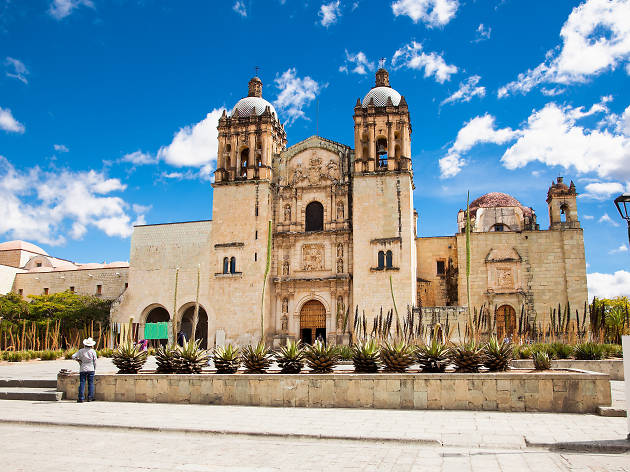 Essential Oaxaca: mole, mezcal and Día de Muertos
Free-flowing mezcal, stunning street food and fun things to do in Oaxaca pepper Time Out's travel guide to the city
What's the deal with Oaxaca?
That image of Mexico in your head? It's probably a lot like a street scene from Oaxaca City (pronounced 'wa-ha-ca'), thanks to its gorgeous cobbled roads, tall colonial buildings with agave plants shooting out from surrounds and plenty of colorful indigenous touches—from bright walls and doorways to papel picado strewn above the streets come festival season. Tourism has surged in recent years thanks to the rising interest in Día de Muertos (Day of the Dead) and its 'Catrina' skeleton iconography (Coco and James Bond have both played their part)—but visit any time of year for the most amazing street eats (from tacos to tlayudas and elotes), more mezcal than your stomach can handle (trust us), a platform for incredible day trips in the south-west of the country (including its gorgeous, surfer-ready coastline towards Puerto Escondido) and a slightly more mellow and easy-to-tackle taste of the nation than you might otherwise find in sprawling Mexico City. ¡Vámanos!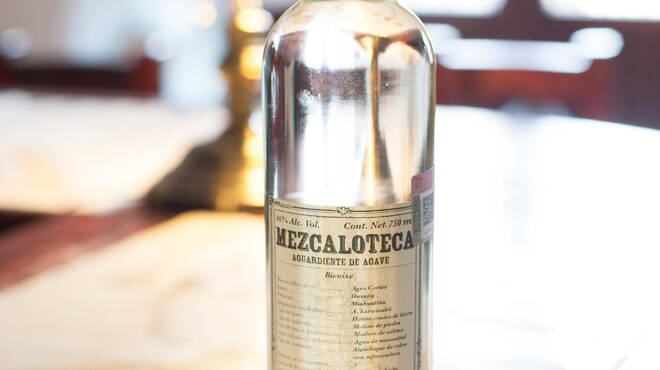 Mezcaloteca bar © Brett Gundlock / Alamy Stock Photo
If you only do one thing
Visiting a palenque (a mezcal distillery) is totally on trend. The chest-hair-generating agave spirit is the hip drink du jour, so get to grips with it at one of thousands of distilleries like Lalocura or via Mezcal Educational Tours.
Dine in style
Origen elevates indigenous ingredients on a five-course tasting menu from 650 Mexican Pesos (around £25). Enjoy ceviche and suckling goat paired with wine from Mexico's emerging vineyards.
Eat on the cheap
Oaxaca is known for street food (thanks to a certain UK restaurant chain). Visit Mercado 20 de Noviembre to see it's not just about tacos. Local delicacies include mole (a sauce made from nuts and spices), tlayudas (like a Mexican pizza) and elotes (cheese-topped corn on the cob).

Tree-t yourself with a trip to Tule
Drink like a local
You don't have to go to a distillery to get a mezcal education. Book a spot in Mezcaloteca's tasting room, or drop by Sabina Sabe for mezcal cocktails and an indie soundtrack.
Stay up late
There are a handful of rooftop bars—Mezquite is one of the buzzier ones—to make the most of warm nights and the city's lit-up architecture. Or dance salsa and cumbia to live bands at old-school La Candela or the slightly saucy La Tentación.
Soak up the vibes
Strolling around the Zócalo—Oaxaca's public square—is the perfect way to see the city's colorful food carts and street musicians. You're then a moment from Mercado Benito Juárez. Stock up on chillies and ingredients to spice up your gringo life back home.

Hierve el Agua is well worth the trip from Oaxaca
Get cultural
A former monastery in the city center, Templo Santo Domingo is one of the most striking buildings. Instead of monks, it's now home to a cacti-rich ethnobotanical garden and a cultural museum with a collection of pre-Colombian artifacts. See more of the region's indigenous history through its beautiful woven art at the Textile Museum.
Take a day trip
Grab a bus to Mitla, then get up in the mountains via four-wheel-drive camioneta to find Hierve el Agua, mother nature's infinity pool. Natural springs create turquoise pools and 'petrified waterfalls' where the torrents have calcified. Take a short hike around the craggy scenery then cool off in that unbelievably temperate water.
Hang out in this 'hood
Oaxaca is totally walkable, so you can easily base yourself close to the Centro Histórico. Jalatlaco barrio is one of the oldest neighborhoods filled with coffee shops and colorful houses. Just as bright is its City Centro Hotel, a modern spot to stay with millennial pink furnishings and its own rooftop pool.

Día de Muertos celebrations in full swing © Kobby Dagan / Shutterstock
Only in Oaxaca
Plan a trip to coincide with Día de Muertos (celebrated on Nov 2 and the days preceding). Locals show off ofrendas—altars in remembrance of lost loved ones—and by night, the street becomes a parade and party filled with brass bands, costumes, facepaint, fireworks and frenzy. Outside of November, head to Tule, a nearby town with what they're calling the world's oldest tree (and it's a big one), as well as locals carving distinctive alebrijes—tiny, fantastical animal handicrafts made from wood.
Explore more of Mexico
Wander from the great ruins of ancient civilizations to deserted golden beaches, snake your way through teeming cities and steaming jungles, gorge on sweat-inducing spices and dive (literally, in some cases) into epic natural wonders.
Best selling Time Out Offers