The 13 best restaurants in Oklahoma City
The best restaurants in Oklahoma City are some of America's best kept secrets—and it's time you ate at all of them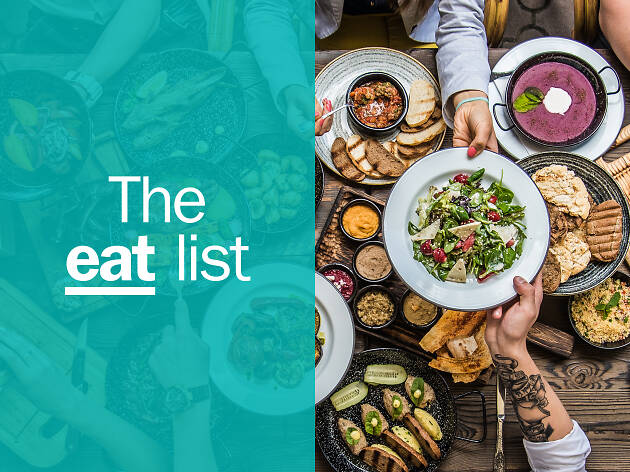 Oklahoma City's dining scene is one of the country's best-kept secrets. Tell that to your friends and they'll likely sneer but, hey, that just means more food for you. It's not all about juicy burgers and chicken-fried steak, either (although meat lovers should rest assured that there is plenty of both to go around): the best restaurants in Oklahoma City are defining a sizzling Szechuan scene, putting out delectable sushi and revamping comfort food staples into high-quality, gourmet meals. Let's not forget the smattering of hipster hotspots and farm-to-table eateries that rival those of any other major urban area in America. So, when you're done ticking off all the essential things to do in town, take a breather and fill up your belly at these best restaurants in Oklahoma City.
Best restaurants in Oklahoma City
1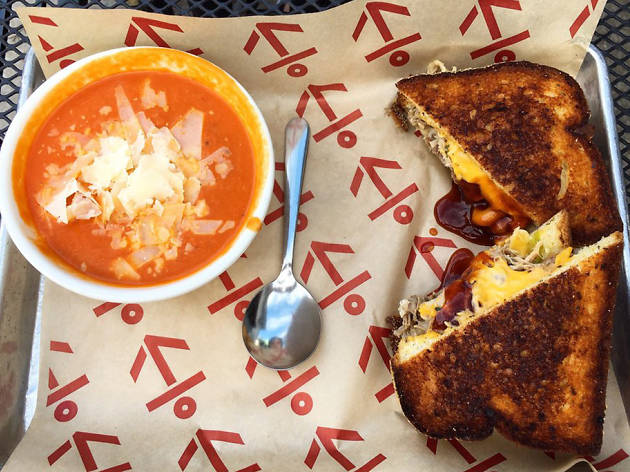 Photograph: Courtesy Yelp/Cloudia O.
What is it: This locally owned grilled cheese shop is like a child's dream come true, except for adults: think the foods of your youth but with a grown-up twist.
Why go: A Plaza District favorite since it opened in 2012, The Mule is the place to go if you have a hankering for upscale grilled cheese sandwiches with a side of local brews and/or yummy cocktails. The macaroni pony is one of the most popular items on the menu, and for good reason: it's a cornbread-and-pork, mac and cheese confection whose deliciousness defies all logic.
Price: Average
2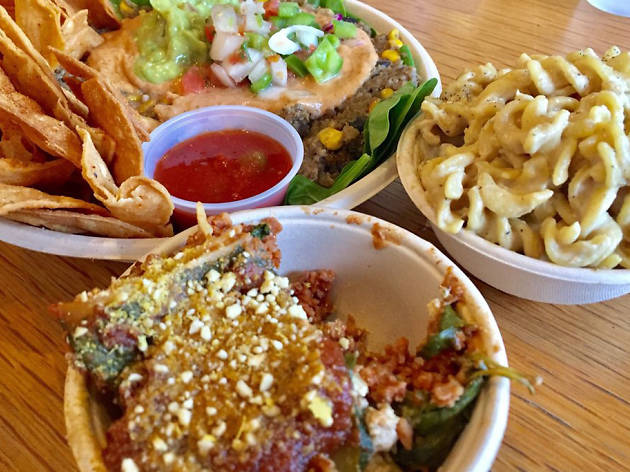 Photograph: Courtesy Yelp/May M.
What is it: The Sooner State may be known for its steaks, but the Loaded Bowl is a vegetarian-friendly godsend. What began as Oklahoma's first-ever vegan food truck quickly became a staple of OKC's veggie foodie scene.
Why go: The Loaded Bowl is the perfect go-to place when you want healthy, seasonal fare—or, as the owners call it, "conscious comfort food." Try the loaded nachos, their savory signature mix of refried black beans, cashew queso, fresh pico, shredded cabbage, soy and lentil chorizo, sour cream and guacamole.
Price: Average
3
Photograph: Courtesy Yelp/Chuc N.
Packard's New American Kitchen
What is it: A must-visit local haunt that serves fresh, seasonal American favorites prepared using locally-sourced ingredients, whenever available.
Why go: Located inside the original, historic Packard car showroom of the 1920s, Packard's New American Kitchen boasts one of the best menus in the city. Be sure to have pre-dinner cocktails on the rooftop patio and enjoy the awesome view of downtown. When it's chow time, get the eat your veggies dish, which is basically a giant pile of whatever's in season, plus grilled pita bread and tasty romesco sauce. The brunch here is also outstanding.
Price: Pricey
4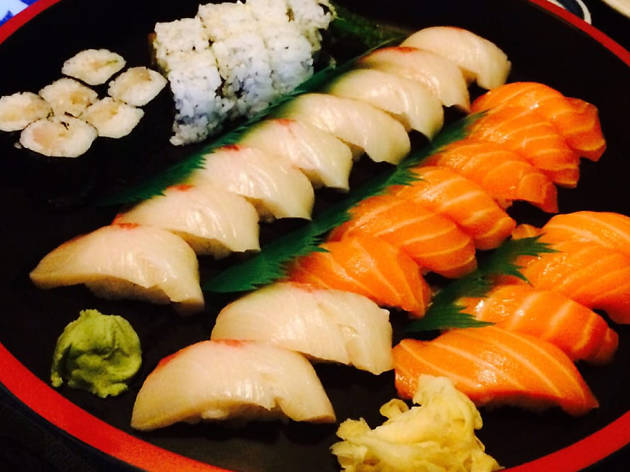 Photograph: Courtesy Yelp/Nigel P.
Tokyo Japanese Restaurant
What is it: Taste your way around Tokyo without leaving the Oklahoma City.
Why go: This isn't the only place to get good Japanese food in the city, but it is one of the best. Sushi lovers will be in heaven with the variety of nigiri, sashimi and California rolls on offer. Alternatively, order the Tokyo box, which comes with miso soup, a house salad, steamed rice, a hibachi dish and your choice of sushi.
Price: Average
5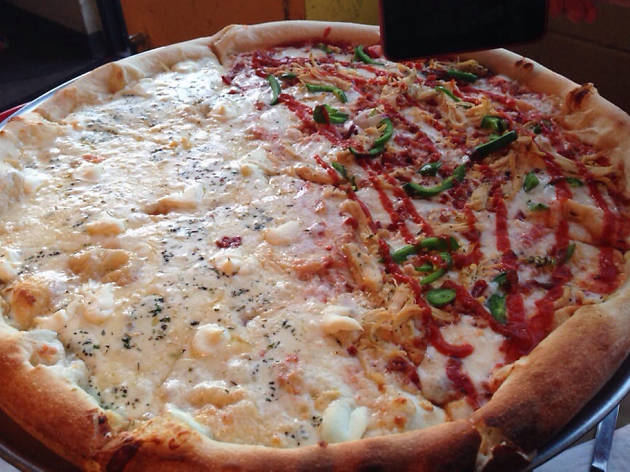 Photograph: Courtesy Yelp/Kim N.
What is it: Crispy, yummy, gooey, cheesy works of art masquerading as pizza are the stars of this restaurant.
Why go: Simply put, the pizza at Empire Slice House is a revelation. This popular spot in the Plaza District is always teeming with locals looking to get their next fix. In addition to serving a wide range of pies that'll do way more than tickle your tastebuds, Empire has a full bar and a fantastic outdoor patio. Consider this your warning: prepare to become an Empire junkie for life.
Price: Pricey
6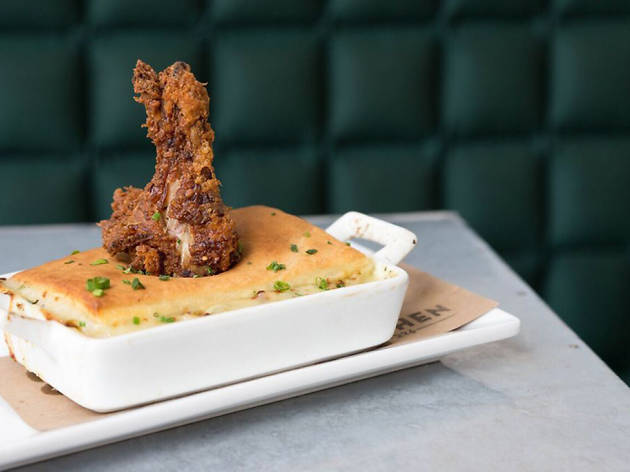 Photograph: Courtesy Yelp/Jeannette T.
What is it: This sunny little cafe consistently churns out excellent farm-to-table items, along with one of the best dishes in OKC: fried chicken pot pie.
Why go: Cheery local favorite Kitchen No. 324 has a lovely breakfast and brunch menu that offers everything from craft bakery goods and curated coffee drinks to regional breakfast plates like the fried green tomato Benedict. But it's the aforementioned fried chicken pot pie that really takes the cake: this crunchy, gravy-laden, flavorful dish is a wonder to behold, and a delight to devour.
Price: Pricey
7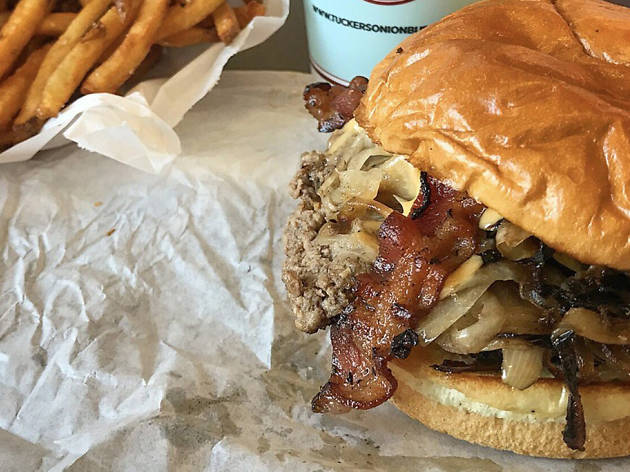 Photograph: Courtesy Yelp/Tom M.
What is it: A low-key diner slinging Oklahoma's famed onion burgers to those in the know.
Why go: Oklahoma invented the fried onion burger during the Depression, and the world hasn't been the same since. It's simple—just onions, meat and a bun—and yet somehow transcendent. Tucker's has the best onion burgers in the city, and possibly the state, which is really saying something. Order a double with fries and add a side salad if you want a good laugh: the Tucker's "salad" is actually made of Fritos, pinto beans, cheddar cheese and a handful of iceberg lettuce leaves.
Price: Bargain
8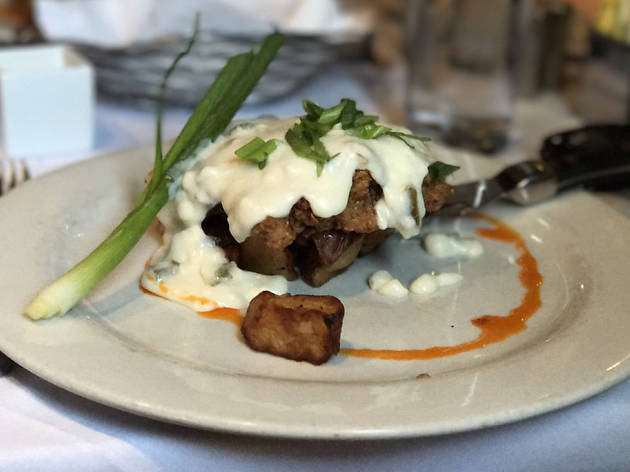 Photograph: Courtesy Yelp/Chuc N.
What is it: Contemporary comfort food at its finest, in an adorable, bistro-like setting.
Why go: If you ask a slew of local Okies for dining recommendations, Cheever's Cafe will likely be the first place mentioned by them all. Cheever's is an institution, with the kind of high-caliber comfort food that's unique to Oklahoma—think chicken fried steak smothered in jalapeno cream gravy—and wholly delicious. Don't leave without tasting the famous bleu cheese potato chips, salty homemade chips tossed in a creamy blue cheese sauce.
Price: Pricey
9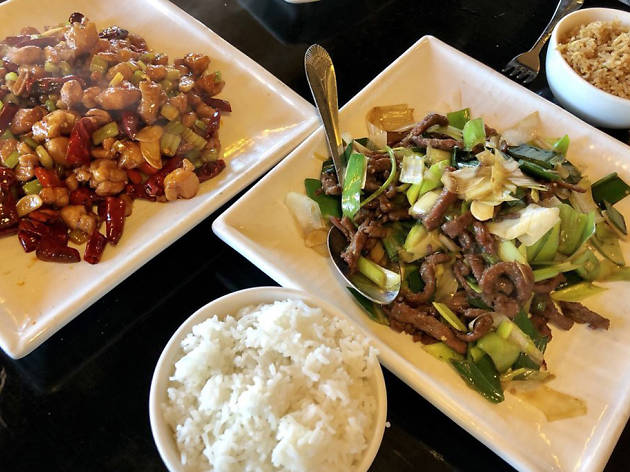 Photograph: Courtesy Yelp/Mary Margaret M.
What is it: Widely regarded as one of the best Asian restaurants in the city, Szechuan Bistro serves traditional Chinese fare that is beloved by locals and tourists alike.
Why go: Though you may not immediately associate Oklahoma City with decent Chinese food, one meal at Szechuan Bistro will banish that thought from your brain entirely. Guests can order from one of two menus, one featuring Americanized offerings and the other highlighting authentic dishes. No matter your choice, prepare for a multisensory experience unlike any other.
Price: Average
10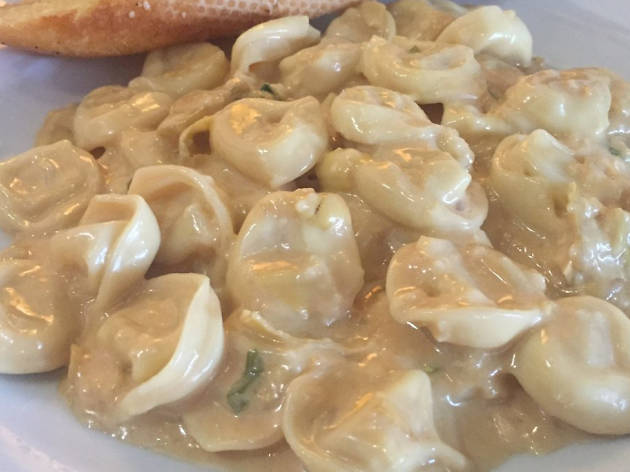 Photograph: Courtesy Yelp/Deepika G.
Flip's Wine Bar & Trattoria
What is it: If you're dying for a glass of Chianti and a heaping bowl of spaghetti carbonara, consider heading to this authentic, casual Italian restaurant.
Why go: Flip's is a local hang, through and through, and it's unlikely to make any Bon Appetit best-of list anytime soon—which is exactly why you should go. This bustling Italian trattoria on Western Avenue boasts a great, festive atmosphere and a comfy outdoor patio that's perfect for wine-guzzling and summer night socializing. Try any of the pastas or the whole wheat thin-crust pizzas.
Price: Average
11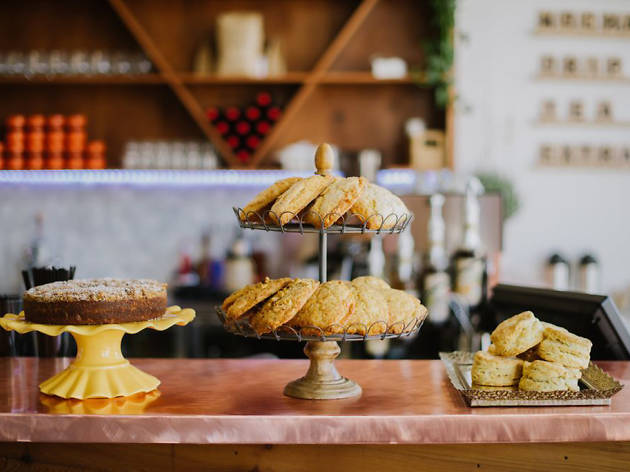 Photograph: Courtesy Yelp/Aurora
What is it: A relatively new brunch fixture in the Plaza District that boasts an inventive menu and the Instagrammable decor to match.
Why go: Whether you're looking for a spot to nurse your hangover or a quaint place to take your grandma for lunch, this lovely little joint is the place to be. Order the hearty buttermilk pancakes with a side of homemade thyme biscuits to soak up last night's liquids or, if you're trying to be good, sample the savory lentil hummus bowl.
Price: Pricey
12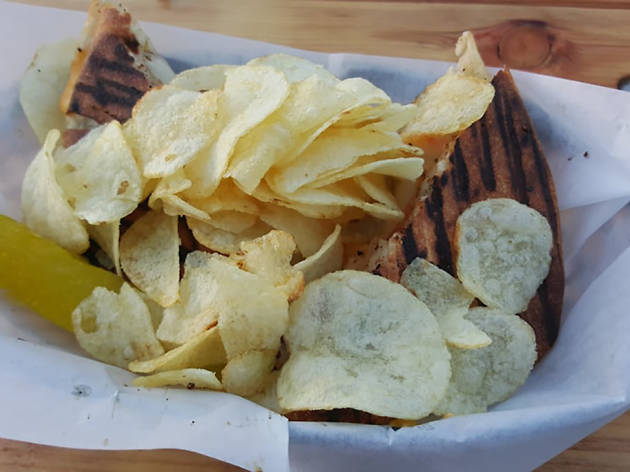 Photograph: Courtesy Yelp/Veronica F.
What is it: A cozy, tucked-away bar and restaurant in Oklahoma City's historic Farmers Public Market district. This charming, atmospheric gem offers a simple yet tasty menu, great seasonal drinks and an inviting patio.
Why go: If you're not the loud bar type but you still want to enjoy a well-crafted cocktail and scrumptious snacks, this place is a fabulous pick. Get the spicy Chile pork verde, the spot's signature dish.
Price: Average
13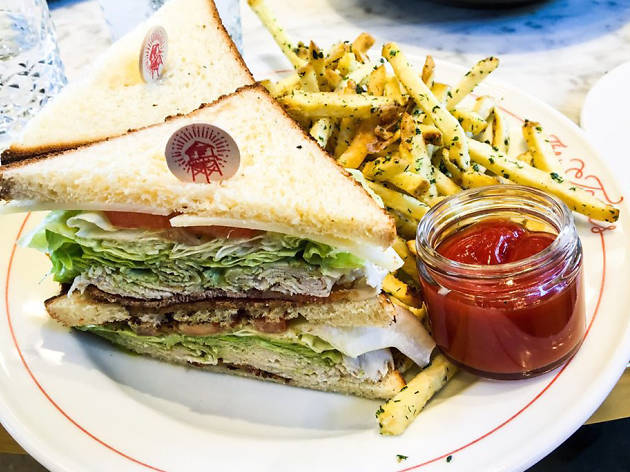 Photograph: Courtesy Yelp/Abby S.
What is it: An impeccably decked out warehouse-like space on Sheridan Avenue. Perfect for large groups.
Why go: Killer cocktails, an innovative menu (top tip: order the crispy fried okra with ranch dressing), and big-name stars. In the evenings The Jones Assembly becomes a gig venue, with artists including Willie Nelson, The Pixies and Cut Copy.
Price: Pricey
Discover Time Out Market: the best of the city under one roof
Planning a trip to Oklahoma City?
Rugged, thriving, ultimately cool Oklahoma City is equal parts cultural heartland, traditional Midwest capital and historic cow town, with lively pockets of recently revitalized neighborhoods and stylish arts districts to boot.