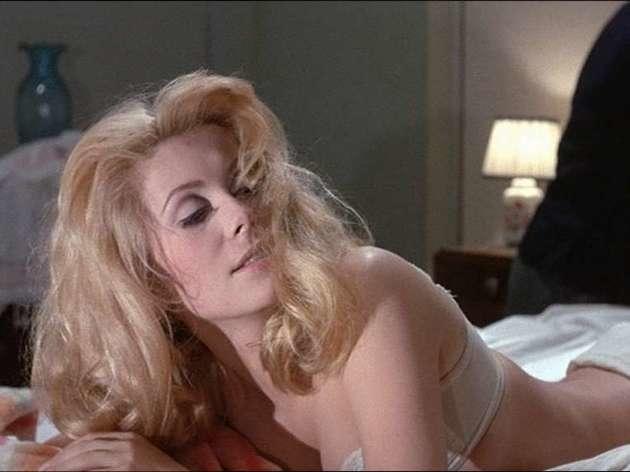 Director: Luis Bunuel
This film ranked #28 in Time Out's list of the 100 greatest French films. Click here to see the full list.
A perverse valentine to this coolest of Gallic beauties, Belle de jour stars Catherine Deneuve as Sverine, a Parisian housewife dressed in Yves Saint Laurent, who is married to Pierre (Sorel), a handsome, dull doctor. Sverine makes fervent protestations of love but cannot, alas, consummate; instead she succumbs to theatrically erotic reveries — of being whipped by two burly coachmen, pelted with shit while wearing a diaphanous white gown, elaborately bound to a tree la St. Sebastian. When she hears of a high-class madam (Page) who operates a brothel out of her apartment, Sverine takes a day job as a classy whore servicing middle-aged businessmen.
In the age of Desperate Housewives and downloadable S&M porn, there's little in Belle de Jour that shocks — but then, pater le bourgeois seems beside the point. The film is an act of pure fetishism, and Deneuve its willing object. The actor never looked better, a Hitchcock blond dragged into the kinky demimonde of Helmut Newton. She's in nearly every frame, and her presence is so quietly dominant that when the camera strays to observe two gangsters, clients of Sverine's, the absorbing tension of the film slackens — you don't want to take your eyes off her for a minute.
Rating Breakdown
5 star:

1

4 star:

0

3 star:

0

2 star:

0

1 star:

0
The movie was excellent...this review was not. Firstly, yes her doctor husband was handsome but was not "dull", as you put it. Unless by "dull" you mean "decent human being", because all the other "lively" "exciting" characters were actually s*** bags. ESPECIALLY the main character, Ms. "Belle De Jour". This film to me moreso voyeuristically explored the life of a neurotic privileged white bourgousie wife. A woman who had seemingly everything one needs...a comfortable life and a mate who absolutely adored her and wanted to start a family. And she threw it all away because of implied past childhood trauma. Oh the shame...(tiny violin playing because I didn't care for her....she gave me no reason too.) All in all, the movie was great yet supremely frustrating (what with the main character being such a self-centered half-wit). Lets just say, at the end of the movie, someone got the fate that SHE deserved...