Vermont native Anaïs Mitchell is a national treasure, one of our great modern singer-songwriters. Thursday night her talents were on full display at Boot & Saddle before a warm, eager Philadelphia crowd.
1. Mitchell's set was career-spanning.
Though she hasn't released an album since 2014, Xoa, Mitchell played through a set that made it seem like there'd been no gap at all. Two albums were on greater display than others: Hadestown, which has been turned into a folk opera. The work gave Mitchell and guitarist Austin Nevins some great moments, especially the two-song set of "Wedding Song" and "All I've Ever Known." And then there was Young Man in America, one of the great albums of the 21st century. Mitchell's haunting lyrics about devotion in "Tailor" and her supreme poeticism in "Young Man in America" are must-listens.
2. "Why We Build the Wall" continues to reverberate in new ways.
If there must be a song of the night, it's this one from Hadestown—the folk opera version—which closed the evening. A call-and-response work that harkens back to a nearly forgotten musical era, it is a haunting song about constructing a wall. Back in 2010, when the song was released, it could be sung as an anthem of why someone should not be elected. Now she introduces it as not being about our president but Hades—though one could imagine that, through the inflection from her voice and the roar of the crowd, that the distinction is nonexistent.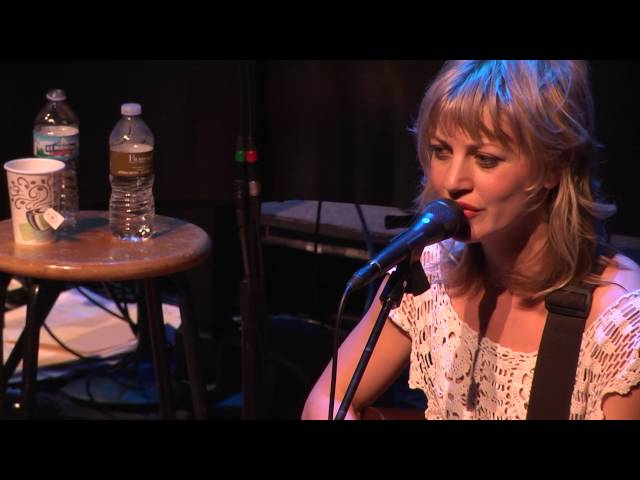 3. Mitchell said she loved Philadelphia—and can back it up.
Mitchell, who most likely would have played the Tin Angel on this tour opening stop if the venue still existed, spoke of how much she loves this city. She shared memories of Ethiopian food in West Philly and tales of urban spelunking. Her warmth and openness led some fans to be quite forward in requesting songs, including 2007's "Old Fashioned Hat" and an extra encore song in "Venus."
4. Charlotte Cornfield's opening.
The Canadian singer-songwriter kicked off the night with a dizzying array of verbose everyday observations. Playing works from her 2016 album Future Snowbird, she showed nostalgia for pop culture while also keying into timeless topics of desire and isolation.
Get Vocal for Your Local: Vote your for your favorite music venue in the Time Out Love Philadelphia Awards