Krystal Bick and Mustafa Kacar have a memorable weekend at Sands Bethlehem
Hit the road with the social influencers as they head to the Sands for a weekend of rest, relaxation and revelry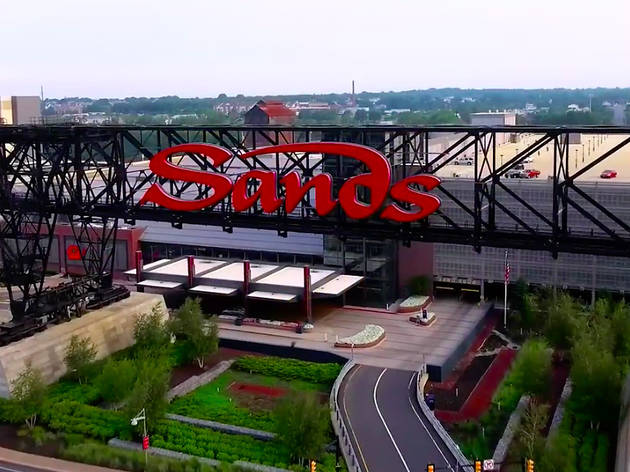 We've all been there: You desperately want to get away for the weekend with your guys or gals, but funds are low and you had no time to plan anything. Krystal Bick and Mustafa Kacar have been there, too, and they came up with the perfect solution: Sands Bethlehem! Located just an hour from Philly, it's the perfect quick jaunt out of the concrete jungle. Nevada native Bick resisted the allure of the casino and instead laid down coin for delish meals at Buddy V's and Emeril's Chop House, while Kacar's highlights were spent on the grand casino floor and dancing the night away at Molten Lounge. But hey, don't take our word for it: Follow their adventures right here and also on Instagram @krystal_bick and @mustafakacar. And then go book your weekend—Pennsylvania is calling your name!
Gambling problem? Call 1-800-GAMBLER.
Krystal Bick's weekend
As a Nevada girl at heart, gambling has always been somewhat present in my life. And I don't mean that in the sense of I personally gamble or that my family does (although we have on occasion had a fun night or two in Vegas), it's just something I grew up with and never thought twice about. Oddly enough, whenever I land back at the Reno/Tahoe International Airport back at home, the chanting of the "Wheel of Fortune" slot machine that sits outside most gates makes me oddly nostalgic. It's a funny detail to remind you of home, and it by no means represents what Nevada means to me, but it's part of the quirky charm that I like to mention whenever someone raises their eyebrows at me after I tell them I'm from Reno.
The conversation usually follows this same flow: we go through Reno 911 (and how it's nothing like how the show portrayed) and then a few Johnny Cash songs (because he apparently shot a man here, just to watch him die). And then I mention Lake Tahoe and how much I loved being outdoors growing up. It's a funny thing, witnessing someone who's starting to let go of preconceived ideas of how they thought a certain place or a person might be. Personally, I love being surprised by something, the more unexpected the better.
So when the folks over at the Sands Bethlehem and Time Out New York invited me out for a ladies weekend video shoot at their casino property in Pennsylvania, I was immediately curious and jumped at the opportunity. For starters, I had never been out to Pennsylvania before and loved how rich the area seemed in natural beauty and history with the steel industry and secondly, it's been a little while since I've played Blackjack. I quickly agreed and started packing a bag.
For those of you who have been out in that area of Pennsylvania, you know the drive is relatively short. Actually, only an hour and half to be exact. As someone who adores quick little road trips, I loved how easy it was to escape the city for this weekend jaunt.
Read more
Mustafa Kacar's weekend
Located in the heart of Pennsylvania Steel Country (and right around the corner from the birthplace of Bethlehem Steel), Sands Bethlehem was a luxury experience that you'd expect from a weekend in Vegas – without having to step foot in Sin City.
Our weekend was loaded with great food (my favorite spots to eat are broken down below), world- class gambling including the new Stadium Gaming (with a live dealer!), and some of the coolest nightlife spots in all of Pennsylvania!
The first thing we noticed as we cruised through the front doors was the grand scale of the main casino floor. There are table games galore, banks and banks of slots with their blinking lights and blaring sirens, and a general buzz that gets you primed and ready to roll right from the moment you enter. I was hooked!
The energy here at Sands Bethlehem is electric, the people diverse and always up for meeting new friends and the food – oh boy, the food! A big part of the allure of Sands Bethlehem in particular are the restaurants. With literally dozens and dozens of places to grab a quick bite, sit down and enjoy a slower paced meal, or just catch up with someone for some drinks, you aren't going to have any trouble whatsoever eating like a king when you're visiting Sands Bethlehem.
Read more