Heads up! We're working hard to be accurate – but these are unusual times, so please always check before heading out.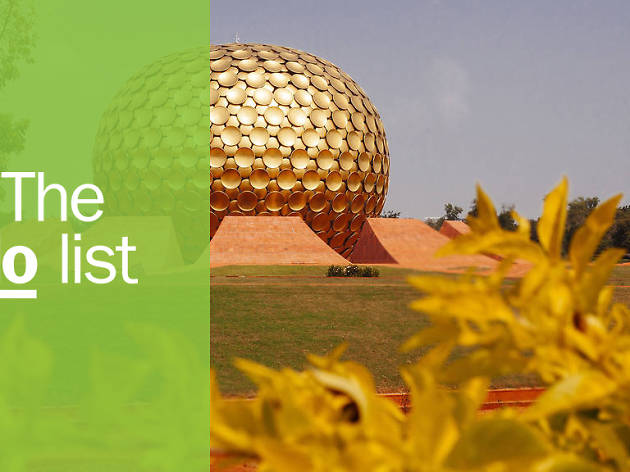 The 14 best things to do in Pondicherry
From pristine beaches to fascinating experiences, we've got you covered for the best things to do in Pondicherry
People are drawn to discover the top things to do in Pondicherry (also known as Puducherry) for many reasons. The city was a French colonial settlement until 1954, and this history is reflected today in the city's architecture, culture and food scene. Some come to Pondicherry to admire the heritage buildings, others come to soak up the sun and salt at the beach or get active with adventure pursuits. Here's our guide to the top things to do in this southern city.
Done something on this list and loved it? Share it with the hashtag #TimeOutDoList and tag @TimeOutEverywhere.
Find out more about how Time Out selects the very best things to do all over the world.
Best things to do in Pondicherry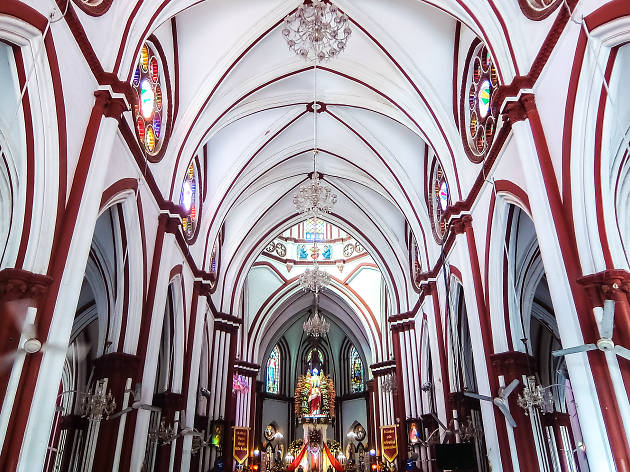 Photograph: Shutterstock
1. Basilica of the Sacred Heart of Jesus
What is it? A beautiful gothic-style Catholic church, built in 1907.
Why go? The Basilica of the Sacred Heart of Jesus is impressive from the outside, with biblical words written in Latin on the entrance along with images of Jesus and Mary. Step inside, and you'll be awed by the impressive interior, with the highlight being the stained glass panels depicting events from the lives of Jesus and Catholic saints.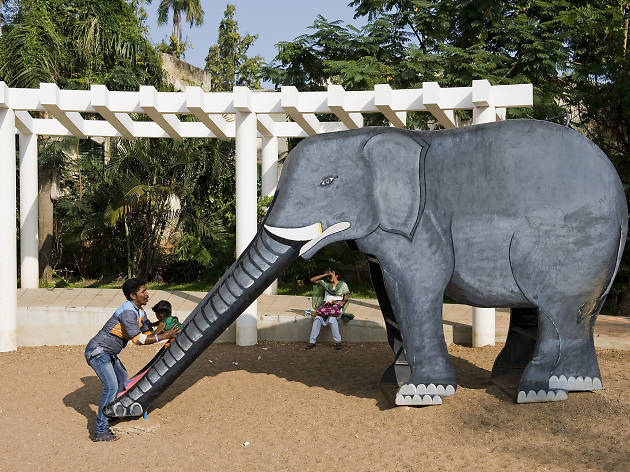 2. Pondicherry Botanical Gardens
What is it? A haven for nature-lovers.
Why go? Built in French style and comprising over 1,500 plants from across the globe, the Botanical Garden is certainly a must-see whether you're an architecture buff, a photographer or simply someone who loves being in nature. There's also a Japanese rock structure, an aquarium, toy train rides and six gorgeous fountains. If you happen to visit during weekends, you might witness dancing fountain shows.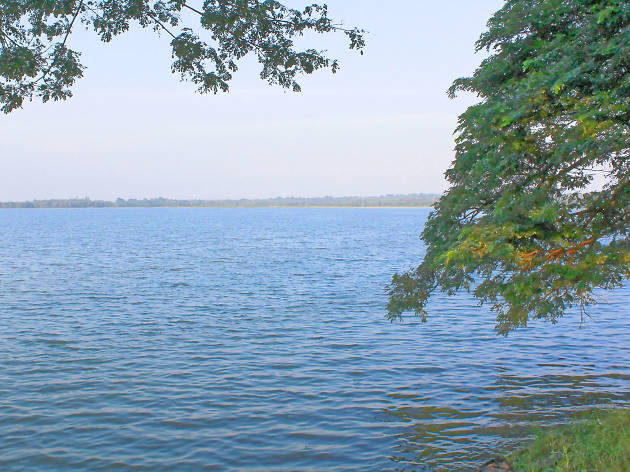 What is it? Located about 6.8 miles from Pondicherry, this man-made lake is best for birdwatching.
Why go? Arm yourself with a pair of binoculars and a camera and head to Ousteri Lake. Spread over an area of 390 hectares, the lake is filled with different ecosystems such as mudflats and marshlands. The diversity of terrain makes it a perfect home to a wide variety of residential and migratory birds. Keep an eye out for the greater flamingos, golden orioles, openbill stork, painted stork, white-breasted water hens and white ibis. You can even hire a boat and ride across the lake.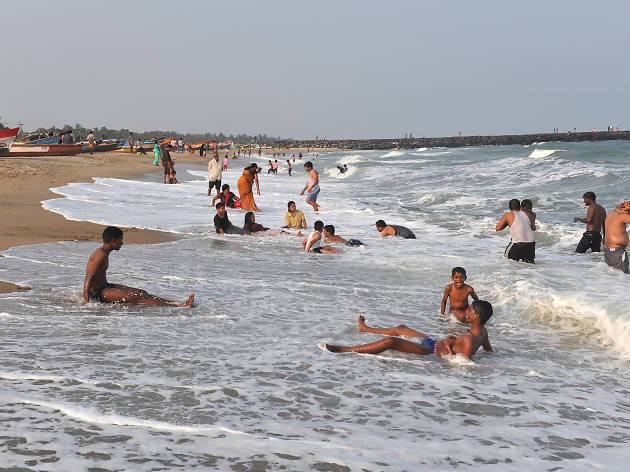 What is it? A perfect surf spot.
Why go? The spectacular scenery alone is reason enough to pay this beach a visit, with vast stretches of white sand lapped by blue waters and framed by lush palm trees. However, it's the waves that really set this place apart. There are a variety of waves for novices and pro surfers, as well as numerous board rental shops and surf schools; we recommend checking out the Kallialay Surf School that offers classes to surfers of all levels. Also, the beach is lined with some amazing eateries, ideal for a post-surf refuel.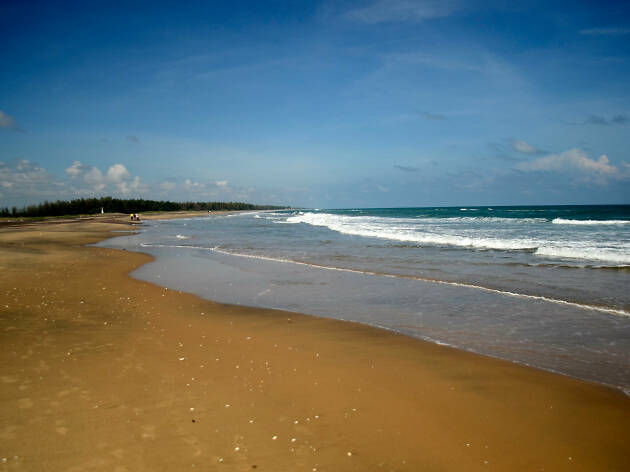 Photograph: Courtesy P Jeganathan/Wiki-Commons
What is it? A family friendly beach with plenty of fun activities.
Why go? On the water, you can swim, kayak or canoe. If you want to stay on the beach, you can play with the smooth sand, engage in a game of volleyball or tennis, or just people-watch. There are also many restaurants to keep you going for the day and a children's park nearby to keep the little ones occupied, plus hotels if you planning on staying a while.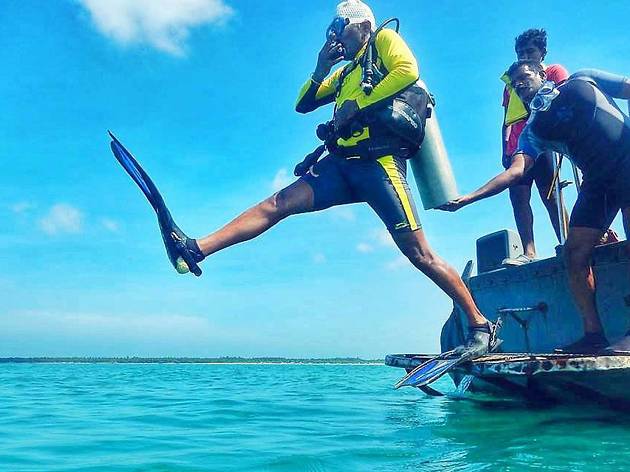 What is it? The chance to get up close to Pondicherry's colourful underwater flora and fauna.
Why go? Pondicherry's crystal-clear waters, abundance of marine life and visibility up to 30 meters make it an ideal destination for divers of all abilities. You'll spot coral, manta rays, kingfish, sea snakes, angelfish, lionfish, moray eels and more. The best locations to dive include Coral Shark Reef, the Aravind Wall, Temple Reef, The Hole and 4 Corners. We recommend going with Temple Adventures – a PADI-certified centre with friendly and helpful staff.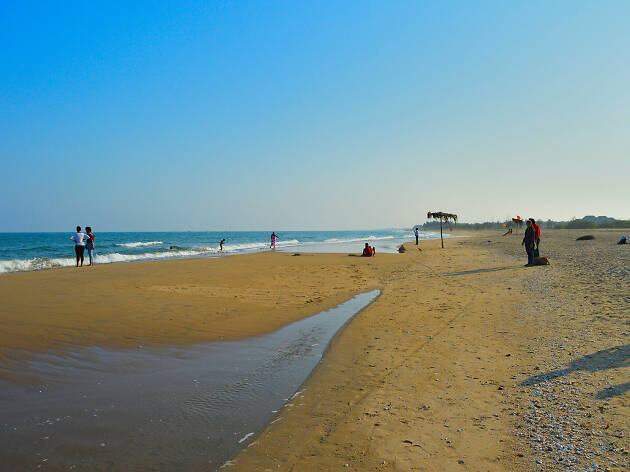 Photograph: Courtesy Ehteshaam Khatri/Wikimedia
What is it? A pristine off-the-beaten-path beach, perfect for peace-seekers.
Why go? If you're looking for a bit of quiet, head to Paradise. Located at the convergence of the Chunnambar River and the Bay of Bengal, the beach is accessible only by a ferry ride from the Chunnambar boathouse. Pair your beach day with a boat ride along the Chunnambar backwaters.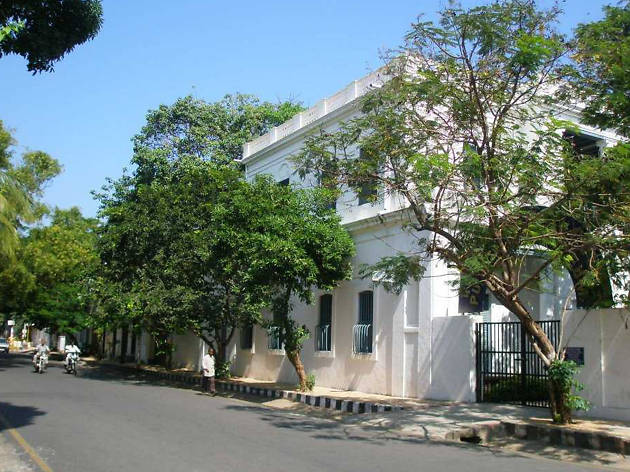 What is it? A fascinating art and history museum.
Why go? To gain a better understanding of Pondicherry's past. You'll encounter artefacts from the Arikamedu Roman settlement, artworks, French period furniture, coins, handicrafts, bronze sculptures and stonework from the two of the greatest dynasties of India: Chola and Pallava.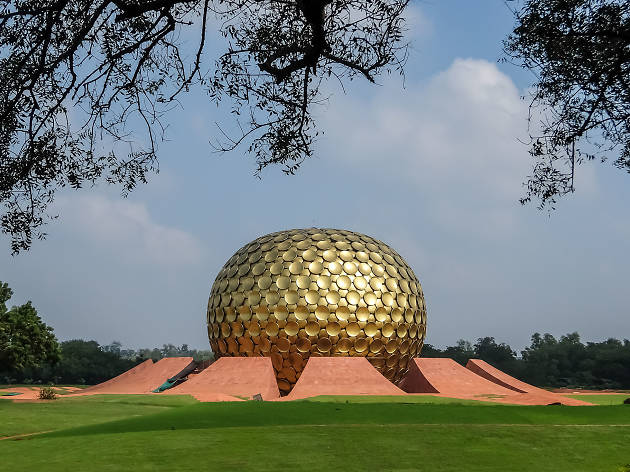 What is it? India's spiritual community-township that welcomes everyone, irrespective of their caste, culture or nationality. It promotes peace, harmony and unity.
Why go? Located about nine miles from the city, Auroville is split into two zones. You'll want to hear to the Peace Zone, which features Mantrimandir, a golden meditation temple. Visitors need to register in person a day in advance at the Auroville Visitors Centre for entry. You can also try some alternative healing therapies at the Quiet Healing Centre. Other attractions include the town's botanical garden, beach, main road market and cafés. There are a plenty of guesthouses and homestays available.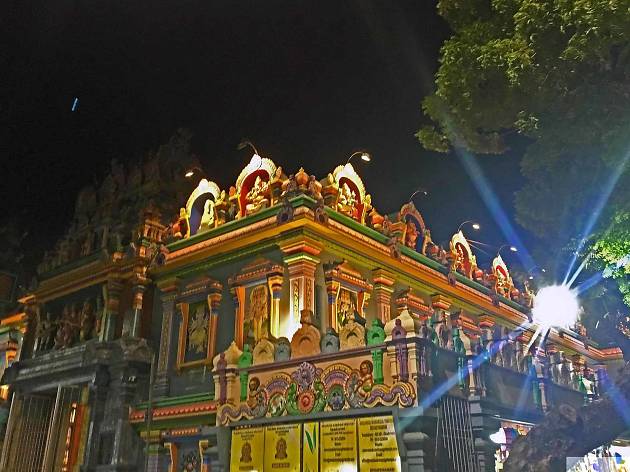 10. Sri Manakula Vinayagar Temple
What is it? An ancient Hindu temple dedicated to Lord Ganesha (the elephant-headed god of prosperity and wealth).
Why go? Believed to have been built long before the French settlement in the city, Sri Manakula Vinayagar temple is one of the oldest and the most revered place of worship in the city. The temple features a striking idol of Ganesh made entirely of gold. In addition to that, there are 40 incarnations of the god Ganesha carved on the stone walls and intricate paintings depicting historical events and scenes from the Hindu mythology.
Photograph: Shutterstock
What is it? A celebration of the rich art and culture of India.
Why go? Here, you can sign up for Indian cooking, dance, painting or language classes, or take up yoga or Ayurveda (traditional healing) sessions. The guides are highly knowledgeable and can speak fluently in English, French and Tamil. Art exhibitions and performances are also held here.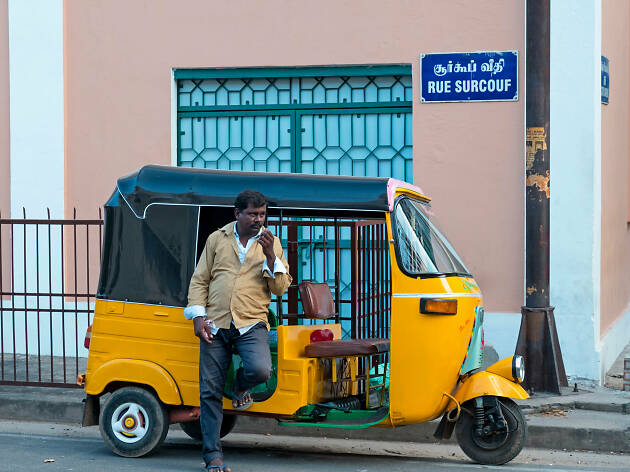 Photograph: Shutterstock
12. French and Tamil quarters
What is it? Two sections of the city that highlight Pondicherry's unique Franco-Indian heritage.
Why go? You'll find colourful houses and villas, heritage buildings, cafés, boutiques and places of historical, cultural and religious importance scattered around these quarters. The great way to discover these quarters is on foot or two-wheels. For the best experience, we recommend taking the Pondy Cycle Tour, which provides an insight into the rich cultural heritage and architecture of the city.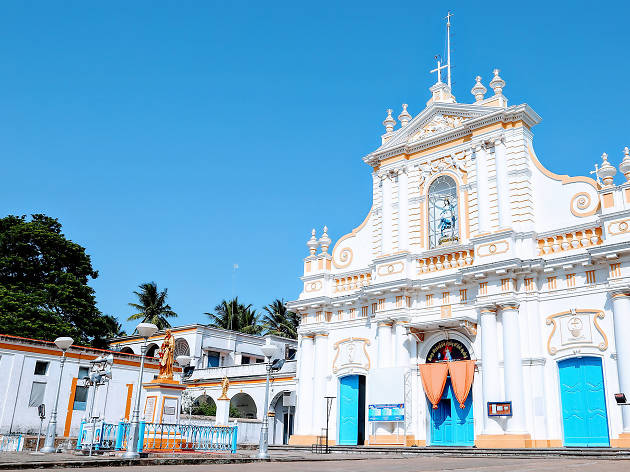 13. Immaculate Conception Cathedral
What is it? A 250-year old Roman Catholic church located in the French Quarter, also known as White Town.
Why go? The pièce de résistance of Pondy's White Town is the Immaculate Conception Cathedral, which is worth a trip in itself. With its Portuguese architecture, Doric columns, bell tower, eight-barrel vaults and a central dome with eight circular openings, this church is an outstanding work of art. Mass services are read in Tamil and English.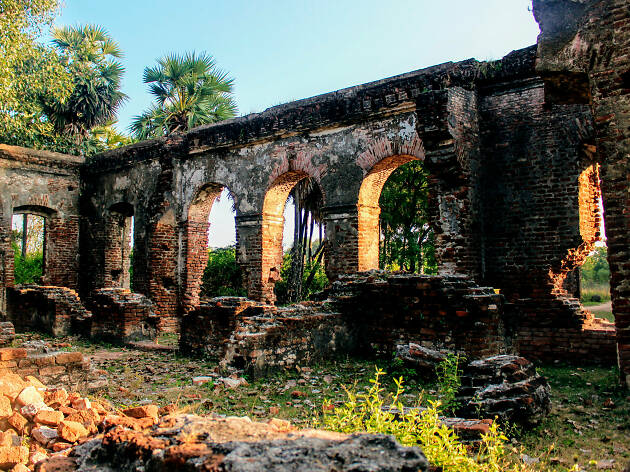 Photograph: Shutterstock
What is it? An archaeological site located about 4.5 miles from the city centre.
Why go? If you're a history buff, Arikamedu should be on your list. Dating back to the second century BC, this site serves as an important piece of evidence revealing the presence of Romans in India. Here, archaeologists have found Roman artefacts such as Arretine wares, amphora's (storage jars), Roman lamps, ancient pottery and beads. Visitors are welcome to explore the site, which is replete with coconut and palm trees.