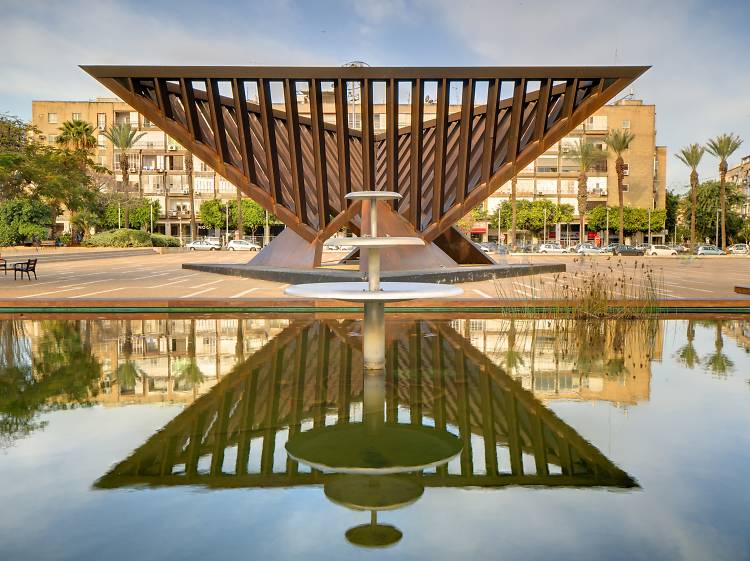 Eating and drinking around Kikar Rabin
Not only is Kikar Rabin a tourist haven, it is also a great place to kick back with a book, bring the kids, or simply walk through...plus, it's smack dab in the middle of central Tel Aviv. Ibn Gvirol runs along its wing, housing a panoply of bars and Tel Aviv restaurants, and it is also just a stone's throw away from Rothschild Boulevard, one of the best museums in Israel, and amazing performing arts venues housing classical music, operas, and theater performances. We've rounded up the best places to wine & dine around Kikar Rabin, just for you. Enjoy! Dénouements d'Histoire : le musée Eretz Israël révèle la 'vraie histoire' de Mitzpe Ramon
Une nouvelle exposition au Musée Eretz Israël explore l'histoire de cette belle région du sud. Le Sud d'Israël regorge de trésors géologiques uniques au monde: l'un d'eux, un énorme cratère qui se trouve au centre de Mitzpe Ramon. Les couchers de soleil à Tel-Aviv sont célèbres pour leur beauté, mais un coucher de soleil au-dessus du cratère Ramon est indescriptible. Bien que la région se soit développée ces dernières années afin d'accueillir touristes et locaux, le lieu a su maintenir son sentiment d'isolation et sa beauté à couper le souffle. © PR   Musiciens et artistes étant attirés par ce joyau naturel comme par un aimant, la région est devenu un lieu de rendez-vous pour les artistes, qui s'installent dans les ateliers de Miztpe. C'est précisément cette lente évolution, de ville aride du désert, qui intriguât le conservateur Guy Raz. Raz capture la riche Histoire de Mitzpe Ramon, les histoires de ses habitants depuis les années 50 (telles que celles des immigrants d'Afrique du Nord dans les années 60), les processus des différents développements, tels que l'architecture, le paysage, les relations avec les Bédouins et le gouvernement, l'industrie, la culture, l'économie, les communautés et les arts. Le musée Eretz Israël entraine les visiteurs de l'exposition 'Mitzpe Ramon – La Vraie Histoire' , dans un voyage historique qu'ils ne sont pas près d'oublier ! L'exposition a lieu en ce moment au Musée Eretz Israel, et sera ensuite offerte à la ville de Mitzpe Ramon, avec po Jingle bells in Jaffa: a nightly public Christmas tree lighting in the Old City
Though not the three-month long Hallmark holiday that European and North American countries make it out to be, Christmas time in Jaffa is a magical place. The alleys of the Old City transform into a network of adorned Christmas trees and fairy lights, with a plethora of performances in its Flea Market, theatres and beyond.   © Gadi Azoulay Why wait until December 25th to enjoy the magic? As of yesterday, an impressive Christmas tree was installed to tower over Kikar HaSharon, guarding the gateway to Jaffa at a height of 15 meters. The mayor of Tel Aviv graced the excited crowd at last night's event, which marked the first lighting of the tree. From now until January 20th, the Jaffa Christmas tree will be lit every night, once the sun goes down. Don't miss this mesmerizing experience – a collaboration between the city administration and the Arabic Christian community in Jaffa.   © Gadi Azoulay       Every night from Dec 18-Jan 20. Kikar HaSharon, Jaffa. Unraveling history: Eretz Israel Museum's exhibition reveals the 'True Story' of Mitzpe Ramon
A new exhibition at the Eretz Israel Museum explores the history of the beautiful southern area.   The south of Israel is home to some of the most stunning geological wonders in the world: one of which is an enormous crater, located in the heart of the magnificent Mitzpe Ramon. While some think Tel Aviv sunsets are splendid, a sunset overlooking the Ramon Crater is utterly indescribable. Although the area has developed over the years to accommodate tourists and locals alike, it has retained its prominent sense of isolation and absolutely breathtaking beauty.    © PR       Artists and musicians are drawn to its natural beauty like a north-to-south magnet, which is why the southern Negev locale has become a thriving centre for artists to gather, find inspiration and settle into Mitzpe studios. It was the slow evolving of this barren town from desert to developed that intrigued curator Guy Raz. Raz captures the rich history of Mitzpe Ramon, the stories of its inhabitants since the 1950s (like its North African immigrants in the 60s), the planning and development processes, architecture and landscape, relations with the Bedouins and the authorities, industry and economic, cultural, artistic and community development. With the Eretz Israel Museum as its home, the exhibition 'Mitzpe Ramon - The True Story' takes visitors on a historical journey they'll never forget.   The exhibition will be displayed at the Eretz Israel Museum in early 2017, and will afterwards be donated to th