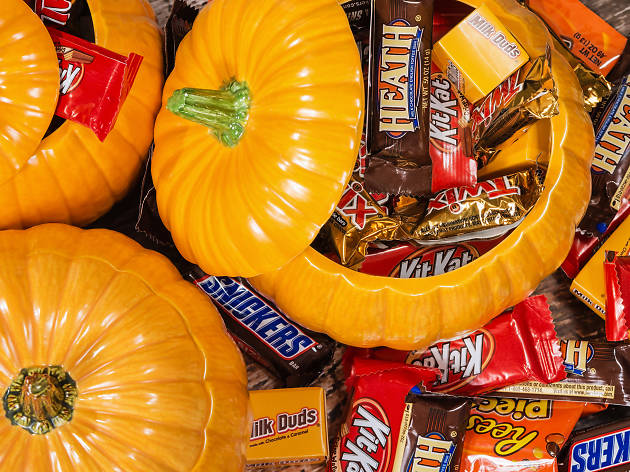 The best Halloween candy to stock up on
Don't disappoint those adorable witches and zombies with an apple—it's time to start buying Halloween candy in bulk
Costume pop-ups have taken over vacant storefronts, haunted houses are open for business and your local movie theater is screening classic horror flicks. Vampires, ghosts and maybe even Donald Trump will soon be at your door. Each year brings new novelty Halloween candy, but how can you improve on classic treats that have been ruining kids' teeth for generations? These are the 31 best confections to have on hand—for trick-or-treaters or yourself—on October 31.
Best Halloween candy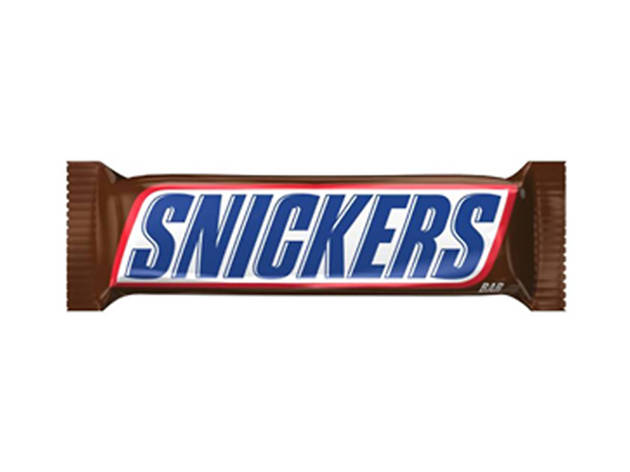 Photograph: Courtesy Mars Inc.
One of the most iconic candy bars of all time, Snickers is of course a no-brainer when it comes to Halloween loot. It's almost a favor to the waistline that these puppies come bite-sized, as we can tear through standard bar (or even the king-sized version) startlingly quickly. Loaded with nougat, caramel, peanuts and milk chocolate, Snickers is an all-in-one Halloween overindulgence.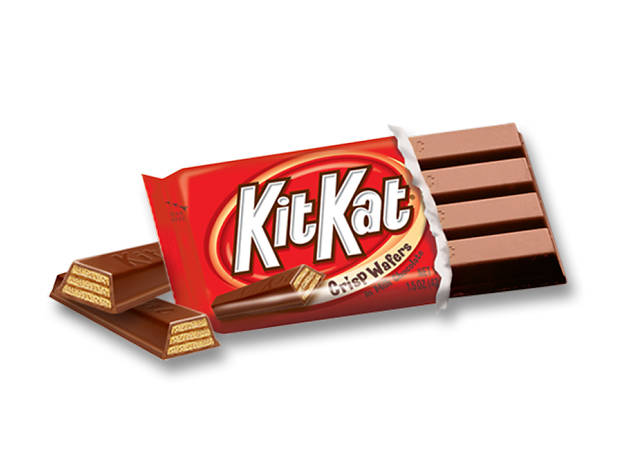 Photograph: Courtesy Nestlé
We'll dare say that the humble KitKat—three layers of cookie wafers dipped in a thick coating of milk chocolate—ranks among the top-five Halloween candies. Break me off a piece of that—actually, just give me the whole damn thing, if you please.
Photograph: Courtesy Tootsie Roll
The best thing about not being 14 anymore? These chewy, almost-chocolate-but-not-quite delights won't get stuck in your braces. On Halloween, special variations such as lemon, cherry and vanilla show up. Okay, none of them are as good as the original, but they sure are pretty.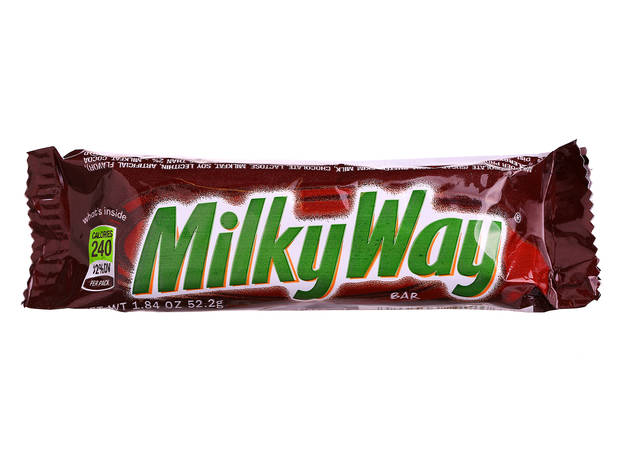 Photograph: Shutterstock/bestv
With chewy nougat, creamy caramel and luscious milk chocolate packed into every bite, the Milky Way is a top contender for most-sought after Halloween treat. The dark horse of the holiday, the rare Milky Way Midnight, is a particularly welcome sight when it makes a surprise appearance at the bottom of the plastic jack-o'-lantern.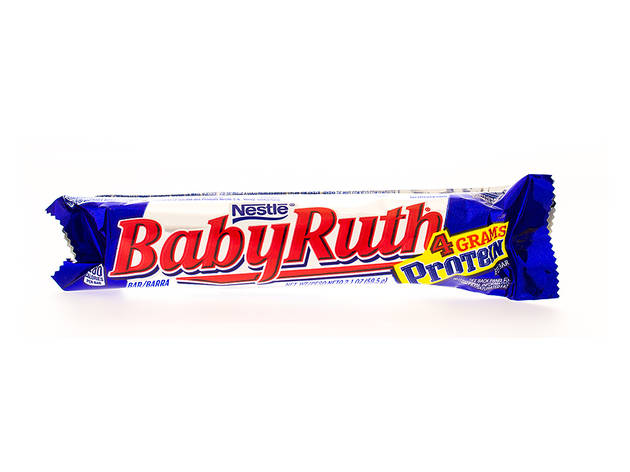 Photograph: Shutterstock/Keith Homan
A jack-of-all-trades of the candy bar world, Baby Ruth features nougat, caramel and peanuts all coated in milk chocolate. Sounds familiar, right? It's super similar to a Snickers bar, though while the former apparently boasts peanut-flavored nougat, Baby Ruth's is chocolatey, almost like fudge. Yeah, they're pretty similar—but they're both so good, who cares?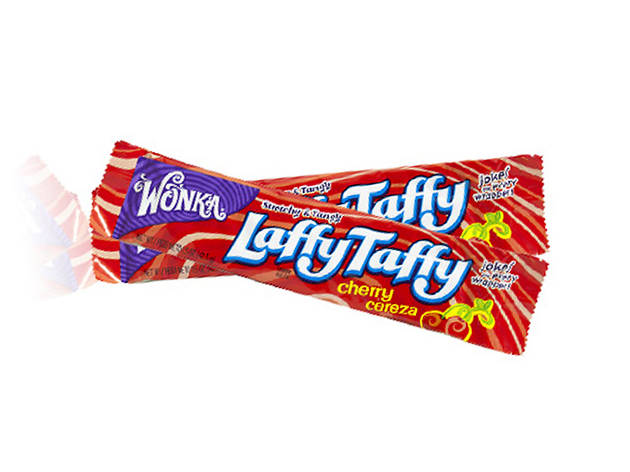 Photograph: Courtesy Nestlé
For kids (and adults) whose preferences skew away from chocolate, brightly colored, fruit-flavored Laffy Taffy is where it's at. The treat boasts quality ingredients such as corn syrup and hydrogenated palm oil (har har), but the fruity flavor isn't its only appeal. The wrappers feature hilarious jokes like "'What's an owl's favorite subject?' 'Owlgebra.'" Okay, Laffy Taffy, we'll give you that one.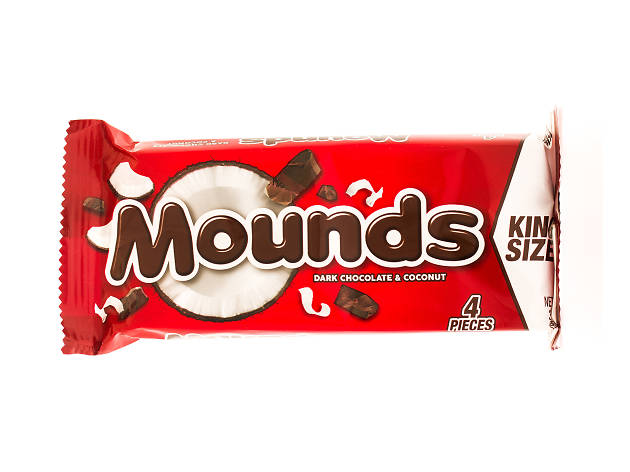 Photograph: Shutterstock/Keith Homan
Oh, Mounds, the quasi-tropical candy of our fever dreams. This luscious bar of dense, sweetened coconut enrobed in dark chocolate has an unfortunate name but a truly craveable flavor. Its original slogan, coined by Gary, Indiana denizen Leon Weiss in the late 1950s, still rings true today: The candy is most definitely "indescribably delicious."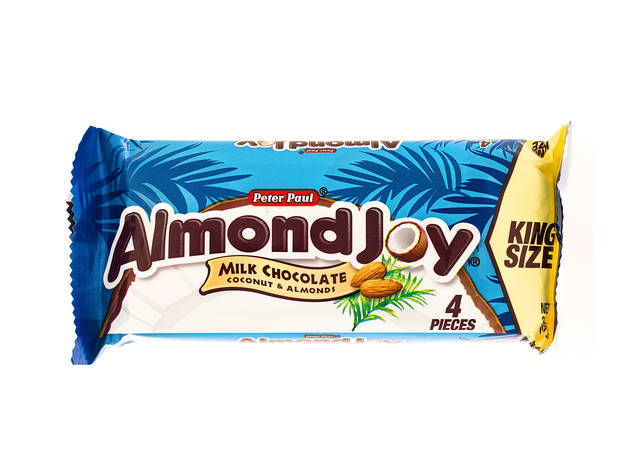 Photograph: Shutterstock/Keith Homan
We'll wager $100 that right this instant, perhaps the most-remembered jingle of all time is running through your head: "Sometimes you feel like a nut, sometimes you don't / Almond Joy's got nuts / Mounds don't!" So yeah, this is totally just a Mounds bar, with the added bonus of crunchy almonds, and milk not dark chocolate coating. SO YUM.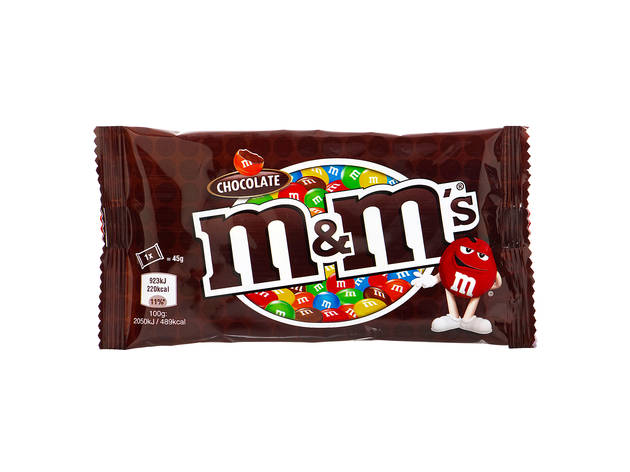 Photograph: Shutterstock/Emilio100
Now, really, what is there to say about this ultra-classic candy that has endured since 1941 because it's so damn delicious? (Other than "melts in your mouth, not in your hand," of course.) We're looking forward to cramming these sugar-shellacked chocolates come Halloween, in all their wonderful varieties from indulgent Peanut Butter to elusive Pretzel.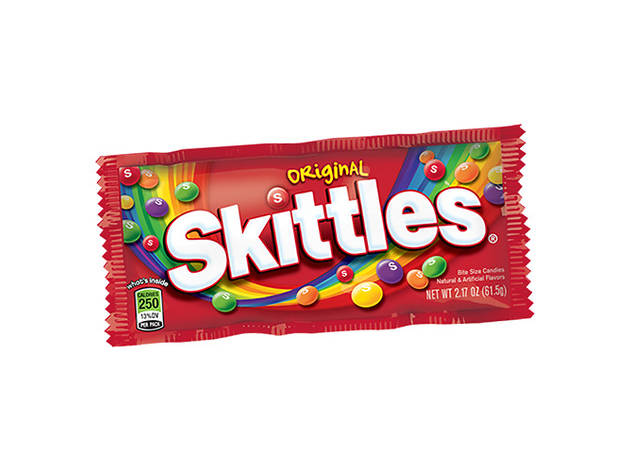 Photograph: Courtesy Wrigley's
The M&M's of the "fruit" flavor set, Skittles have been around for decades as well—since the 1970s—and are nearly as popular, selling in the hundreds of millions each year. We love 'em, but try to avoid the strange flavors included in the Tropical variety pack (kiwi-lime, banana-berry)—give us ordinary red or orange any day.
Photograph: Courtesy The Hershey Company
11. Hershey's Milk Chocolate
The quintessential American chocolate, Hershey's has been in production for more than a century, since 1900. Creamy, benign and so easily melted into a s'more (or a jeans pocket), it's also all too easy to gobble up a dozen of the mini-bars without even realizing it. At the turn of the century, a full-sized bar cost just five cents; today, it's up to at least a dollar, contributing to the company's annual sales of nearly $500 million.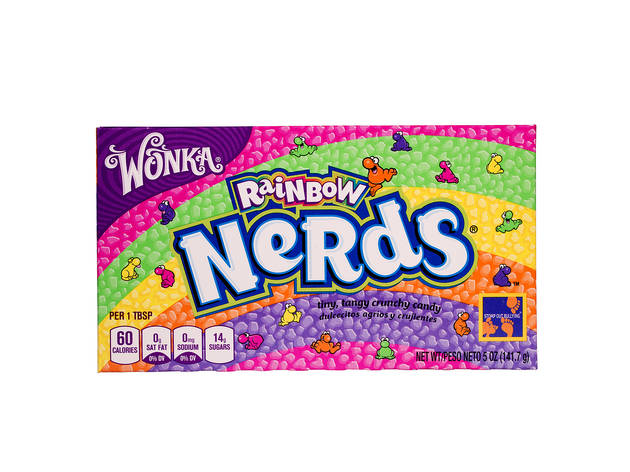 Photograph: Shutterstock/digitalreflections
You've gotta love a candy that doesn't pretend to be anything other than it is: little clusters of pure, unadulterated sugar touched only by the most artificial of flavors and colors. As a Nerds factory worker featured in a 2010 episode of the Food Network's Unwrapped put it so succinctly, "Basically, we start off with a sugar crystal and we just keep coating it with more sugar." Count us in!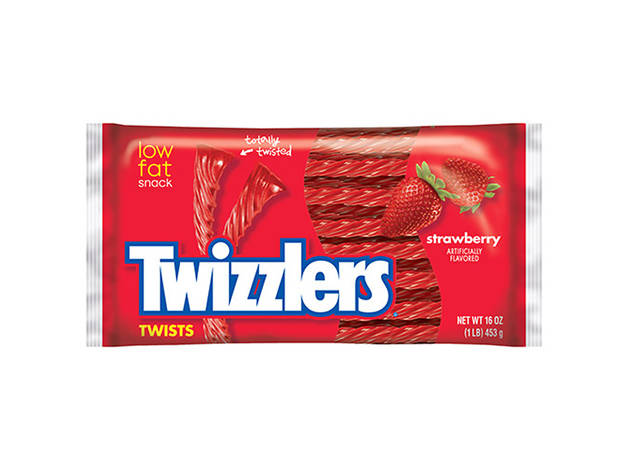 Photograph: Courtesy The Hershey Company
Licorice that's so delicious precisely because it's not licorice at all, these red ropes of surprisingly saliva-producing cherry-flavored candy are a welcome sight for trick-or-treaters. Established in the pre-Civil War era (yes, you read that right), Twizzlers are just as yummy today as they were then, perfect for using as a straw to sip a Coke or simply to cram au naturel.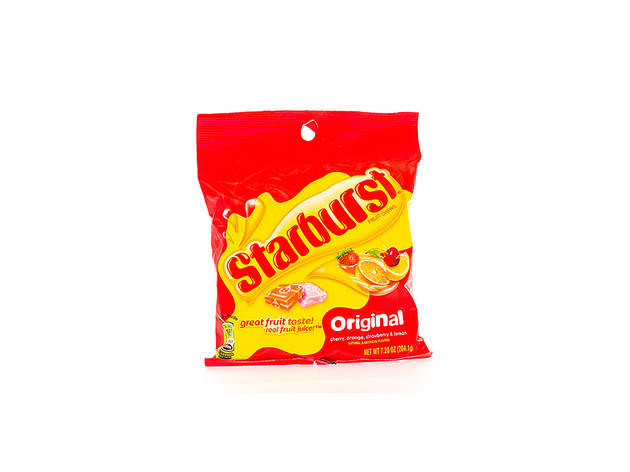 Photograph: Shutterstock/Keith Homan
Just thinking about unwrapping one of these sweet, pastel-hued chews has us feeling as soft and squishy as a Starburst itself. Like most other fruit-flavored candies, the taffies come in wacky varieties like Tropical and Very Berry, but, also like most other fruit-flavored candies, these pale in comparison to the original flavors: Pink has our collective mouth watering. Okay, okay, we'll make an exception for Sour Starbursts.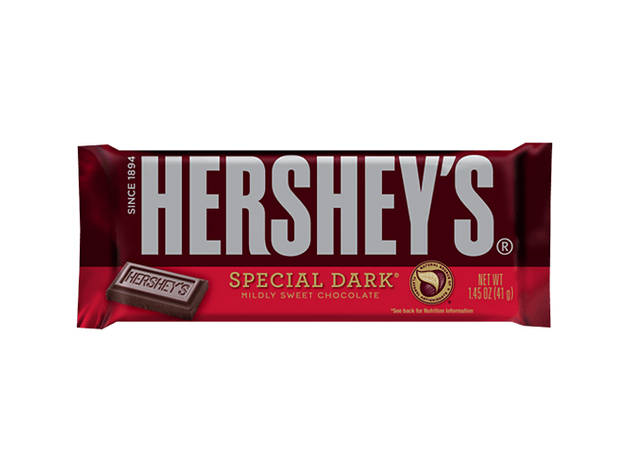 Photograph: Courtesy The Hershey Company
15. Hershey's Special Dark
The word "special" in the name of this dark-chocolate version of the classic Hershey bar always made it seem so alluring. Nothin' but semisweet chocolate here, and it's just as desirable as the name implies.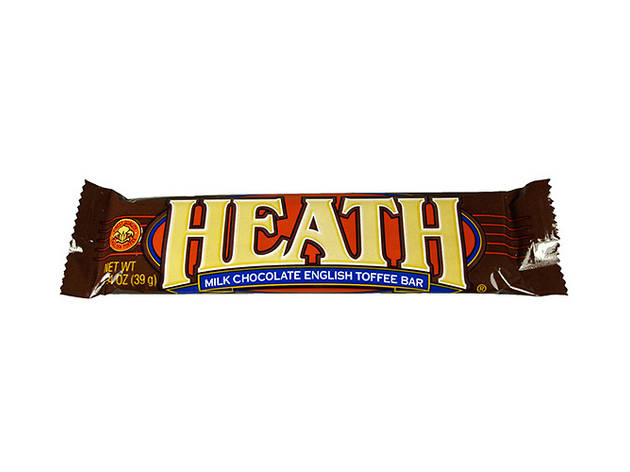 Photograph: Courtesy Creative Commons/Flickr/Schoko Riegel
Early ads for this incredibly addictive bar of crunchy toffee coated with smooth milk chocolate touted its wholesomeness with the slogan, "Heath for better health!" We doubt anyone ever bought into the claim, though, as what's most salient about the Heath bar is its richness—the main ingredients are butter, cream and sugar.
Photograph: Courtesy Creative Commons/Flickr/Schoko Riegel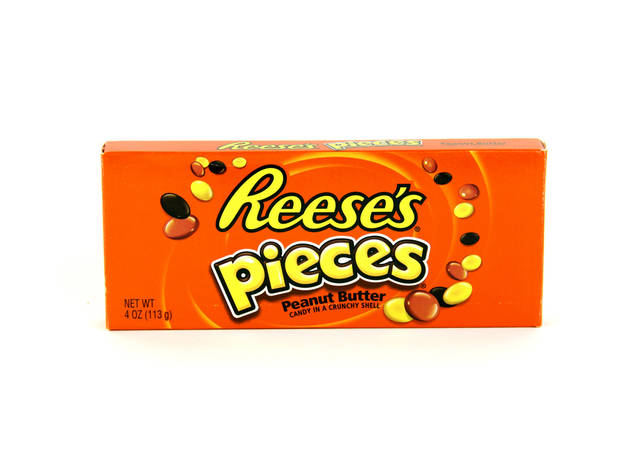 Photograph: Shutterstock/dcwcreations
Ah, the stuff that peanut-butter-and-chocolate lovers' dreams are made of. These candy-coated dots of peanut fudge are irresistible to humans and extraterrestrials alike: We dare you to get through even a mini pack before recalling the famous trail-of-Reese's scene in 1982's E.T.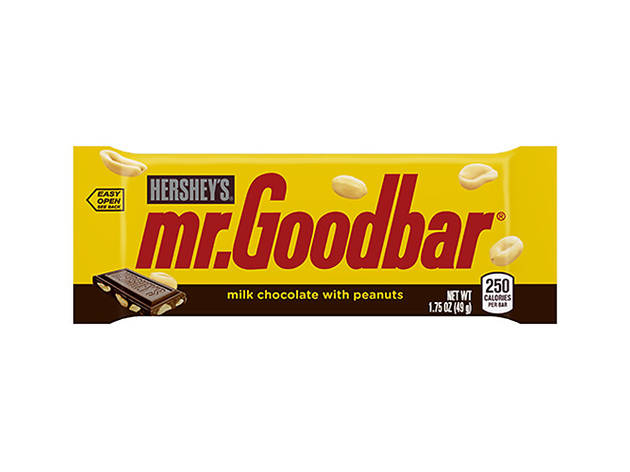 Photograph: Courtesy The Hershey Company
Filling out the shortlist of Hershey bar favorites is the Mr. Goodbar, simply Hershey's Milk Chocolate laced with nubby bits of peanuts. A peanut-allergy nightmare, perhaps, but oh-so-tasty before the throat-closing kicks in.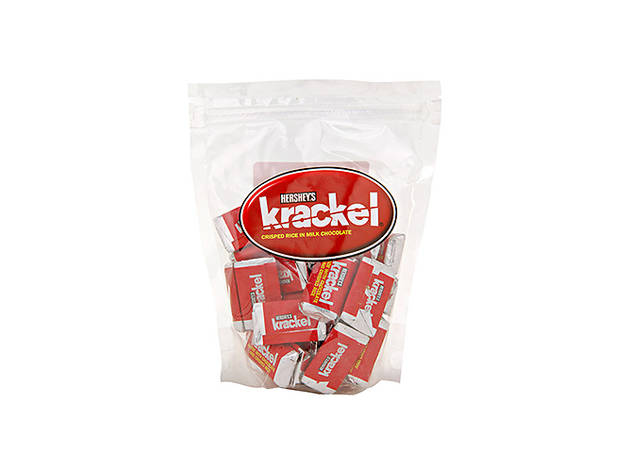 Photograph: Courtesy The Hershey Company
Milk chocolate packed with puffed rice, this bastard child of a Hershey bar and a Rice Krispies Treat is one we try to hoard in our trick-or-treat bag, to comfort us during the cold, depressing weeks of November (and maybe even December).
Photograph: Courtesy Nestlé
With Hershey's near-domination on this list so far, it's time to shine the spotlight on another heavy-hitter: the Crunch bar from Nestlé. True, this is more or less an exact copy of Krackel, but we'll go down as saying that it's just as good. Like the historic Coke-Pepsi wars, people tend to declare allegiance to one or the other, but we can't tell them apart and are just as happy to find a Crunch in our Halloween loot as a Krackel.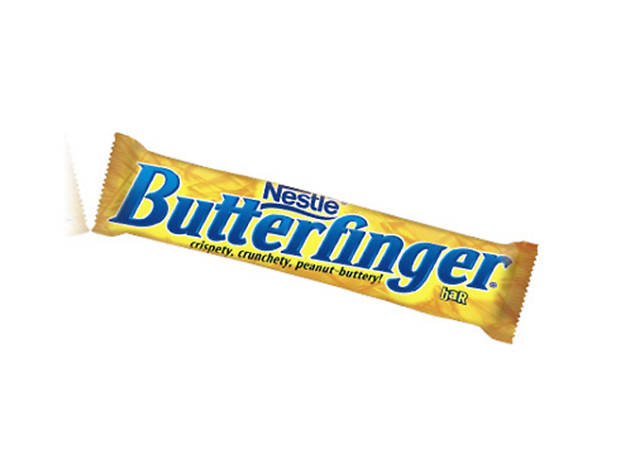 Photograph: Courtesy Nestlé
Immortalized by Bart Simpson, who warned us not to lay a finger on it throughout a series of '80s and '90s TV commercials, this love-it-or-hate-it chocolate bar is an All Hallow's Eve favorite for many. Filled with neon-orange "crispy peanut butter" that's similar in style to traditional honeycomb candy, it's a strange confection, but one that usually doesn't hang around past early November.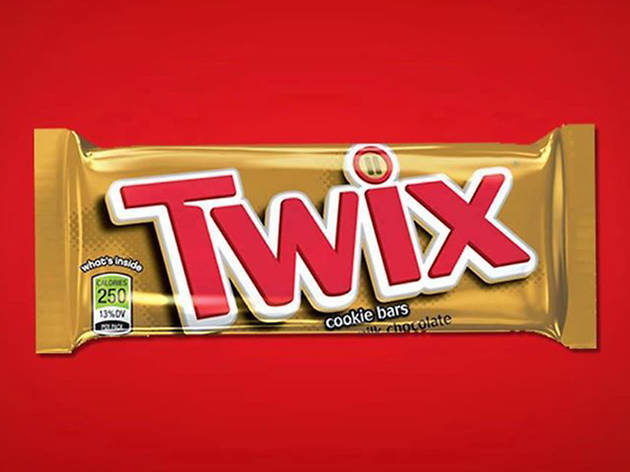 Photograph: Courtesy Mars Inc.
Combining crisp cookies, smooth caramel and creamy milk chocolate, this is a candy bar that appeals to almost any breed of dessert lover. Normally sold in pairs of decently sized bars, on Halloween a sole, baby-finger-sized Twix comes wrapped in its distinctive shiny gold foil. Sooooo cute, and just as tasty, too!
Photograph: Courtesy The Hershey Company
23. Reese's Peanut Butter Cups
Normally almost a meal unto themselves, super-rich Reese's Peanut Butter Cups also come in a handy trick-or-treat form—tiny and wrapped in shiny foil that, once peeled back, immediately emits that tantalizing peanutty, chocolatey aroma. Plus these Halloween naturals are already dressed the part in their orange-and-black packaging.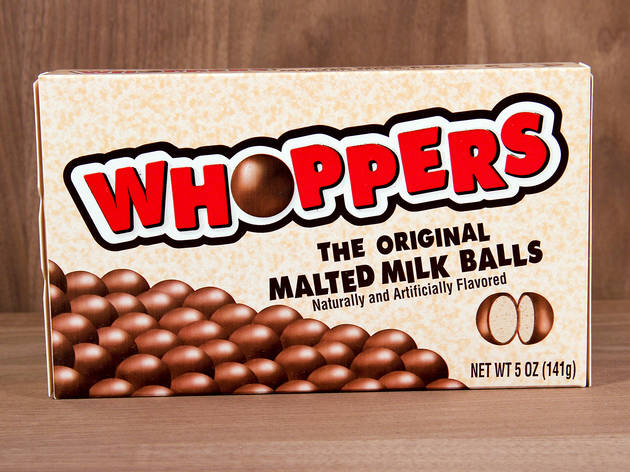 Photograph: Shutterstock/dcwcreations
Who wouldn't love a giant malted milk ball coated in rich chocolate? Around since the golden era of soda fountains and unlikely to disappear anytime soon, these super-crunchy treats are always a joy, nestled three apiece their little Halloween sleeves and ready to be wolfed down.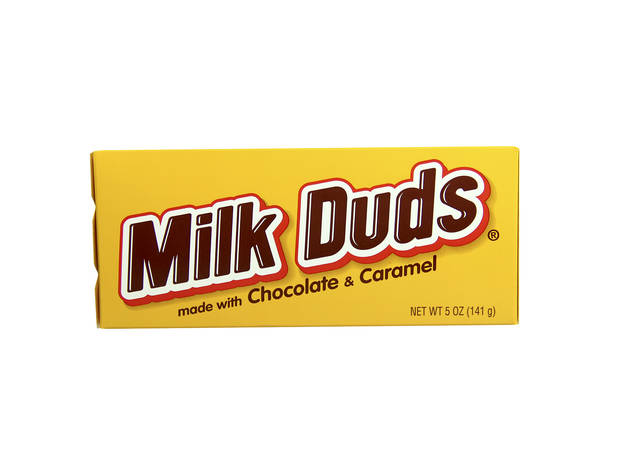 Photograph: Shutterstock/dcwcreations
Far from being duds, these perilous-to-most-orthodontia chocolate-coated caramels are a true hallmark of Halloween. So named because creator Sean le Noble's original goal of a perfectly round candy was found to be unattainable, the candy is definitely tasty—and it's oh-so-fun to tear open the tiny, holiday-appropriate cardboard box doled out by suburban parents everywhere.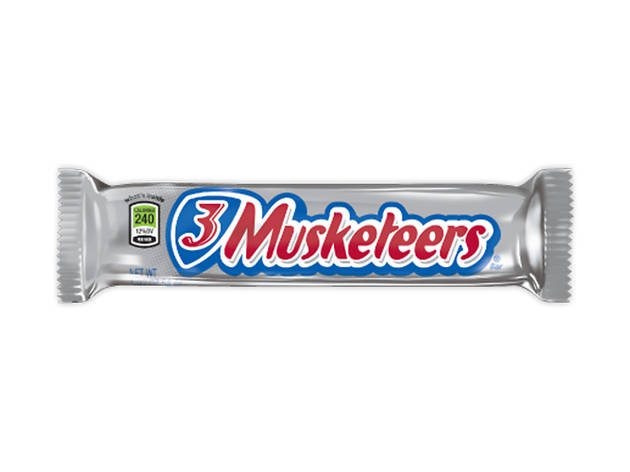 Photograph: Courtesy Mars
This lovable candy bar strips away fancy flourishes like toasted nuts and runny caramel and serves up what most of us want the most anyway: soft, pillowy nougat and smooth milk chocolate. Wherefore the bizarre name? In 1932, when the candy hit the market, a single package contained vanilla, strawberry and chocolate nougat; at the dawn of World War II, rising food costs forced manufacturer Mars, Inc. to focus production only on chocolate, the most popular flavor. The name, however, stuck.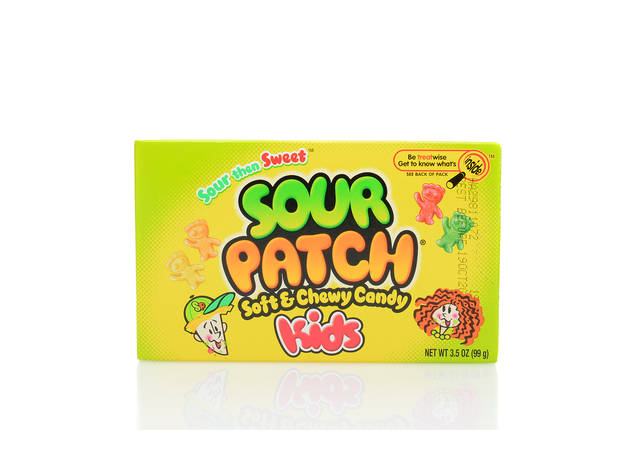 Photograph: Shutterstock/LunaseeStudios
Another indispensable Halloween treat for the chocolate-averse, Sour Patch Kids are hard to beat. The ultra-chewy gummy candies are generously coated in an addictive sweet-and-sour sugar. While the idea of serving small, child-shaped candies to small, actual children is a bit disturbing, we'll let it slide because they taste so damn good.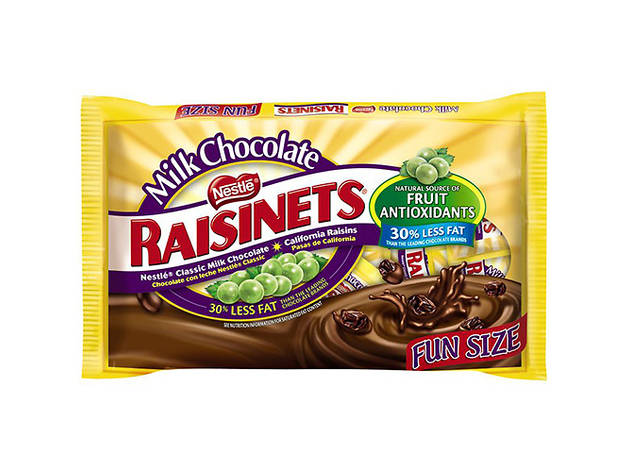 Photograph: Courtesy Nestlé
Okay, fine, these are just boring ol' raisins coated in milk chocolate, but there's still something about Raisinets that's irresistible. Maybe it's the faded memories of those weird '80s and '90s California raisin commercials that featured soul music–belting raisins, or maybe it's just the classic combination of fruit and chocolate, but this is one candy we're always glad to have on hand on All Hallow's Eve.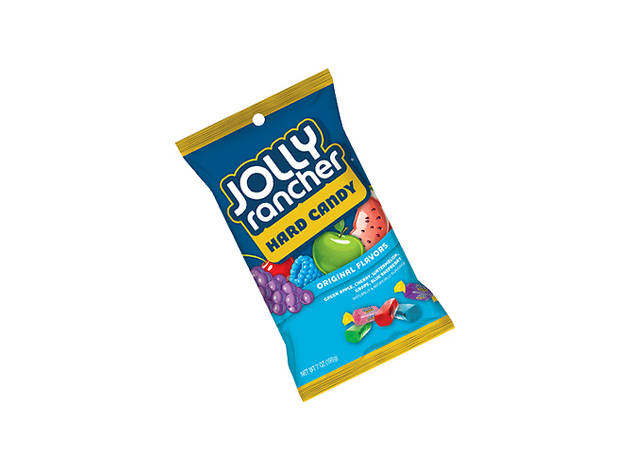 Photograph: Courtesy The Hershey Company
While most Halloween candies are soft and chewy, Jolly Rancher keeps it real as a hard candy. Blue raspberry and watermelon are the go-to flavors, obvi, but we'll accept sour apple and cherry as well.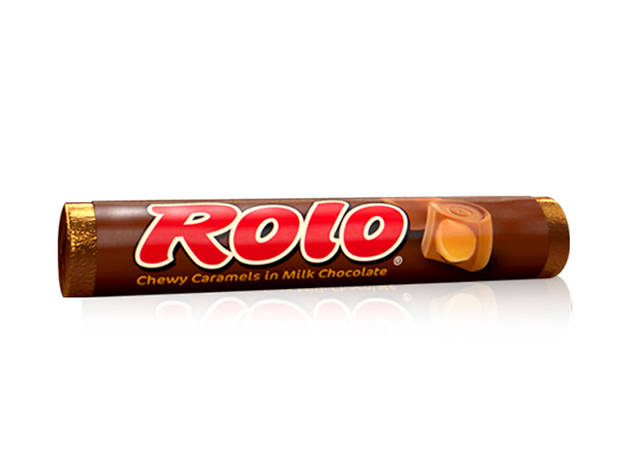 Photograph: Courtesy The Hershey Company
Kind of a classed-up version of Milk Duds, Rolos are the milk-chocolate-covered soft caramels given out by those fancy families across town. They're great not only for their superior flavor and texture, but also because of their value as bargaining chips when candy trades go down.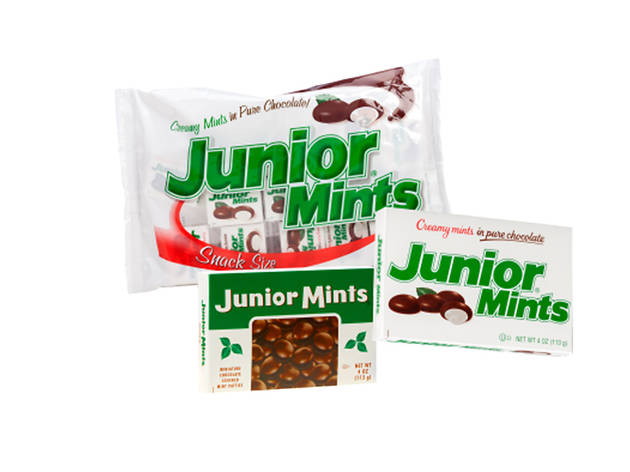 Photograph: Courtesy Tootsie Roll Industries
The soft, chewable, dark-chocolate-enrobed mints that were immortalized in a 1993 Seinfeld episode (when a single candy was accidentally sewn inside a person undergoing surgery), these are one of the ultimate movie theater snacks—but they're just as welcome on October 31st.