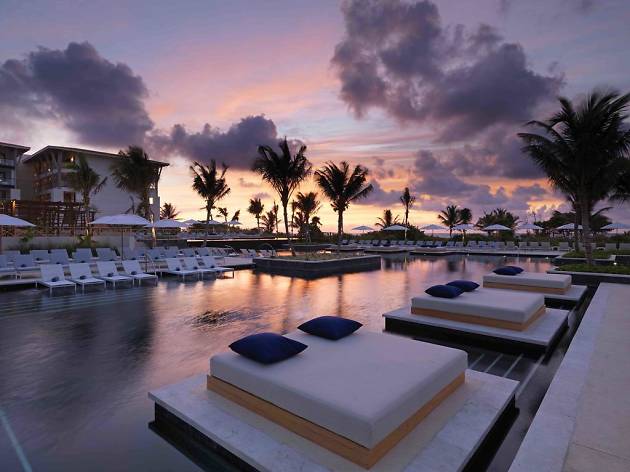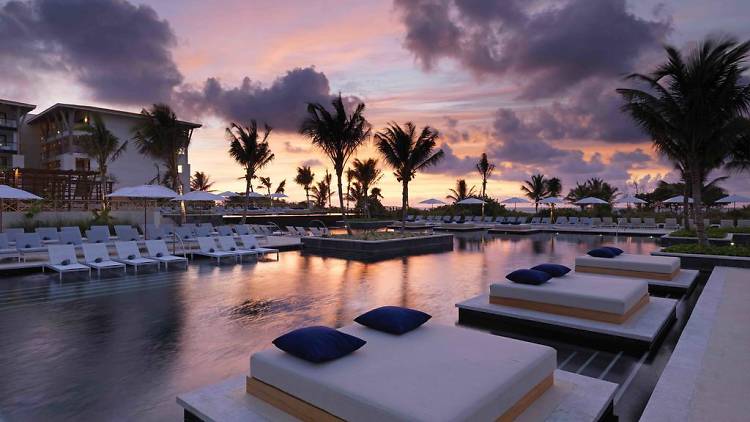 The 11 best hotels in Riviera Maya
From palm trees to peacocks, there's something for everyone along the sweeping coast that plays home to Riviera Maya
The 100km of shoreline running south from Cancun along Mexico's Yucatan peninsula is known as the Riviera Maya for good reason. The palm-fringed beaches, emerald seas and dusting of glamour are indeed reminiscent of the French original, with Playa del Carmen and the neighbouring Mayakoba resort cluster providing the sophistication. Sadly for fans of the ramshackle boho charm the coast could once boast, it's increasingly being swallowed up by large all-inclusive and high-end operations, making it harder and harder to find anything budget, boho, genuinely eco or even particularly Mexican. (To support local businesses look a few blocks inland.) Our selection of the best hotels in the Riviera Maya includes a sampling of old-school hippy charm in Pamuul plus the standouts among the new wave, such as the Banyan Tree and Unico. Want Japanese bubbles, peacocks wandering the grounds, outdoor film screenings or free bottles of tequila? Read on.
The 11 best hotels in Riviera Maya
An all-inclusive deal is only as good as what it includes. Which makes the five-star Unico's offer look positively lavish. Its assiduously attentive service and stylish, luxe facilities are of the ilk usually (over)charged as extras. Your personal host will direct you towards spa treatments, tours, golf, fitness activities and eight trend-driven restaurants and bars. The style is modern Mexican meets designer good taste, with local and artisan touches and stunning landscaping around the three pools. The white-sand beach is left pristine, and quiet – Unico is adults-only.
The super-luxe Banyan Tree is beautifully integrated into the coastal forest, its paths and waterways swirling around the mangroves and trees providing welcome natural shade. It bills itself as a 'sanctuary for the senses'; a strand of eastern mysticism and a mastery of sybaritic detail bear this out in style. If you can drag yourself out of your villa and its private pool, we suggest golf at the PGA course or a spa treatment from a Thailand-trained practitioner. Don't miss a meal at Haab, Yucatan cuisine in rainforest surrounds.
Sombreros off to the Playa de Carmen branch of this Mexican boutique chain for giving its young clientele exactly what they want – and no wallet-draining extras. Specifically, stylish indoor-outdoor spaces, a rooftop pool, fashionable food, contemporary decor (think cool limestone, exposed pipes and hanging chairs) and a spa, all at a keen price. Playa Mamitas is a couple of blocks away, and residents get free access to a couple of beach clubs; but Aqua's bar has a beach-club vibe itself, with sofas, funky tiling and DJ.
Even those jaded by extreme luxury are seduced by the tranquil Rosewood, whose guests seldom fail to leave anything but a five-star review. The coastal setting is enhanced by judicious landscaping: the beach was recently enlarged, the lagoons are garlanded by gardens and the spa has its own island. Accommodations are both gorgeous and tasteful, with local limestone bringing a serene touch. Another Yucatan product, agave, features at the tequila and sushi bar. Endless treats and loving, solicitous service (including from an app-summoned butler) keep the good crits coming.
If you've ever wondered how a tent can be chic, find out here. It's a giant Japanese-designed bubble, containing not much more than a nicely dressed king bed, a plant and an air-con unit. Itaka also offers a clutch of cabanas, some funkily decorated lofts, a pool and free bikes to get to the beach (just north of Playa del Carmen). The barbecue grill in the boot of an old VW Beetle exemplifies its fun, friendly character.
Only a row of deep blue pools and palm-fringed gardens separates these 26 villas from the beach. They're decorated in simple colonial style, with blue accents, cool tiles and capacious balconies or terraces (depending whether you're on the first or second floor). Even the smallest have sizeable kitchens and eating areas; the largest can accommodate parties of eight in three bedrooms. There's a pleasing, palm-thatched restaurant/bar, too. All in all, a friendly, charming alternative to the big resorts.
Just south of Playa del Carmen, the idyllic cove of Paamul is home to only mid-range developments and retains a little of the coast's former laidback character. Right on the beach, this property nonetheless has its own pool, along with a spacious, shady restaurant. There are rooms in a three-storey hotel, simple and white both in and out, and the palm-thatched 'palapa' cabins are charming, if no-frills. The beach has great snorkelling (once you've negotiated some limestone slabs), and turtles in summer.
8. Zoëtry Paraiso de la Bonita
So wide is the range of experiences and indulgences available at this eco-friendly retreat (most of them included in your room price) that you can enjoy a complimentary bottle of tequila at check-in and gorge on gourmet food in the evening, then spend the next day detoxing with a long list of holistic therapies. The look is Santa Fe pueblo means Mayan monolithic, and the style ostentatious, peacocks included. Nine new suites include not just a butler but a personal chef too, and a private infinity pool; the other 100 have oceanfront views and sunken tubs.
If your taste and budget don't run to the 'luxurification' of Playa del Carmen, come and chill out at the Karma. It might not have much curb appeal, but inside you'll find a secret garden of budget tranquility, complete with resident cat. The rooms are Mexican-basic, all facilities (air-con, wi-fi, cable) present and correct, if a little dated. The staff are really friendly, and the location is great: a couple of blocks from both the beach (with club access) and the main drag of Avenida 5.
The packed programme at this all-inclusive family five-star isn't just for the kids, though they have their own activity club and even a gym. As well as the usual eating (at six restaurants), drinking and fitness options, adults can put live entertainment, spa and classes in dance, yoga, Spanish and various watersports into their holiday diary. It's pretty chic for a family resort and service is assiduous: staff will even slap on your suntan lotion for you on the half-mile beach. Some suites have swim-up Jacuzzis.
The west side of the island of Cozumel, off the coast of the Riviera Maya (take the ferry from Playa del Carmen), is overrun with resorts and cruise ships. The east side is much less built-up and fanned by a cool ocean breeze. This pretty, palm-thatched family-run hotel is tranquil both in location and character, offering simple island life (no TV, but a pool). All 14 white-painted rooms have balconies with hammocks, looking out to ravishing white powder beaches.