Heads up! We're working hard to be accurate – but these are unusual times, so please always check before heading out.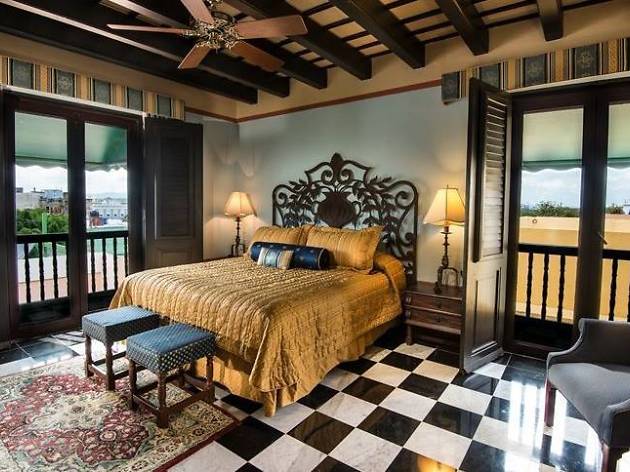 The 10 best hotels in San Juan
Between ritzy oceanside resorts and charming boutique hideaways, you can't go wrong with these top hotels in San Juan
San Juan is one of the Caribbean's most historic and appealing cities, and there are stacks of choices for bedding down for the night. Whilst Old San Juan is a densely-packed colonial neighborhood with several atmospheric hotels, many more great accommodation options are spread between the ritzy Condado and still-swankier Isla Verde districts.
Hotels here vary from ambient century-old properties to hip, contemporary complexes sporting hundreds of rooms. Because of San Juan's eclectic layout and history, even the big chain hotels have added appeal here. Equally, exciting boutique hotels are forever emerging in San Juan. It's a nicely mixed offering with something for everyone, as our list of the best hotels in San Juan shows.
Best hotels in San Juan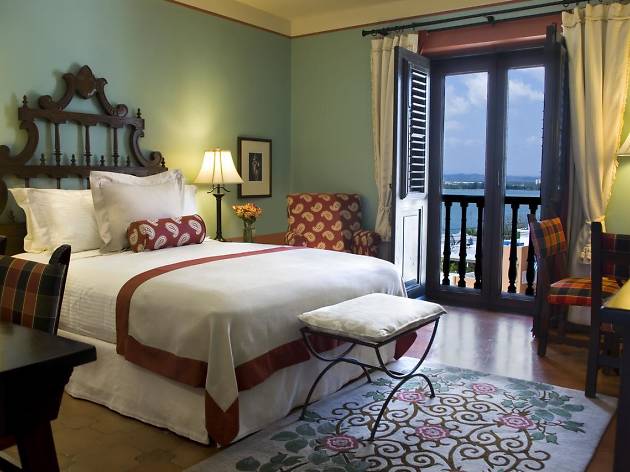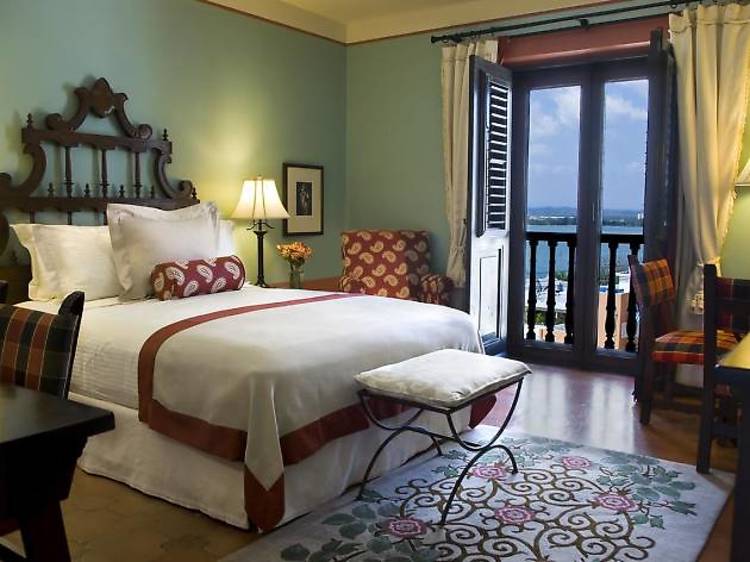 Photograph: Courtesy Booking.com
Characterful Hotel El Convento is one of the city's main historic monuments, built originally as a Carmelite convent in the mid-17th century. Its location off a leafy square next to the USA's oldest cathedral is beautiful. Fifty-eight rooms are arranged over three floors, replete with hand-crafted furniture and Andalusian tiled floors and enveloping an attractive courtyard. High ceilings, wooden beams and tapestries help evoke a storied Spanish colonial past. There are three restaurants, utilising herbs grown in the hotel garden, and outside the doors is the heart of San Juan's beguiling Old Town and its striking Unesco-listed fortifications.
Photograph: Courtesy Booking.com
2. La Concha Renaissance Resort
Over the causeway from Old San Juan in the modern oceanfront neighborhood of Condado, the La Concha resort could not present a greater contrast with the historic centre. Light, airy and chic, many of the 483 rooms have floor-to-ceiling windows and the address attracts a well-heeled, younger crowd. Guests congregate in the suave restaurants, including the signature Perla that juts out impressively over the ocean in the shape of a concha (seashell). There are three pools, including an infinity pool.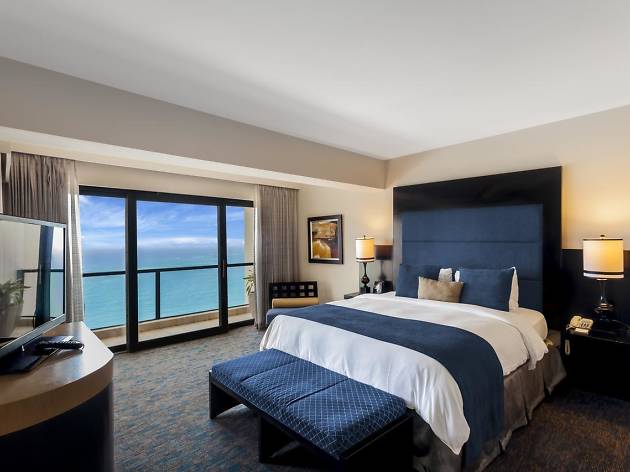 Photograph: Courtesy Booking.com
Fabled as the place that created the piňa colada, the Caribe Hilton enjoys an exclusive end-of-peninsula setting at the divide between the promontory on which Old San Juan sits and Condado. It's a modern complex with its own strip of beach, a spa, three beachfront pools, a swim-up bar, hammock area and mini-golf. The resort's other USP is its privacy: unmatched by any other hotel this close to downtown.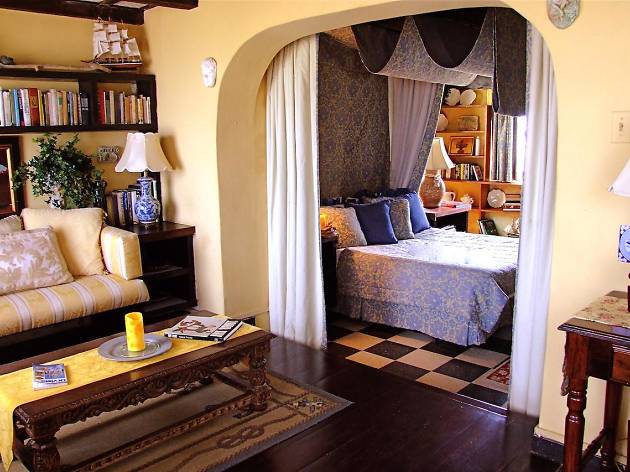 Photograph: Courtesy Booking.com
This 27-room boutique treasure trove has a commanding view of Old San Juan's northern bastions and, with plant-bedecked courtyards, fountains and sculptures, is one the city's most beautiful accommodation surprises. Artist Jan D'Esopo, whose artworks decorate the interior, has owned The Gallery Inn since its renovation in 1961. This lends the inn an intimate feel, accentuated by a banquet room and a music room with a grand Steinway piano. Old San Juan's sights are within walking distance.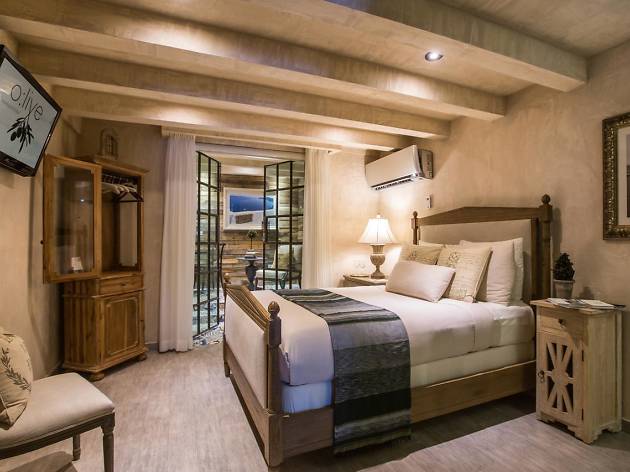 Photograph: Courtesy Booking.com
Condado neighbourhood's best boutique offering, Olive, is a member of the Small Luxury Hotels of the World and draws its inspiration from the Mediterranean: the elegant decor has its roots in Spain, Italy, France and Morocco. The wood-panelled Sage Steak Loft is masterminded by one of the city's hottest new chefs and a rooftop bar offers divine views of the Condado lagoon.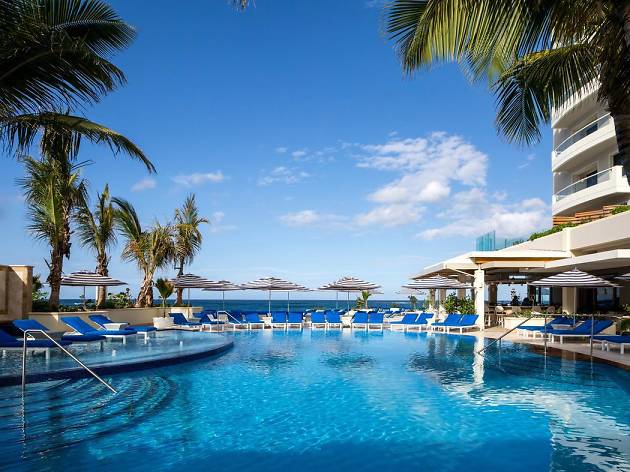 Photograph: Courtesy Booking.com
The interesting thing about Condado is that it is not another generic hotel strip but a neighborhood with character, as evidenced by this classic luxury sleep, once the lavish abode of a famous Condado family, the Vanderbilts. Its former clientele – among them Charles Lindberg and President Franklin Roosevelt – highlight the 319-room hotel's high-end credentials. Condado Vanderbilt's turn-of-the-century design benefits from a 2014 makeover, and the combination of glam oceanfront situation and historic class, not to mention a spa, infinity pool and reputable waterfront bistro-restaurant, complete the package.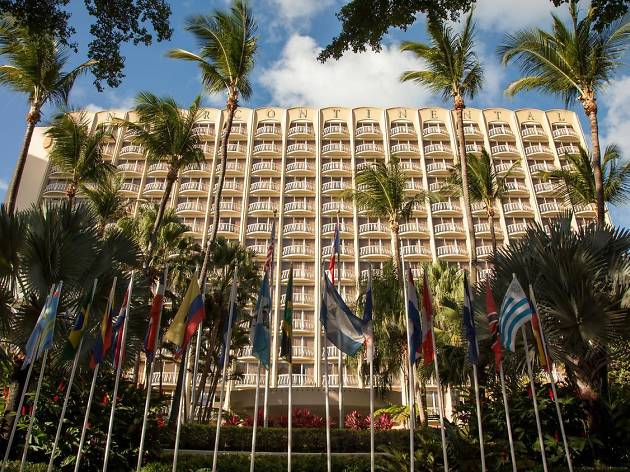 Photograph: Courtesy Booking.com
7. Intercontinental San Juan
This huge resort hotel in the Isla Verde neighborhood might be away from the rest of San Juan's action but this barely matters when you've an enticing two-mile expanse of white sand beach beckoning. At the Intercontinental San Juan, exquisite palm-tree studded grounds surrounding an inviting lagoon pool, plus five restaurants, two bars and a spa keep guests' attention firmly focussed on indulgence.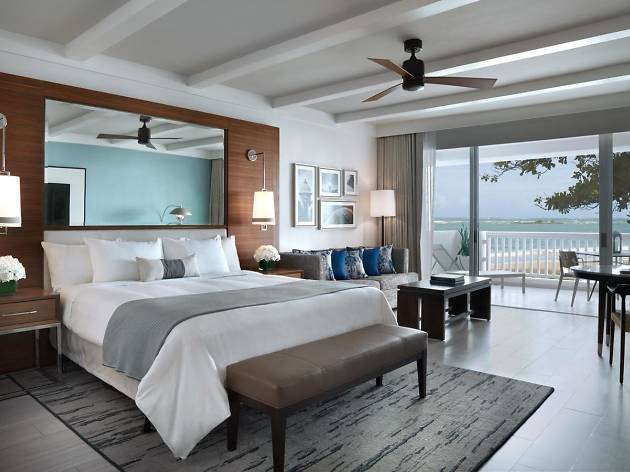 Photograph: Courtesy Booking.com
Like other luxury Isla Verde hotels, El San Juan spreads along a pristine tract of sandy beach and boasts sizeable palm-dotted grounds. With multiple restaurants, three bars, a cabaret and nightclub, it is also among the city's liveliest hotels. Accommodation is split between rooms, suites and expansive villas. There are also four pools, tennis and a fitness centre. Following the Puerto Rico hurricane, the complex is open but undergoing full refurbishment until autumn 2018.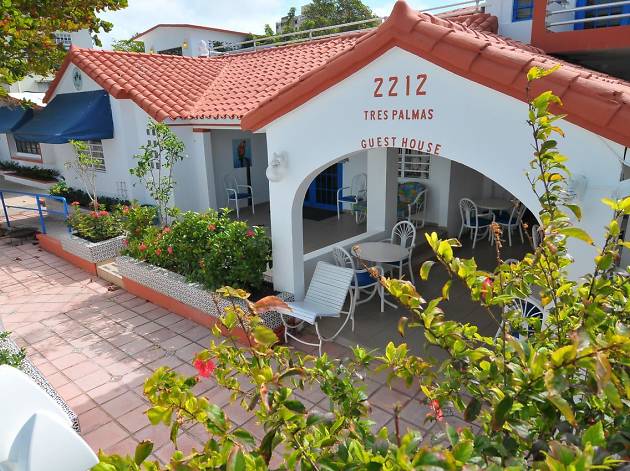 Photograph: Courtesy Booking.com
The room-to-ocean distance is a mere 12 paces at this delightful option in the peaceful Las Marías neighborhood on the sandy coast between Condado and Isla Verde. The light spacious rooms inside Tres Palmas Inn have a maritime decor, and complimentary breakfast is served on a seafront terrace. There's also a courtyard pool and a sun deck with Jacuzzi. All this comes at bang-for-your-buck prices compared to the bigger oceanfront hotels.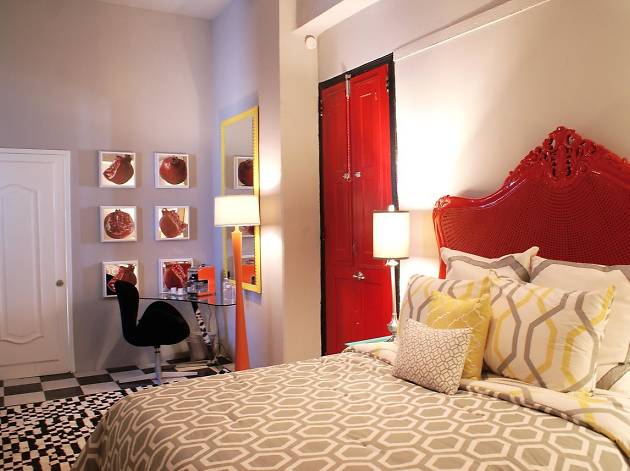 Photograph: Courtesy Booking.com
The most eclectic boutique sleep in central Old San Juan is a collection of deluxe rooms, suites and penthouses, where colonial tiled floors and high ceilings frame lavishly, vibrantly, even garishly decorated rooms. Flatscreen Apple TV, mini-fridges, coffeemakers and round-the-clock concierge rank among the room features. Monastery Art Suites' property stands in the prettiest part of Old San Juan, near the western fortifications and the historic La Fortaleza mansion.