Heads up! We're working hard to be accurate – but these are unusual times, so please always check before heading out.
11 fun things to do in San Luis Obispo
Laidback vibes, surfing, scenic beauty and local artistry pepper our list of best things to do in San Luis Obispo
Wedged between Big Sur and Santa Barbara, San Luis Obispo is the unofficial center of the Central Coast, a mix of beach culture, metropolitan sensibilities and some of the country's best farmland. You might catch Cal Poly students trading books for a board and some waves at the start or end of their day, or local artists setting up an easel on a streetcorner in SLO's charming downtown. With a long history of laidback vibes and scenic beauty, this is one of the oldest communities in the state—but there's always something new going on. Want to make sure you're ahead of it all? Just follow our handy guide to the most amazing things to do in San Luis Obispo.
Done something on this list and loved it? Share it with the hashtag #TimeOutDoList and tag @TimeOutEverywhere.
Find out more about how Time Out selects the very best things to do all over the world.
Best things to do in San Luis Obispo
Photograph: Courtesy Yelp/Kym B.
What is it: An iconic surf destination with great breaks at high tide, warm waters and solid swell direction that's ideal for all skill levels, Pismo Beach is one of California's premier surf spots.
Why go: Even if you're not getting in the waves yourself, the 17 miles of shoreline and sun-doppled cliffs are enough to make you consider a dive into the water—or at least a move to SLO. Be sure to take a stroll on that picture-perfect pier, where you can usually spot the surfers bobbing around and under it between rides.
What is it: One of the world's kitschiest hotels is also one of San Luis Obispo's most colorful landmarks: welcome to the pink-and-white Madonna Inn, where over 100 uniquely themed rooms are on offer. Some standouts: the hunting lodge, gold glitter, Old Mexico and "jungle rock," which happens to come decked out in faux tree branches and vines.
Why go: This isn't just a place to stay when you get to SLO: as one of the world's most eccentric hotels, it's a destination all on its own. The grounds and activities include a scenic pool, trail rides, live theatre and a hot-pink tennis court. But if you're just stopping by, you should visit the all-pink steakhouse, the copper-accented café and bakery, and the rose-tinted Silver Bar for a bite and a drink.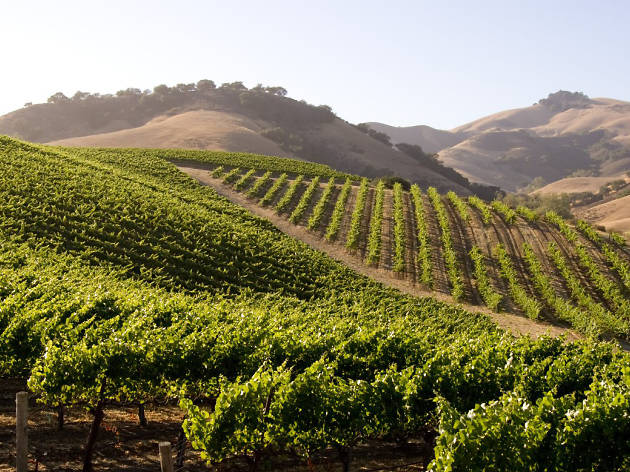 Photograph: Courtesy Talley Vineyards
3. Edna Valley and Arroyo Grande
What is it: The nearby Paso Robles may get all the attention, but San Luis Obispo is home to not one but two excellent wine regions of its own. Edna Valley and Arroyo Grande produce more than 40 grape varieties, thanks to that crisp marine air, the rolling hills and shaded valleys, and year-round Mediterranean climate.
Why go: The scenery is worth the drive alone but, of course, you'll be rewarded with stops at wineries like Talley Vineyards, home to live music, picnic lunches, berry picking and some of the region's best chardonnay and pinot noir, and Laetitia Vineyard & Wintery, which hosts grape-stomping parties, a wine club and live bands.
What is it: Chez Panisse alumnus Brian Collins packs his wood-fired, New American restaurant with hand-formed pizza dough, local produce, ethically raised meats and Central Coast wines.
Why go: If you're anywhere in the San Luis Obispo region, you're surrounded by miles of farmland—and this is one of the best restaurants to taste the fruit of the land. You'll find rotating items such as ricotta gnocchi with artichoke chips and wilted spinach, and the burrata-stuffed prosciutto, but you'd better be ordering a pizza or three and enjoying them outdoors on Ember's stellar side patio.
Photograph: Courtesy Yelp/Brian S.
What is it: With more than 22 miles of shoreline and 4,200 acres of wildlife, camprgrounds, trails and prime picnic spots, Lopez Lake is one of SLO's best ways to experience the great outdoors. Families grill out on the shore while others windsurf, kayak, jetski and fish in the reservoir.
Why go: Sporting more than 350 campsites—and even cabins available for rent—this is one of your best bets for roughing it in nature. If you need to stock up for a fishing or camping trip, stop by the nearby Lopez Lake Marina for supplies at the general store, equipment and vehicle rentals, a laundromat and even a bar and grill (because you can't hit the trails hungry, obviously).
What is it: Definitely one of the weirder roadside attractions in not only SLO but all of California, this near-hidden alleyway between Broad and Garden streets is its own sort of graffiti wall.
Why go: It's impossible to say just how many pieces of gum now stick to the 15-foot-high and 70-foot-long walls, but residents and visitors have been sticking globs of multicolored gum onto this alleyway since the early '70s. Grab some ammo from the nearby Powell's Sweet Shoppe, then add to it yourself. Be sure to grab a photo once you do—just don't lean too far back.
Photograph: Courtesy Yelp/Steve R.
7. Downtown SLO Farmers' Market
What is it: Every Thursday night from 6-9pm, blocks of downtown shut down to make way for more than 120 stalls of locally grown produce, jams and jellies, to-go foods like hummus and baguettes, live music, fresh pressed juice, pizza, poke, handmade pastas, BBQ—you get the idea.
Why go: Once more, with feeling: you're surrounded by some of the country's best farmland. Come shop the flavors of the season and bring them home, or simply eat them at the market. As long as it isn't raining or a major holiday, you'll find SLO's finest farmers, fishers, chefs and other vendors in full force.
What is it: As California's fifth-oldest mission—and one of the few founded by Father Junipero Serra that's still in excellent condition—walking through Mission San Luis Obispo de Tolosa is like stepping back in time. The 1772-founded home to missionaries, natives and soldiers alike now serves as a museum in addition to a place of worship.
Why go: Take free tours of the grounds and peek into antique-laden rooms laid out exactly as they would have been when California was entering a new era. Be sure to stroll through the centuries-old gardens, replete with grapes, roses, oaks, cacti, citrus and more.
What is it: When the lights go down and the neon flips on, downtown's Art Deco movie house draws cinefiles for classic and contemporary screenings.
Why go: This 1942 historic theater packs the house for showings and live music daily, in one of the city's coolest settings: between the retro pink exterior, the vintage palm carpet and the hand-painted ceilings and walls, the theater almost steals the show from the entertainment at hand—almost.
Photograph: Courtesy Yelp/Stan O.
What is it: A breezy but uphill hike of 1.7 miles and back down again, Bishop Peak Trail lets you conquer a volcano—well, sort of. One of the tallest Morros (also called "the nine sisters"), this landmass was formed by volcanic magma more than 20 million years ago. Today, it's one of SLO's top hiking destinations.
Why go: Once you're up in the clouds, you've got killer views of the city's peaks and valleys. It's a hiking dream, complete with a few rigorous (but not strenuous) switchbacks, a short scramble and even optional climbing walls.
Show more