Heads up! We're working hard to be accurate – but these are unusual times, so please always check before heading out.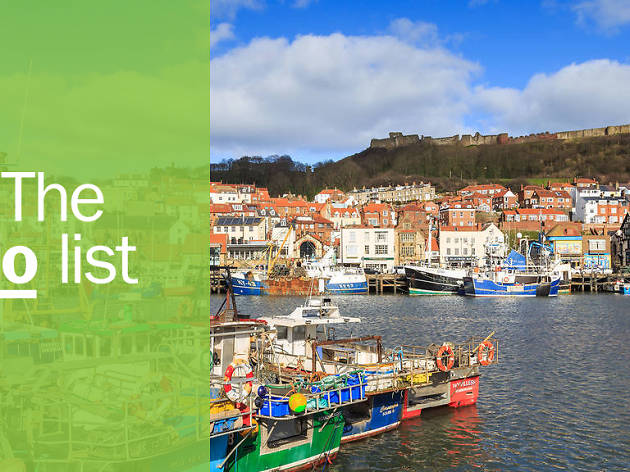 The 13 best things to do in Scarborough
The best things to do in Scarborough range from waterparks to quirky arcades and its own fairground museum
Welcome to Britain's oldest seaside resort: the best things to do in Scarborough are a jump in the past (with a foot grounded into the present). Folks have been holidaying in this town on the East Yorkshire coast since the 1700s, when the bourgeois flocked to bathe in its healing spa waters. Reminders of the place's opulent heyday can be seen in its grand crescents, majestic architecture, pretty parks and gorgeous concert spaces, but now you'll find waterparks, kitsch arcades and wonderfully clinquant trappings peppered in-between. In short, it's the perfect modern seaside spot where donkey rides, ice cream sundaes and funiculars meet quirky, independent markets, craft beer joints and cutting-edge theatre. You can have your Algarve; I'll see you by the penny arcades on South Bay with a '99.
Done something on this list and loved it? Share it with the hashtag #TimeOutDoList and tag @TimeOutEverywhere.
Find out more about how Time Out selects the very best things to do all over the world.
Best things to do in Scarborough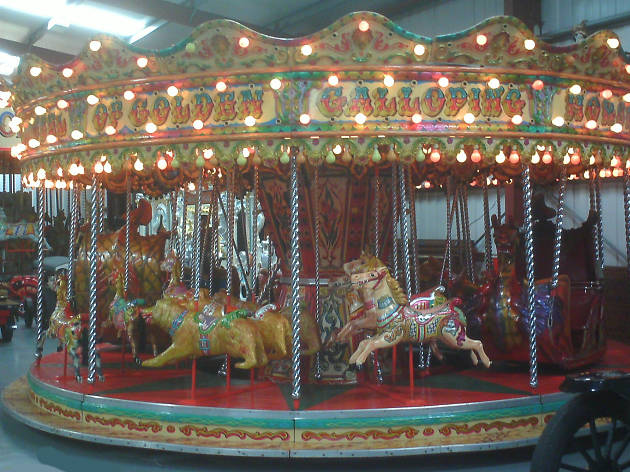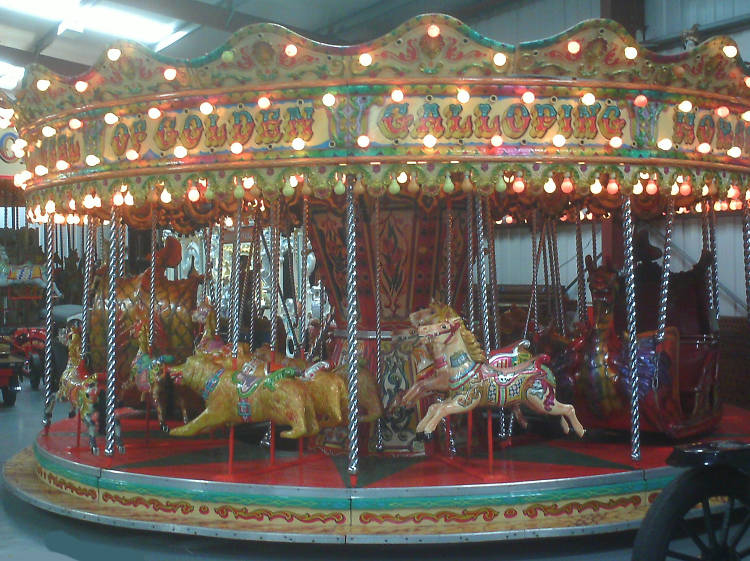 Photograph: Courtesy CC/Flickr/notalottery
1. The Scarborough Fair Collection
What is it? You won't find any parsley and sage at this working steam museum, or rosemary and thyme for that matter. Instead, it houses an eye-poppingly colourful collection of kitsch vintage seaside fairground rides, steam engines, vintage cars and mechanical ballroom organs.
Why go? For a great British seaside nostalgia trip. Take a whirl on the traditional merry-go-round that looks ripped from a scene in 'Mary Poppins', ride the dodgems, try your luck in the penny arcade and ogle at the old-school cars and buses, some of which date back to the 1920s. Don't miss out on afternoon tea in the ballroom to the sounds of a Wurlitzer organ for the cherry on top of this wonderfully twee cake.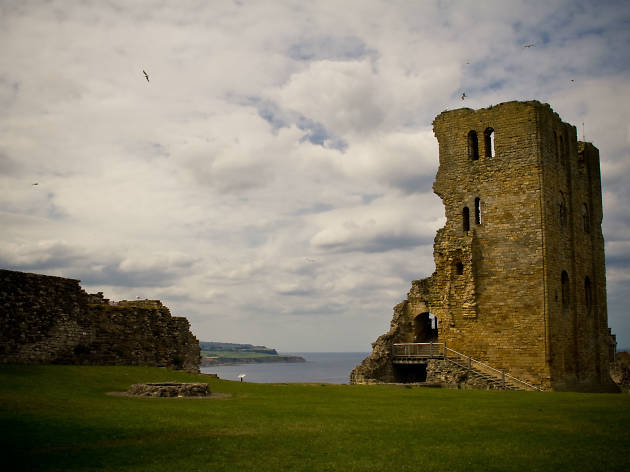 Photograph: Courtesy CC/Flickr/Thomas Mathie
What is it? Get up close to 3000 years of Yorkshire history, featuring royals, Romans, plenty of battles and a rare Bronze Age sword. Long before Scarborough became famous as a seasideing resort, it was home to one of the country's most significant royal fortresses, whose medieval ruins now loom down from the coastal headland.
Why go? As well as the remains of a 12th century fortification developed by Henry II and King John, you'll find Iron Age settlements, a Roman signal station, a medieval chapel and stunning views of the town's north and south bays on this cliff top fortress. Look in the Master Gunner's House, which is full of fascinating prehistoric artifacts.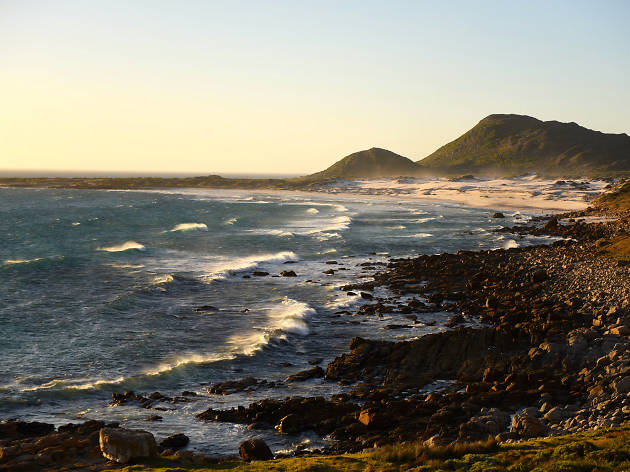 Photograph: Courtesy CC/Flickr/Marco Derksen
What is it? Scarborough doesn't boast just one beautiful stretch of sand. This town has two to lie out on. The North and South Bay are separated by the craggy castle ruins. Whether you choose to spend a day on the buzzy South sands or chill out on the quieter North coast, this is the perfect spot to feel the sea breeze through your locks.
Why go? You'll find all the amusements you could ask of a former Victorian pleasure beach on the South Bay. Take a donkey ride down the sands, hit up the amusement arcades, stroll down the promenade and watch the pleasure boats coming in and out of the harbour. Head to the wilder, rockier North Bay to beat the crowds, explore rock pools and take some snaps of the colourful beach huts. Arrive on the stands in style in the Cliff Lift, the oldest funicular railway in the country.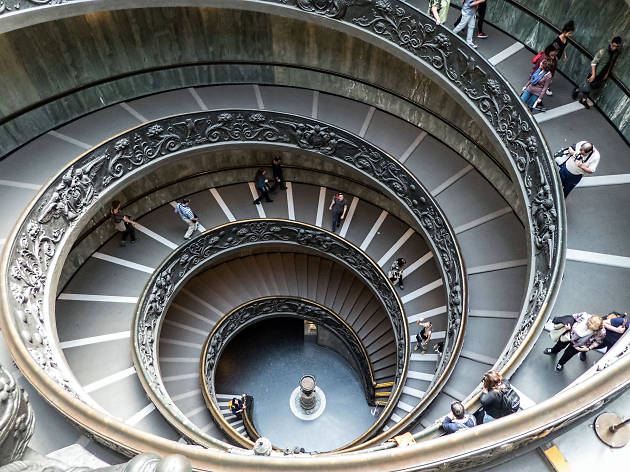 Photograph: Courtesy CC/Flickr/Ulrich Peters
What is it? It may be small, but over two floors this beautiful museum (one of the first to be purpose-built in the world in 1829) packs in over 65 million years of history and a stunning circular gallery with a beautiful domed-roof dotted with stained glass.
Why go? This gorgeous space is packed full of amazing natural history. Check out the Speeton Plesiosaur skeleton - a marine reptile from the lower Cretaceous period, dinosaur footprints found on East Yorkshire's dino coast and the gnarly skeleton of the bronze-age Gristhorpe man.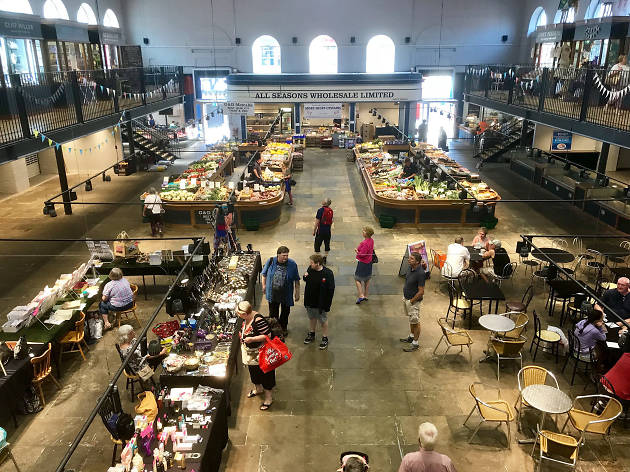 Photograph: Courtesy CC/Flickr/Dom Fellowes
5. Scarborough Market Hall and Vaults
What is it? An airy continental-style market hall full of traditional stalls, independent eateries and quirky shops selling everything from art supplies and antiques to prints and vintage clothing. After a £2.3 million development this fabulous spot has been given a slick overhaul with a new mezzanine-level food court. Venture down into the Vaults, where you'll find a rabbit-warren of eclectic indie shops and bric-a-brac stalls.
Why go? Pick up weird and wonderful curios in the Vault's Authentique antique shop, get your mitts on beautiful handmade glassware in Gekoglass, stock up on jars of locally-sourced raw honey at The Honeycomb Shop, stop for a flat white at the Scarborough Coffee Company and keep an eye on their programme of events and live music. Phew!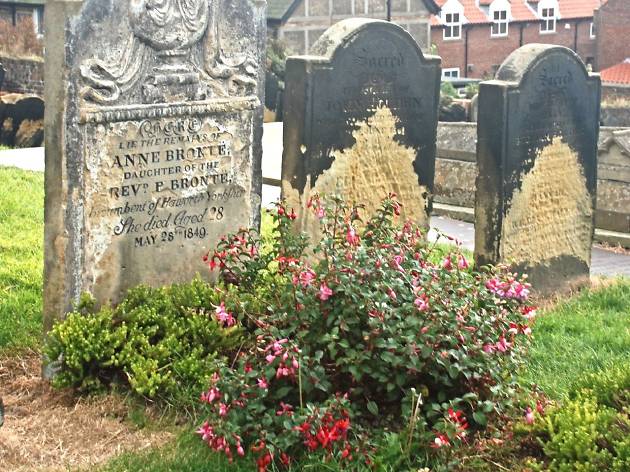 Photograph: Courtesy CC/Flickr/Steve James
6. St Mary's Church and Anne Bronte's Grave
What is it? This picturesque church has seen some sights. Originally built in the 12th century just below Scarborough Castle, it was nearly destroyed during a siege in the English Civil War, but thankfully was rebuilt in the 1600s.
Why go? There's a steep climb to the church's hilly spot overlooking the old town, but it's worth it for a snoop around the picturesque interior filled with beautiful stained glass. Get an eyeful of some fantastic sea views from the church yard and see if you can find the grave of Anne Bronte, the youngest of the famous literary clan. The Bronte sisters are practically royalty around these parts, so don't miss the chance to pay your respects to the only one of the three sisters buried outside of their hometown of Howarth.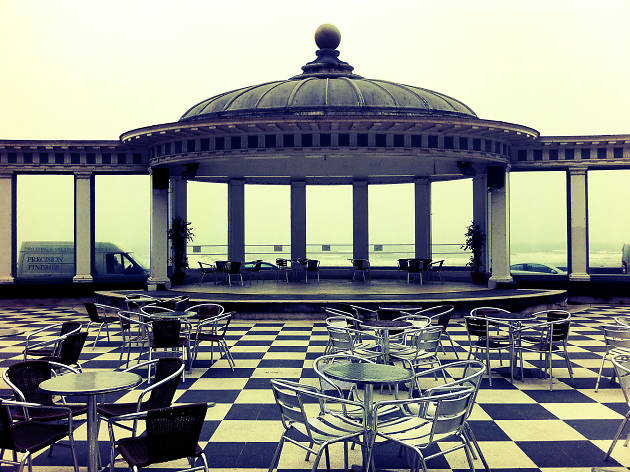 Photograph: Courtesy CC/Flickr/The Hux Capacitor
What is it? Originally built around the source of Scarborough's spa waters, this beachside concert space is a stunning Victorian gem. Its elegant outdoor promenade, designed by the same architect as Chatsworth House, look out over the beach and host all kinds of concerts, including shows by The Spa Orchestra.
Why go? Seeing The Spa Orchestra play in this magical alfresco space is real treat. At 106 years old, they are the last surviving professional seaside orchestra. Their repertoire of classical ditties, Viennese waltzes, operettas, and popular Victorian songs, is totally unique as well as being set to the lulling accompaniment of breaking waves.
What is it? Nestled in an industrial estate on the outskirts of town, this small, family-owned brewery may be off the beaten track but is well worth seeking out when they open their doors for special events among the kegs. Since opening in 2009, they've expanded from a one barrel brew pub to a 10 barrel plant, creating lip-smacking pale and golden ales, IPAs and rich porters.
Why go? Piss ups in breweries don't get much better than this. Head to one of the regular beer festivals to guzzle down tasty pints, including their Citrusy golden ale Sealord and refreshingly fruity pale session beer Trident, while listening to live music on the brewery floor. Look out for brewery tours to really get to know the place.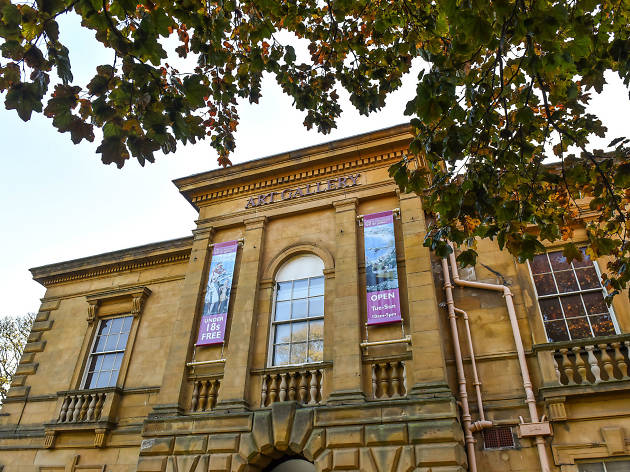 Photograph: Courtesy Scarborough Museums Trust
9. Scarborough Art Gallery
What is it? You can't miss this beautiful Grade-II listed Italiante villa nestled on The Crescent - one of Scarborough's grandest streets. As well as housing the town's permanent collection of fine art, the stunning gallery also hosts regular temporary exhibitions championing everyone from local painters to internally-acclaimed artists.
Why go? Check out Leeds artist John Atkinson Grimshaw's beautiful seascapes, works by Frederic Lord Leighton and Frank Brangwyn and the gallery's brilliant contemporary print works from the Printmakers Council's permanent archive. Look out for super-informative temporary exhibitions, which have ranged from explorations of Scarborough's Victorian pleasure beach past to displays on women in WWII.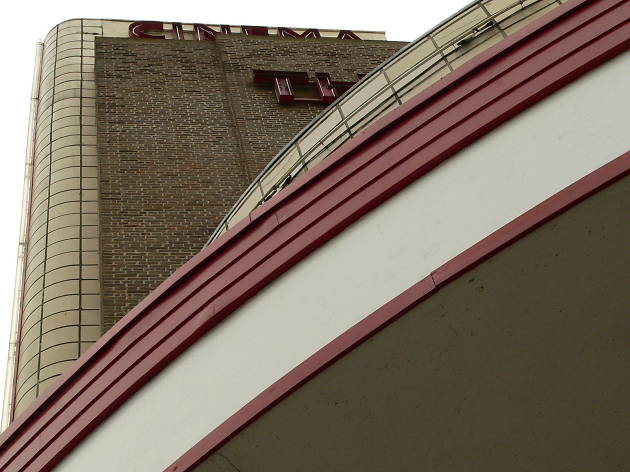 Photograph: Courtesy CC/Flickr/Robin Inkysloth
10. Stephen Joseph Theatre
What is it? One of the nation's best theatres housed in a glorious, sweeping Art-Deco former Odeon cinema building. This theatre-in-the-round, founded by Stephen Joseph in 1957 (albeit in a different building), has one mighty heritage and is a champion for new work.
Why go? This intimate space will forever be tied to Alan Ayckbourn, one of Britain's most-loved playwrights who began working for Joseph in 1957 and was artistic director here from 1972 to 2009. Bask in the glory of this lovely little place's history and revel in its cutting-edge programme filled with fresh writing and steeped in local pride.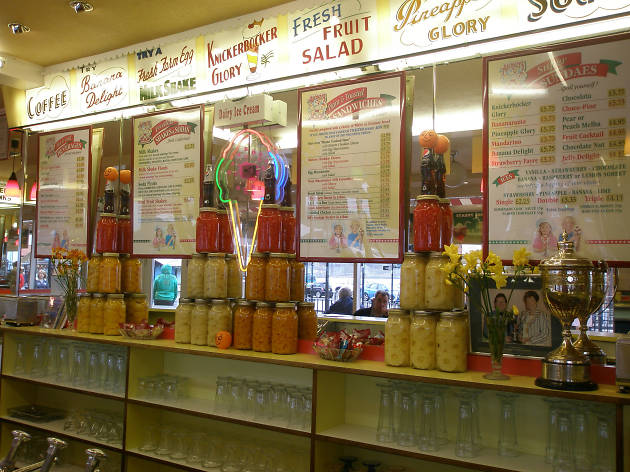 Photograph: Courtesy CC/Flickr/Anne
What is it? This family run ice cream parlour has been making and selling its own ice cream since 1945, and things have changed very little since then. Inside you'll find a wonderfully retro interior with mustard-yellow formica tables and cherry-red leather stools, cone-shaped neon signs and '50s Horlicks adverts.
Why go? Owner Giulian Alonzi, who was born and raised in the flat above the shop, churns 500 litres of ice cream an hour, and its some of the tastiest in Yorkshire. Tuck into a rippling, pastel-coloured '99 and a huge, cream-filled, wafer-topped Knickerbocker Glory. Orin winter, opt for a warming hot chocolate and one of their mean bacon sarnies.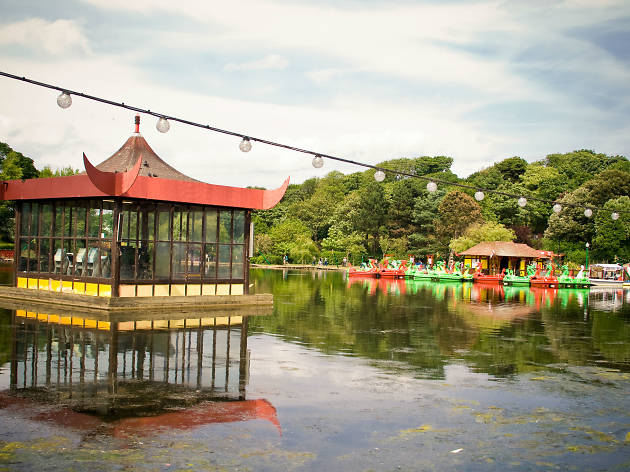 Photograph: Courtesy CC/Flickr/Thomas Mathie
What is it? Recently restored to its original Edwardian splendour, this pretty park was modelled on the Willow Pattern plate design with a handsome pegoda, ornate bridge and Chinese-style island bandstand.
Why go? Full of streams and gurgling waterfalls, this is a charming oasis away from the bustle of the seaside. Glide along the calm lakes on dragon-shaped pedalos, take a ride on the miniature railway and look out for the famous miniature naval sea battles acted out in the lake in over the summer.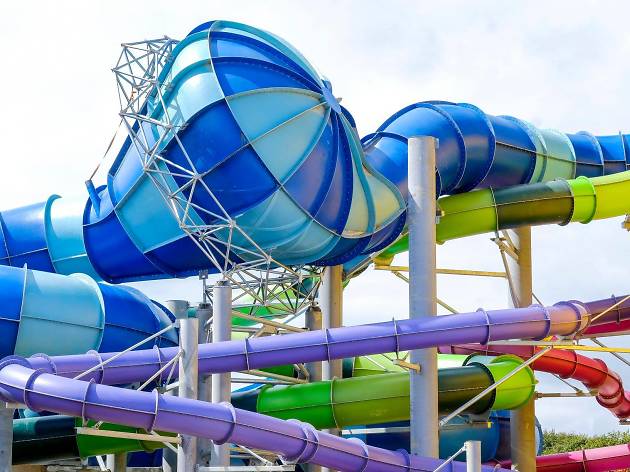 Photograph: Courtesy Tony Bartholomew
What is it? Scarborough's thermal waters have been given an adrenaline-inducing update at this state-of-the-art, Alpine-themed waterpark. It packs in a wave pool, which ripples with metre-high swells, an infinity pool with massage jets and four long, curly water slides.
Why go? Prices are on the dearer side, but worth it for the hours of fun you can pack in here. Whizz down the Black Hole, the longest waterslides in the UK plunging thrill-seekers down an 11m drop at 30mph, take a soak in the heated outdoor pool with gorgeous views stretching across the beach and visit the Alpine-style wellness centre for saunas, steam baths and treatments.