Heads up! We're working hard to be accurate – but these are unusual times, so please always check before heading out.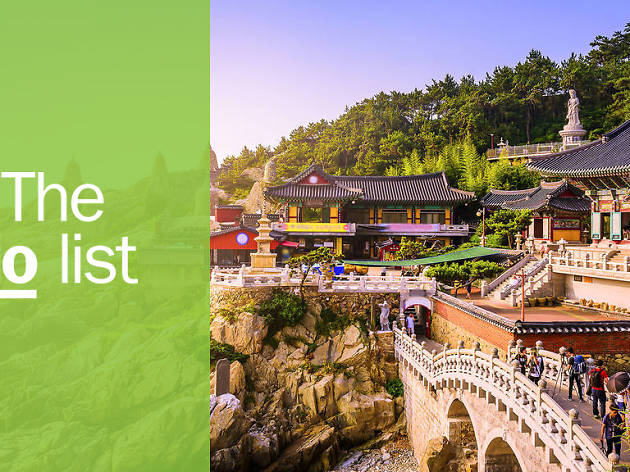 The 18 best things to do in South Korea
Explore the best things to do in South Korea spanning historic sites, grand waterfalls and can't-miss restaurants
It's not often that we can witness the marriage of state-of-the-art technology and reserved Confucius values, which makes the best things to do in South Korea very unique. Wherever you go, you'll feel welcomed by friendly locals, pleasant streets and beckoning street food. There is so much to see and do here, and so many way to appreciate all the country has to offer, whatever your personal tastes. You can saunter through a village of quaint traditional houses, embrace Korea's flourishing surf culture, or check out the unique DMZ Peace Train Music Festival. There are shops open 24 hours a day, as well as breathtaking natural beauty if that's more your vibe. Here is your ultimate guide to South Korea.
Done something on this list and loved it? Share it with the hashtag #TimeOutDoList and tag @TimeOutEverywhere.
Find out more about how Time Out selects the very best things to do all over the world.
Best things to do in South Korea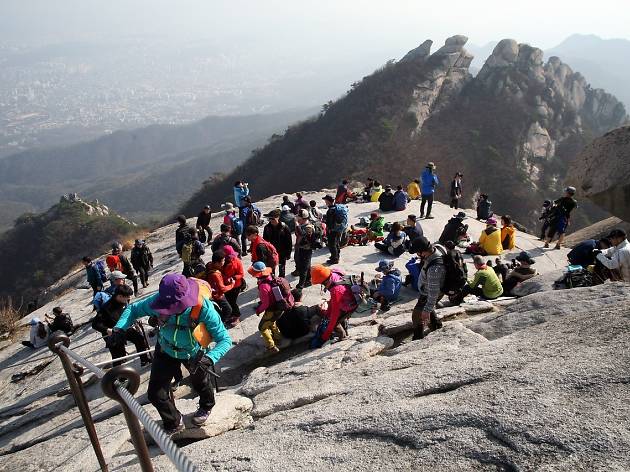 Photograph: Shutterstock
1. Bukhansan mountain walk
What is it? This walk offers a rare chance to see the mountain range in the centre of a capital city. Bukhansan is in the southern part of Seoul, while Dobongsan covers the north; and from anywhere in the city you can reach the mountains within 40 minutes at most.
Why go? Bukhansan mountain trails are probably the best choice if you'd like to start from anywhere in the city centre. Even after the first half an hour of trekking, you can get a sense of what makes the Korean mountains so appealing for both locals and tourists. You can choose various walking routes from 2-3 hour to 4-5 hour courses, depending on how fit you'd like to be.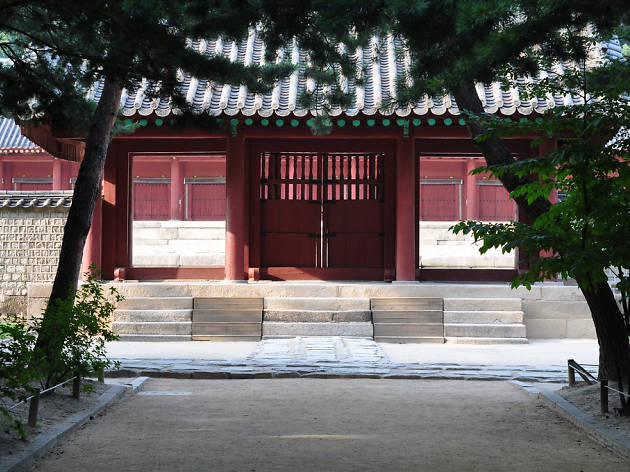 Photograph: Courtesy CC/Flickr/Oskar Alexanderson
Where is it? Seoul
What is it? Jongmyo is a uniquely shaped building, originally completed in the 14th century, situated in the middle of Jongro. It houses a royal Confucian shrine dedicated to the forefathers of Joseon Dynasty, and was restored in the 17th century after its destruction from a Japanese invasion.
Why go? One of the most beloved of Korean architects, Seung Hyo-sang, considers Jongmyo to be an emblem of Korean architecture for its philosophical and spiritual foundation: "It expresses our view of death, that the souls of the dead do not disappear but interact continually on the land of the living." Perhaps that's the reason why the austere 117 meter-long rectangular building has the power to plunge us living souls into a long and reverent silence.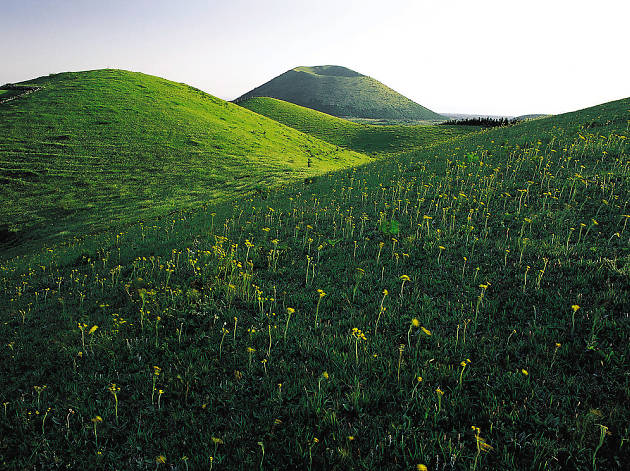 Photograph: Courtesy CC/Flickr/Republic of Korea
3. Jeju Oreum on Jeju Island
Where is it? Jeju Island
What is it? "Oreum" is what Jeju people call parasite cones; the name refers to a small defunct volcano within a main volcanic crater. These oreum—the cone-shaped accumulation of volcanic material—are verdant, grassy hills at heights which vary between 50 and 200 meters;
Why go? This is the best way to understand Jeju. Think of beautiful walking trails and footpaths, where you can enjoy easy-to-follow routes, short strolls and major treks.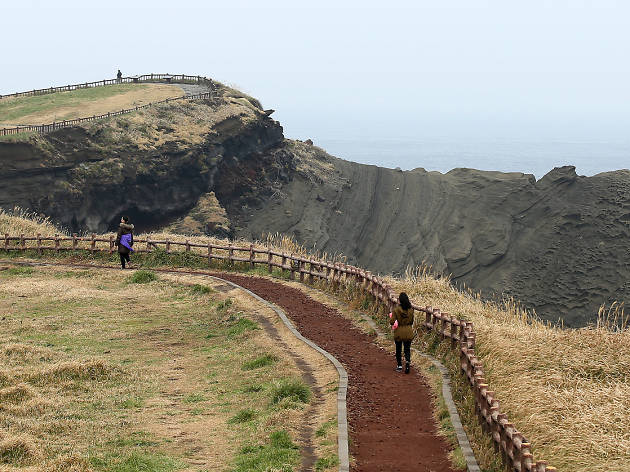 Photograph: Courtesy CC/Flickr/Republic of Korea
Where is it? Jeju Island
What is it? "Olle" is a local Jeju word for alleys or long and narrow passages. There are 21 different olles on Jeju Island, and each is about 15 kilometres long. Imagine walking in tranquil open green fields, then passing through village alleys dotted along the coastline.
Why go? If you want to capture the essence of Jeju in one place, this would be it. Experiencing beauty and serenity on foot will give you a feeling of renewal.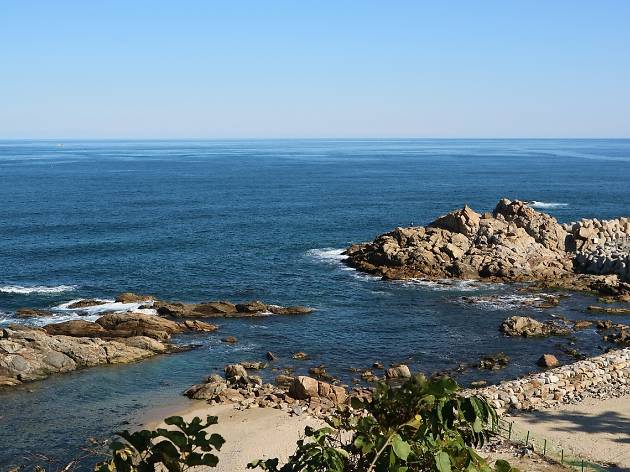 Where is it? Yangyang, Gangwon Province
What is it? Surfing has never been a tradition or popular sport in Korea, but as the number of surfers here rises rapidly, Yangyang Surfyy beach is quickly gaining mainstream appeal—especially so because it's the nearest surfing spot from Seoul.
Why go? Here you can sample not only surfing culture, but youth culture as well. Not really into surfing? There are still many reasons to go to Yangyang: The myriad bars and eateries are as lively by day as they are at night, and you'll be met by a friendly and welcoming surfing community.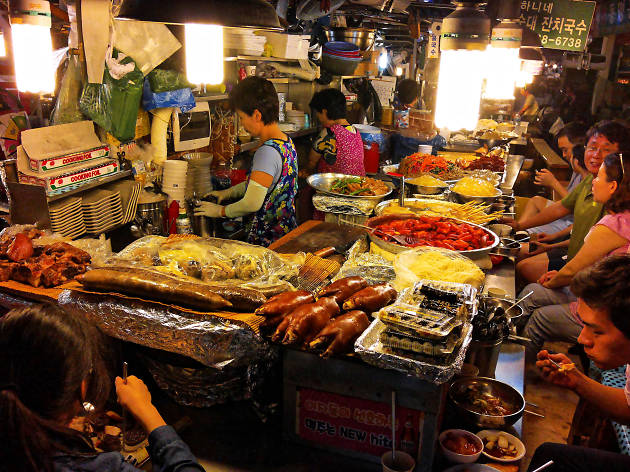 Photograph: Courtesy CC/Flickr/tongeron91
Where is it? Seoul
What is it? 110 years ago, Gwangjang Market was the largest traditional Korean clothing and silk goods market. These days, it has developed another specialty - street food. It is always packed with tourists, locals and vendors.
Why go? It's easy to get to from the centre of the city, and countless rows of food stalls will tempt your taste buds. Be sure to look for Mayak Gimbab, a dish with rice rolled with seaweed. "Mayak" literally means drug addict, and you may have withdrawal symptoms if you stop eating it!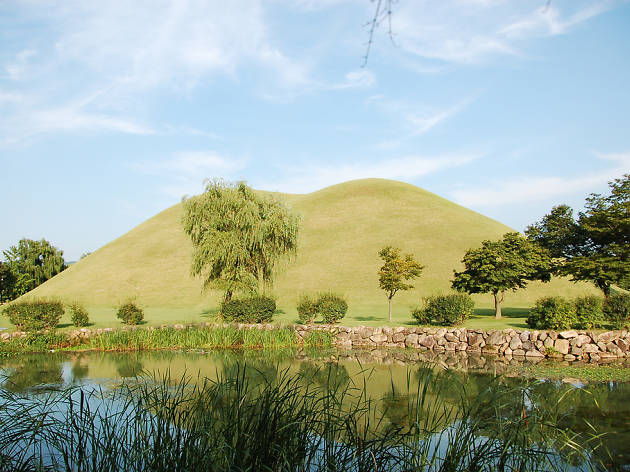 Photograph: Courtesy CC/Flickr/
Where is it? Gyeongju
What is it? Gyeongju was the capital of the Kingdom of Silla (57BC-935BC), which ruled two thirds of Korea at its peak. Gyeongju is now often referred to as "the museum without walls"; this particular site is a series of ancient tombs which hordes many archeological treasures.
Why go? Looking at Gyeongju city from a distance, the anachronous skyline looks very distinctive. It's a surreal miscellany of hills made of stunning ancient tombs, modern building blocks and residences, which will make you wonder which century you are in.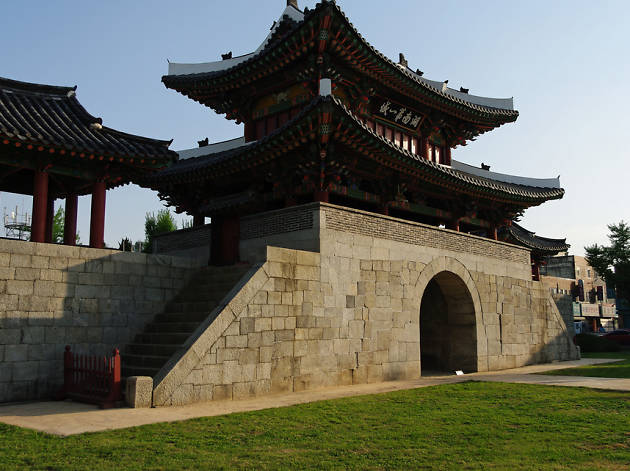 Photograph: Courtesy CC/Flickr/Emmanuel DYAN
Where is it? Jeonju
What is it? There is nothing more Korean and more authentic than a Hanok—a type of house built using traditional building techniques stretching back many thousands of years. There is a much smaller version of Hanok village in Seoul, but Jeonju has the largest collection of hanok in the country.
Why go? Jeonju attracts local tourists for its food and many Koreans relish the prospect of staying in a hanok for a night or two. You can opt for a full course Korean meal where you will be pleasantly bombarded by plenty of dishes and the odd bottle or two of local rice wine, 'makgeolli,' which is the perfect complement to the local food.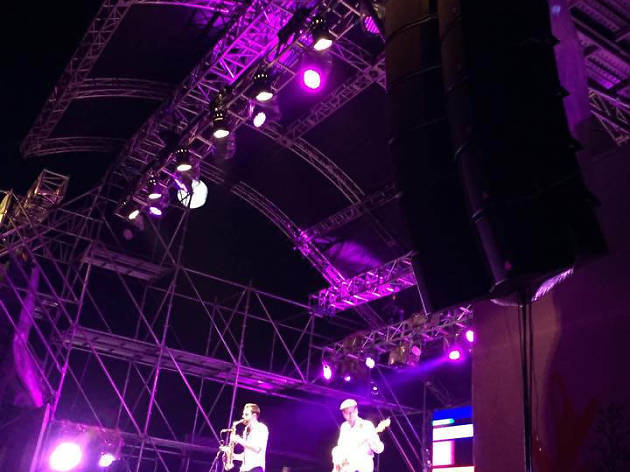 Photograph: Courtesy CC/Flickr/Amate Audio
9. Jarasum International Jazz Festival
Where is it? Gapyeong, Gyeonggi-do
What is it? From world class jazz musicians to undiscovered local bands, there are 10 stages accommodating 100 different gigs at this annual international jazz festival, at which almost all the concerts have free entry.
Why go? This festival is so successful that it attracts more than 100,000 jazz aficionados every year. Even if you weren't such a big jazz fan, the eco-friendly theme running through the festival and the picturesque scenery are good enough reasons to give it a go.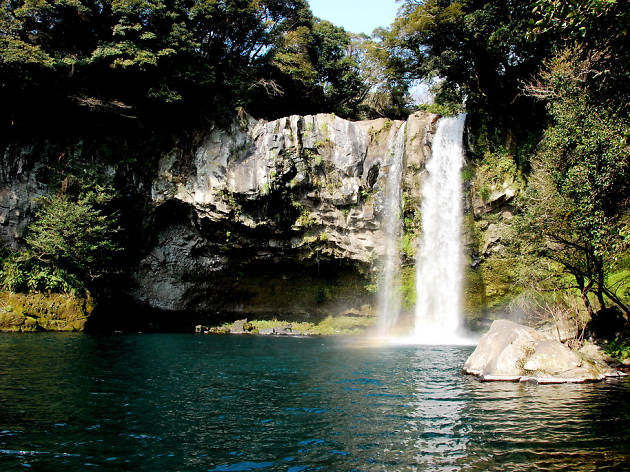 Photograph: Courtesy CC/Flickr/Martin Chen
Where is it? Jeju Island
What is it? Donaeko is a mystical waterfall valley. It used to be the local's favourite summer spot to escape the heat of the day. The name suggests it was a place where wild boars would go to cool down and drink water.
Why go? The water coming down from Hanrasan mountain is always ice cold. The plunge pool, which the waterfall flows into, is emerald green and its breathtaking natural surroundings are often compared with the majesty of Kuang Si Falls in Laos.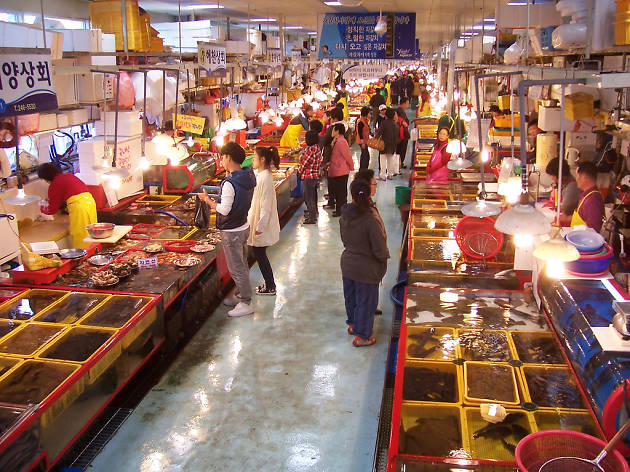 Photograph: Courtesy CC/Flickr/Weli'mi'nakwan
Where is it? Busan
What is it? In Korea's the biggest fish market, you have a fine selection of sashimi to choose from. Close to the market you can also enjoy the golden sandy beaches of Haeundae and Gwanganri, the former of which was featured in a Korean disaster movie a few years ago.
Why go? This is a truly authentic experience of how Koreans take their raw fish and delicatessenseafood. Choose anything you fancy from the fish tank, and you'll be served a freshly prepared dish, made to order.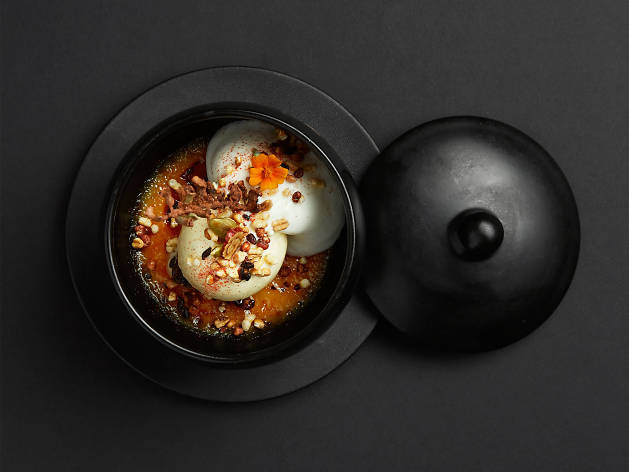 Where is it? Seoul
What is it? Mingles is easily one of the most interesting restaurants in Seoul when it comes to modern Korean dining. It uses seasonal ingredients, yet keeps to traditional Joseon royal palace recipes. Great for both younger and older generations.
Why go? The young chef Mingoo Kang was trained under Martin Berasategui in San Sebastian, Spain. He earned one Michelin star in 2018, which ranked his restaurant eleventh out of Asia's 50 best restaurants in the same year. Mingles has proven its strength in innovation and its influence in the local food scene, and is one of the Seoul's hottest places to visit.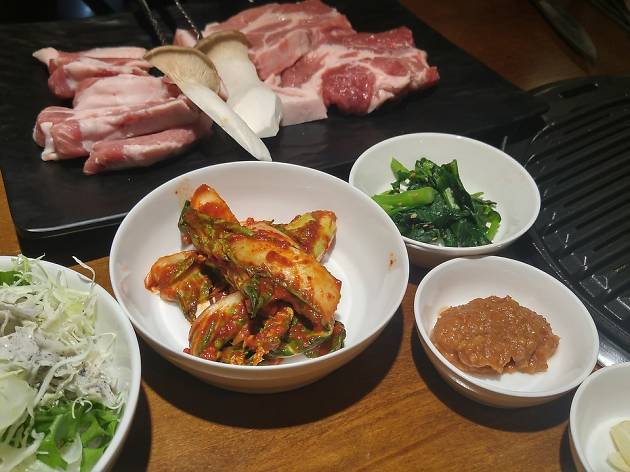 Where is it? Jeju Island
What is it? This particular Jeju pork comes from a special breed of pig which are pitch black and shiny. The meat is so tender that it easily melts in the mouth. Thick slices of pork are barbequed on a coal fire grill and served with a salted anchovy dip in Jeju style.
Why go? Nothing can beat a Korean BBQ and Jeju pork makes the experience extra special. It is an all-time favourite for Koreans. Don't miss out on the juicy pork belly with rind crackling.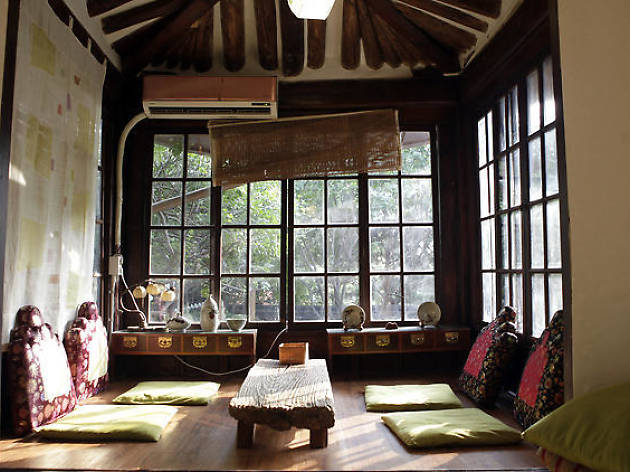 Suyeonsanbang Tea House
Where is it? Seoul
What is it? Once a home of the novelist Lee Tae-jun, this is now a tranquil tearoom. The name "Suyeonsanbang" translates as "a cosy home in the middle of the woods where intellectuals meet". The meticulously maintained hanok must have been Lee's pride and joy, as it appears in several of his stories.
Why go? Hidden on the slope of a hill and tucked behind colourful flowers and bushes, it's not hard to imagine how a writer could draw inspiration from this charming hideaway. They now have an impressive tea collection like medicinal herb ssanghwa-cha as well as authentic Korean desserts.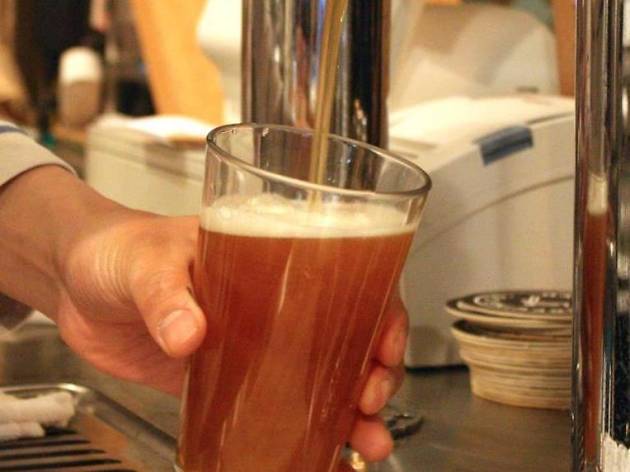 Where is it? Seoul
What is it? Magpie is one of Seoul's most popular craft beer houses, if not the best. It was started by five friends who shared the same home-brewing hobby. It has come to greater prominence as the demand for craft beer in Korea has risen.
Why go? Magpie is a highly acclaimed pioneer of the craft beer industry. They constantly experiment with new offerings. You might want to find a table in the basement to check out some of their cuisine. Is it too dull to eat pizza? We don't think so. It's one of the best in town.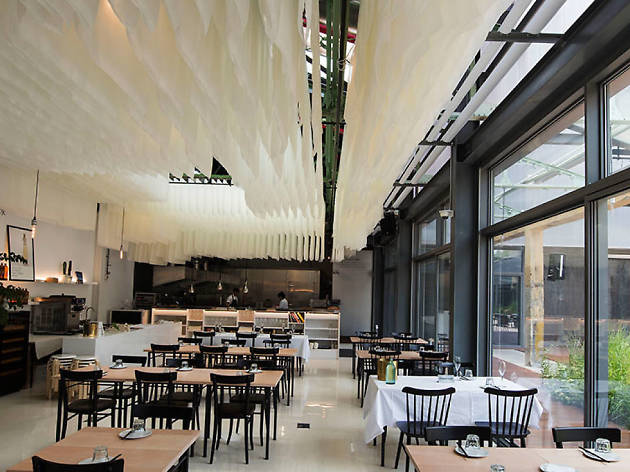 Where is it? Busan
What is it? This upmarket restaurant (which started out as a small brewery in Ulsan) is renowned for its own unique makgeolli recipe. The venue, previously a wire factory from 1963, is perfectly invigorated with Boksoondoga's own identity and character.
Why go? This is a great place to go for modern Korean food and a makgeolli tasting experience in Busan. Incorporating a variety of ingredients such as sweet potatoes and amberjack fish, the menu showcases a new wave of Korean cuisine combined with inspirations from the restaurant's own homemade makgeolli, artisanal condiments and jam.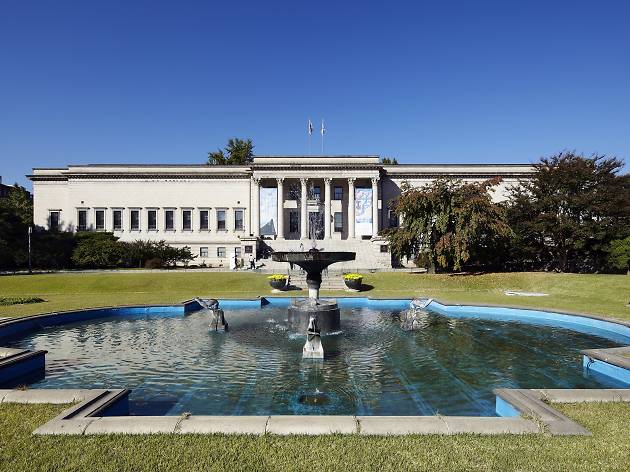 COURTESY OF NATIONAL MUSEUM OF MODERN AND CONTEMPORARY ART
17. National Museum of Modern and Contemporary Art, Seoul
Where is it? Seoul
What is it? This is Seoul's equivalent to MOMA in New York. The museum has eight exhibition halls as well as a video library, a movie cinema and a food court. Wedged in between old and contemporary architecture is a huge open space which is used for outdoor exhibitions.
Why go? If you have only one day to spare in Seoul, this should be the first place you see. Not only can you learn about the Korean contemporary art scene, you can also see how locals hang out with their friends and family.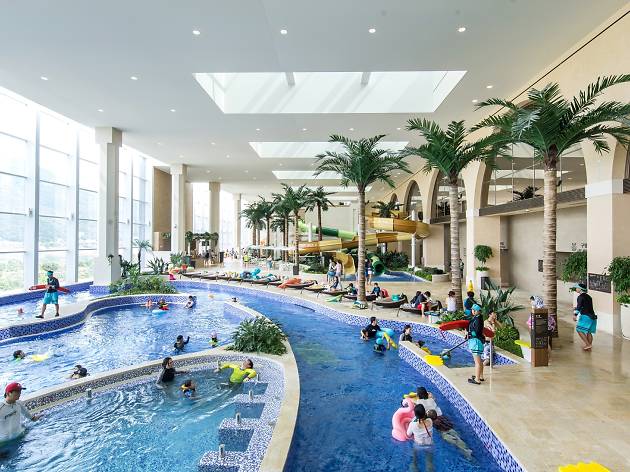 Where is it? Hanam
What is it? A Korean style of sauna which must be experienced, especially if it's your first visit. Using firewood to heat a dome of stone, you will find yourself sweating as the room temperature reaches over 100 degrees Celsius. This particular jimjilbang also has a water park and is known for its spectacular facilities.
Why go? Aquafiled is further away from the city of Seoul, but the journey is worth it. From the outdoor swimming pool to the entertainment rooms, you can enjoy so many ways of relaxing.